Realigned training modules. Better automation and coding tools. Internal contests...
Find out how top engineering colleges are improving their chance at bettering placements this year.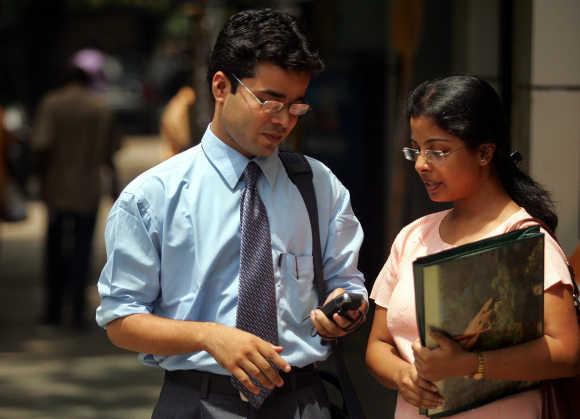 Representational photograph: Jayanta Shaw/Reuters
Top engineering institutions that have been supplying talent to major information technology (IT) services companies for years now are adding new lines of training and courses to ensure placement.
The institutes are realigning their training modules and bringing in more automation and coding tools and are conducting internal contests to promote latest technology among students.
The number of companies visiting these campuses is also going up.
At least two of the top institutes in Tamil Nadu have seen a record 400 companies visiting their campuses last year.
The institutes are expecting the number to match this level this year as well.
SRM University is coming up with an intern disciplinary experiential active learning model, in which students can choose a major, a minor and a specialisation for their undergraduate programme.
"We have restructured our programme, packaging it better to suit the future needs of the industry," said Sriram S Padmanabhan, director, SRM University.
"We also have tied up with some vendors to offer training to students beyond textbooks and curriculum to meet industry requirements. Another programme provides training on Graduate Aptitude Test in Engineering (GATE). We also have created centres of excellence and labs in collaboration with industry," he added.
Philip Praveen, director, Rajalakshmi Engineering College, another private engineering institute in Tamil Nadu, said, "We are realigning our training activities by adding training on coding for all students. We have also added automation tools to their training."
This year, the college has seen its first-day visitor TCS recruiting to the same level it had recruited last year. The institute is expecting a 20 per cent increase in the number of companies visiting its campus this year.
A K Bakthavatsalam, professor and head of placements cell, National Institute of Technology, Trichy, said while his institute usually was visited by IT services companies, there was low recruitment by such firms this year across the state.
He said the institute had moved away from its dependence on this segment for placements over the last five years.
There are more than 500 engineering colleges in Tamil Nadu that churn out around 200,000 graduates every year. Recruiters are becoming choosy about campus hiring, with the CGPA requirement going up or the test getting tougher.
According to sources from these institutes, TCS has introduced programming and coding in its written test in the first round while Wipro not only has a programming test but also a written communication test. Cognizant has introduced two levels of programming tests prior to the interview.