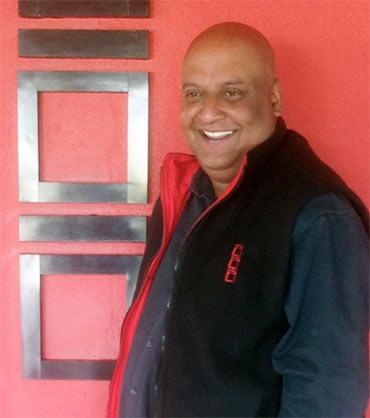 'For me success is not some destination that you achieve, but something that you experience everyday.'
Ramesh Srivats, IIT-M, IIM-A, and a serial entrepreneur, is back in the game with Fandromeda.com a gaming platform.
Owner of TenTenTen Digital Products that created and ran the official IPL Fantasy League, Ramesh Srivats, taking advantage of the T20 World Cup, has launched Fandromeda.com, a gaming platform that allows those who register to use their skills, build their own team, earn points when their team members score runs or take wickets and win cash prizes if their teams top the charts, which is calculated by a complex algorithm that monitors your team's progress during a given match.
Prasanna D Zore/Rediff.com caught up with Srivats for a quick chat to discuss his latest passion, his success mantras and his views on the Start Up India Plan.
Tell us about Fandromeda, the game...
It is a fantasy game for now. Right now what we have is a game of fantasy cricket for T20 World Cup with cash prizes. But this is the beginning of a long journey for Fandromeda. This is just the opening.
Soon we will have paid games; we are launching an Android app and as we go along I want to add more sports, more formats, and make Fandromeda a platform where fans can engage with sports.
You want to introduce a paid game?
Yes, we have two types of game: Paid and free. In the free format people can come and play fantasy cricket for free and we also have the option of playing in a paid pool, where people can pay money to enter a pool and win cash back.
Isn't this like betting? Will it be legal?
Actually, this is a game of skill. So, there is no question of betting.
In India, the definition of gambling is not based on whether money is coming in or going out. That even happens in stock markets where you put money and make money.
Our courts look at whether the game is preponderantly one of skill, or chance. Like, they decided that Rummy is a game of skill. Once it is a game of skill, it doesn't come under gambling.
Except in Orissa and Assam where the laws are a bit ambiguous on this. So, we won't offer the paid games in these two states. And we will be 100 per cent compliant with the prevailing laws at all times.
In our games you don't just predict which team will win. That would make it betting.
What you do in fantasy sports is you pick a team of 11 players, who have to fit various criteria. Each player is given a cost, and a budget of one million. You have to be within your budget. You should have enough batsmen, bowlers and wicket keeper in your team and you cannot take more than six people from one of the two teams playing a game on a given day. So it requires quite a lot of skill to make a team and win.
Why did you name this game Fandromeda? What does it mean? And unlike, TenTenTen, it's so un-sexy...
Everything we do is quirky. When we first started TenTenTen people said it was a stupid name. But we got used to it.
You will see that for most fantasy sites, their names talk about fantasy. DraftKings in the US, Dream11 in India, etc. But we want to go beyond fantasy.
The real logic is in sports there are stars, which are the players. There are fans, who watch the players. Here is a site that is actually allowing the fans to become stars. That was the logic behind starting Fandromeda. That was the logic behind Fandromeda, where every fan can become a star.
After that we made cheap pun around Andromeda, obviously (laughs).
But I know people will get used to the name.
Is the Rs 5 lakh (Rs 500,000) prize money for real?
Absolutely! The overall prize money is Rs 5 lakh.
If you go to the site there are many prizes. Each game has cash prizes -- about Rs 5,000, Rs 8,000, Rs 10,000 -- depending upon the teams playing. For this T20 World Cup the total prize money across different games is Rs 5 lakh.
How much money have you invested in Fandromeda?
We are all the time looking for funding. We are going to close an angel round now. Right now we have gone with what funds TenenTen had, but as we talk we are in discussion for angel funding round and we will close it soon as well.
Whatever money I had, I have invested that in Fandromeda. For the last seven months, my team has been working on this business.
Why should sports crazy fans play the Fandromeda game?
Among all the fantasy games, this is the easiest and the most fun to play.
The way users' interactions with the games are designed are very simple to use and is a very well thought out game.
Whether you are on Mobile or the Web, this is by far the game which you can play with greatest ease in terms of UI (user interface).
We plan to introduce new things as we go along. We are going to add many social elements into the game, there are going to be brands involved.
Fandromeda will be one game where every two weeks you will get something new happening. This is not unique to just Fandromeda, but any fantasy game adds tremendous fun to your sporting experience.
Even when the match is one-sided and dead or in the last over, still that person at the fantasy table will be watching it because the match may have its own result but based on the player that a fan has chosen s/he will have the hope of getting extra points if their players are still playing.
While Fandromeda has started with cricket, we plan to add kabaddi, tennis, etc, because a sports lover is a sports lover. They watch whatever sport they like.
Also, once you play the game your engagement with the game is far, far more than when you are watching the sport.
You are an IIT-Madras, IIM-Ahmedabad alumnus, a serial entrepreneur... what are your success mantras?
Let me become successful first. IIT and IIM happened 20 years ago.
For me success is an intangible. For me success is an everyday thing. For me success is not some destination that you achieve, but something that you experience everyday.
I feel successful when I have done something new; when I have done something fun; I have done what I want; and experience life a little bit more.
What are the positives and negatives of the Start Up India Plan?
I haven't analysed it too much, but I hope they implement what they have said.
One negative straight away is that the definition of start up has been left to someone's discretionary powers.
I don't know how useful talking about a tax holiday in the first few years of a start up will be. Start ups don't even make profits in the first few years.
I still call myself a start up and I started five years ago. From my experience I say that to help start ups proliferate, just make it easy for a person to start up.
Make it easy to get a service tax number; make it easy to get the paper work done smoothly.
Start ups will be far more successful if the government gets out of it rather than gets involved with them.