Fondly called The Wall, India's former captain's birthday needs to be celebrated for more reasons than one.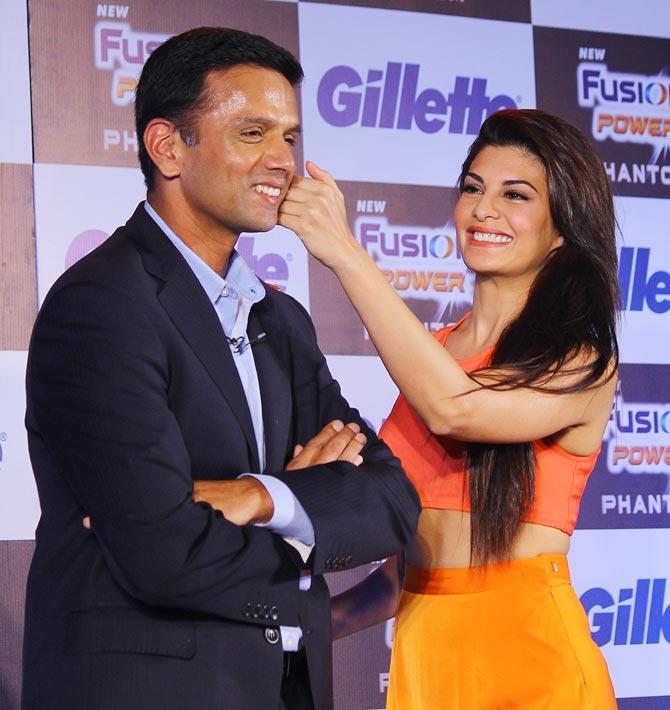 Rahul Dravid shares a light moment with Jacqueline Fernandez during a promotional event in Mumbai.
Photograph: Hitesh Harisinghani/Rediff.com
Rahul Dravid is not the God of Indian cricket. But there was always something magical about this cricketer that appealed to his fans and colleagues.
He was fondly called The Wall for his ability to defend the game and fight for his team.
Be it on the field or off it, Dravid wore his failures and criticism on his sleeve and never let it change or define who he truly was -- a man of steel.
On his 45th birthday, we decode how Rahul Dravid taught us about true success and quality of life in his own discreet way.
Be the underdog
Rahul Dravid earned accolades for his defensive style in Test cricket. But he was quite in the underdog when it came to the ODIs.
Many failed to recognise his individual contribution in ODIs. For instance, in the 1999 World Cup, he was the highest run-scorer with 461 runs.
His World Cup average of 61.42 is only second to Vivian Richard's average of 63.31.
"Even though Sachin is great, I have always found Rahul more solid and hard to get out. He has a solid defense and plays less shots than others. When a batsman plays less shots then it is tough to get him as he makes less mistakes," Shoaib Akhtar had said.
Team player
Dravid has proved more than once why he valued his team over individual gains or losses.
"Team in trouble? Whom do you turn to? Rahul Dravid," Ian Chappell had once said.
Former cricketer Navjot Singh Sidhu agrees: "Rahul Dravid is a player who would walk on broken glass if his team asks him to."
"The wolf who lived for the pack" Harsha Bhogle had said.
His commitment to the sport
In one of her long rare posts about Dravid, Vijeeta, his wife had written about the cricketer's commitment to the game.
"If I packed only two sets of informal clothes, he would rotate them through an entire tour if he had to and not think about it. He doesn't care for gadgets, and barely registers brands -- of watches, cologne or cars. But if the weight of his bat was off by a gram, he would notice it in an instant and get the problem fixed."
The problem solver
Unlike most sportspersons who show their aggression on the field, Dravid never let his emotions overpower the sport.
"I have also not seen him lose his temper. He has that uncanny skill of keeping his frustrations to himself. He hates to get out though and you can see the restlessness in him till he gets his act together in the next outing. He is the most hard-working guy in the side," Javagal Srinath noted.
Among all these superlatives, Brett Lee sums it best: "If you can't get along with Dravid, you're struggling in life."