Hepzi Anthony examines the curious case of the white-collared farmer.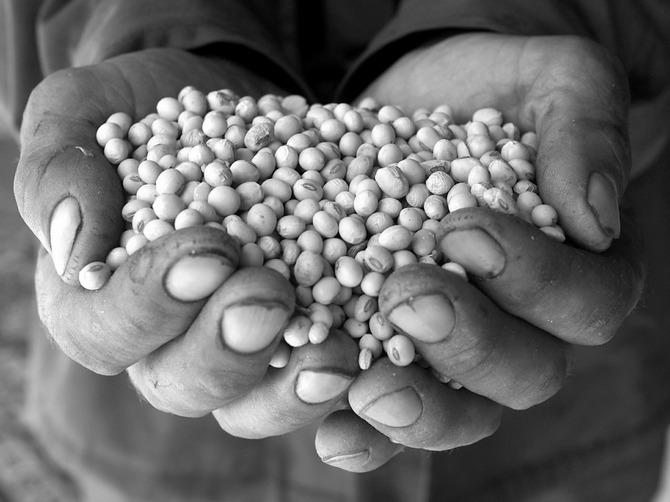 From wielding laptops to wielding sickles and ploughs, some high flying corporate executives are now quitting their jobs to become full-time farmers.
Take the case of 48-year-old Venkat Iyer, used to be a project manager with IBM, has now become a full-time farmer today and grows crops like rice, pulses and even oilseeds at his Dahanu farm.
Ten years ago, Iyer gave up his lucrative job in Mumbai and shifted lock stock and barrel to his farm at Dahanu to become a full-time farmer.
He grows rice, pulses, seasonal fruits and vegetables to ensure that most of the stuff on his family's dining table is organic and straight from the farm except for some stuff like mustard and salt.
He even grows and presses oilseeds to get pure edible oil on his farm.
What started initially as an effort just to grow enough for his own family has today found takers from his friends and even from supermarkets that stack his organic produce.
"When I started out earlier, there was no market for organic produce, but today people realise its importance and there is a market out there for it," Iyer says.
Similar is the story of senior banking professional Jacob Zachariah, who gave up banking to become a farmer growing chikoos and mangoes.
A former managing director of an African Bank, Zachariah today is settled down at Dahanu overseeing his farm. "It was more about getting into something (horticulture) that I had always wanted to do," he says.
Software professional Purvita Kapadia too chose to quit her IT job to dabble into landscape gardens and is on to becoming a full-time farmer.
Kapadia has already purchased a farm at Wada in Mumbai's neighbouring Thane district.
Currently, she travels to the farm twice a week but soon intends to stay completely there once the basic facilities are set up out there. "If I have invested in it, I expected the rolling to start in some time," she says.
Incidentally, for all of them, this shift from corporate to Make in India (they started doing it much before the Prime Minister asked India to do it) was not a post-retirement plan but rather a shift of profession.
"It's not a hobby, it's my new profession. I am not a weekend farmer and it is not like a going to a farmhouse," Kapadia emphasises.
So, how is it to move out completely from the air-conditioned offices out in the heat and dust of the farm?
Pure, clean, peaceful, better quality of life are the words that come out more often when they describe their new life as a farmer.
The change is drastic and needs loads of patience too. "The nearest Domino's is 150 kms away from my farm.
So, you can't just order food out here," laughs Zachariah.
Iyer says that he has stopped wearing a wrist watch and prefers to schedule his work according to the Sun clock.
"I rise up when the sun rises and wind up when it sets," says Iyer.
Throw in some regular power-cuts, erratic net connection, lack of connectivity and you know what they are talking about.
However, these new breed of educated professional farmers are clear that the returns from farming are more mystical than monetary.
"Farming is meditative, it is much satisfying and yields more of spiritual growth than financial growth," feels Kapadia.
"Pure air to breathe, fresh vegetables to eat with factors like so much of flora and fauna around and not having population density around, should be considered as part of returns of our work," says Zachariah.
The banker who dealt with balance-sheets feels that "a part of the returns of work is non-monetised".
"(Besides) how do you put a price on watching fireflies guiding in the monsoon.
"You cannot become a Mukesh Ambani by farming.
"But, you do get modest returns if done scientifically and on a larger scale," he says.
Iyer feels that farming can provide for your needs but not for your greed.
"I can't stay in Mumbai based on what I earn from my farming.
"It can't even provide for my monthly broadband bills there.
"But, I can live comfortably on my farm.
"Farming is not meant to earn money and in old days, farmers bartered their produce," he says.
So, what would their advice to people wanting to quit their corporate life to become farmers?
"Courage (to be at the complete mercy of nature), conviction, co-operation (of family and friends), commitment and complete personal supervision," Venkat says.
"It cannot be a drastic, overnight decision. You must plan for it well," Kapadia adds.
While Zachariah feels that constant learning from peers, friends about plants, pests to even plumbing et al is basic and a must.
What is clear though is that they have discovered their key to happiness and clearly seem to be enjoying their new phase of life.
Image is used here for representational purposes only.
Photograph: Bogdan Cristel/Reuters