The gig economy has led to the establishment of an entire industry called co-working where physical facilities and shared work spaces are dedicated to house various freelancers says Sanjay Lakhotia.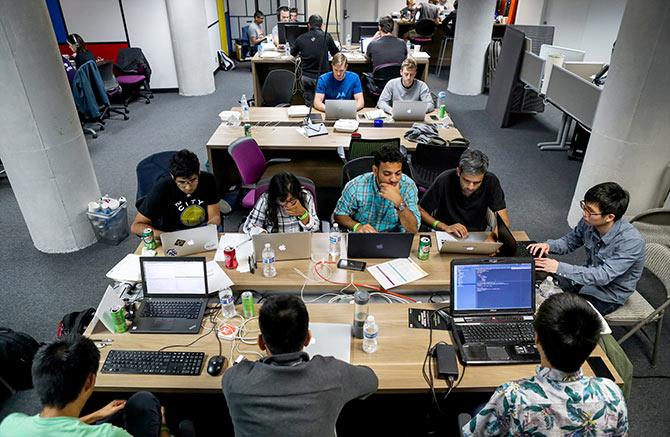 Photograph: Gabrielle Lurie/Reuters
The business environment is rapidly changing with new technologies disrupting the way organisations function across all sectors.
Every organisation therefore has to rethink its model and imbibe changes to survive in this dynamic business environment driven by ever changing customer expectations.
Employees too are not finding the 9 to 5 work cycles engaging anymore, and are looking for greater flexibility, more challenging work, and new learnings.
They are thus leaving their jobs to join the Gig workforce.
The war for talent is becoming even fiercer as employees are unable to build the skills required to survive in the new world fast enough.
Companies are thus looking to work with freelancers, often called as gig workers, who are more clued in to the new technologies and ways of working and delivering work at greater efficiencies for the company.
The gig economy is a form of employment where independent workers typically engage in short- term projects or jobs.
They comprise the professionals, Uber drivers, YouTubers, designers, coders and Airbnb hosts of the world.
According to Truelancer, the global freelancer market is worth $2-3 billion which is growing at an annual rate of 14 per cent. India currently accounts for $1 billion of the global market.
While the US leads the race with 53 million independent workers, India has 15 million freelancers with its gig economy workers increasingly gaining independent contracts in industries like IT and programming, finance, HR, design, marketing and sales, animation, content, and academic writing.
Indian employers are seeking to leverage the gig economy in a major way and here are the trends to watch out for in 2019.
Increased participation
Both employers as well as workers are expected to hop on to the bandwagon.
Bootstrapped start-ups, mid-market companies, companies chasing growth or looking to keep pace with the new business environment will hand over non-core tasks in order to focus on their core products and services.
This will broaden perceptions towards independent workers as true professionals rather than ad hoc workers; those who will play significant roles in the growth and development of the partner company.
Gen Z workers
The entrepreneurial and tech-enthusiastic nature of millennials has recently dominated the gig economy.
However, a new and younger wave of workers belonging to Gen Z are set to move out of the comfort zone of holding a 9 to 5 job.
Many of them are looking to opt for freelancing rather than conventional means of working. Hence, it becomes crucial for employers to take advantage of this age group who have grown up with social connectivity and evolving technology.
Emerging job roles
Since artificial intelligence and automation are invariably at the forefront of altering job roles, companies will seek freelancers for various new roles.
For instance, there will be increased contracts for deep learning, analytics, blockchain architecture, SEO strategies and social media marketing.
In addition, app development, finance, auditing, content writing/blogging, web development, virtual assistance, and graphic designing is expected to widen the gig economy.
Hyper specialisation
There has been and continues to be increased outsourcing in hyper-specialized jobs and esteemed projects of various companies.
Even large organisations will seek hyper specialisation and niche skill sets, which are considered as imperative to building a core team and potential leadership talent.
Freelancers will focus on very niche skills.
Co-working in collaborative spaces
The gig economy has led to the establishment of an entire industry called co-working where physical facilities and shared work spaces are dedicated to house various freelancers.
Independent workers seek flexibility, extroversion, and liberty while developing and marketing their personal skills at the same time.
Hence, co-working hubs and spaces will observe increased collaboration with start-ups and freelancers especially, and thereby contribute to the expansion of the gig-economy.
Relevance is the common ground between independent workers and their employers and thus the expansion of the gig economy demands adaptability on the part of both players.
Employers must constantly stay in tune with the upcoming trends in each and every element of their business. Speed of action will be critical and hence companies will have to ensure they find the right skills to help them solve all the problems they are facing.
This is where the gig economy comes into the picture and will be tapped into more than ever in 2019.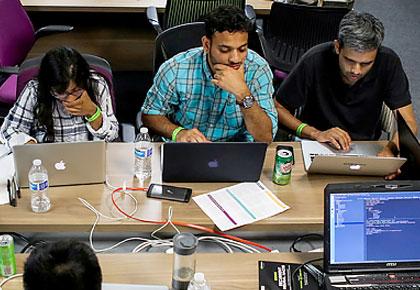 Sanjay Lakhotia is co-founder, Noble House Consulting Pte