The world's top CEOs highly recommend these books. Have you read them yet?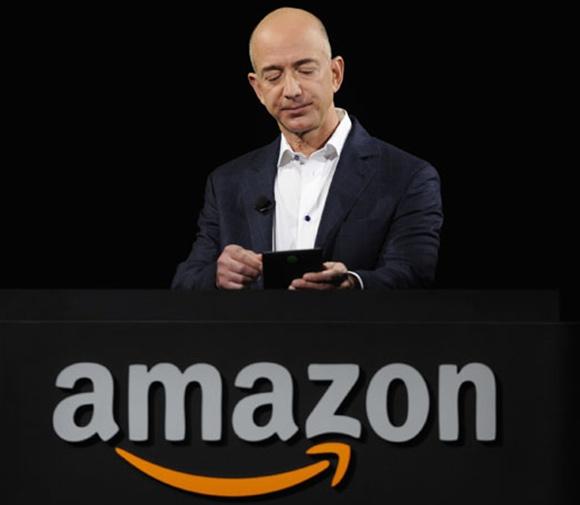 IMAGE: Guess which book interests

Amazon CEO Jeff Bezos the most? Photograph: Reuters
When CEOs of the world's most outstanding and exceptional companies seek ideas and inspiration, they turn to books for help.
It is well known that many successful entrepreneurs are avid readers, and entrepreneurs like Bill Gates and Elon Musk have publicly spoken about their reading habits.
Here are a few recommendations by some of the most famous CEOs in the business world.
1. Surely You're Joking, Mr. Feynman by Richard Feynman
Recommended by: Larry Page, Google
Popular quote from the book -- "I always do that, get into something and see how far I can go."
Larry Page, the co-founder of Google Inc. and the current CEO of Alphabet, believes, "Being negative is not how we make progress, everything is not a zero sum game." Page is known for succeeding against all odds by pushing boundaries. So, when he admits that this book is his favorite, there has to be something incredible about it, right?
The book is a light-hearted collection of reminiscences by Richard Feynman, the Nobel Prize-winning physicist. Feynman was a phenomenal example of what uninhibited curiosity can do to you. He wasn't just passionate about Physics but about arts and music as well.
2. Competing Against Time by George Stalk
Recommended by: Tim Cook, Apple
Popular quote from the book -- "Time is now added to the other three critical factors in order to remain competitive in the market – money, productivity, and quality"
Tim Cook, the current CEO of Apple, also serves on the board of directors of Nike and the National Football Foundation.
He joined Apple because he was immensely inspired by Steve Jobs after their first meeting, and he had an intuition to be on the executive team that could resurrect a great American company. With all his years of experience, he knows the value of time and hence recommends this book.
It is a rare and innovative business book and stands the test of time with its unique approach towards the principles of product improvement.
3. The Ascent of Money – A Financial History of the World by Niall Ferguson
Recommended by: Muhtar Kent, Coca Cola
Popular quote from the book -- "There really is no such thing as 'the future', singular. There are only multiple, unforeseeable futures, which will never lose their capacity to take us by surprise."
Ahmet Muhtar Kent is the Chairman and CEO of Coca Cola. Known for his ideas on building meaningful business relationships, he recommends this interesting book on how the financial system evolves and the forces that drive it.
Niall Ferguson is a British historian, who specialises in economic and financial history.
In this book, he imparts the idea that "the central lesson of financial history is that sooner or later every bubble bursts -- sooner or later the bearish sellers outnumber the bullish buyers, sooner or later greed flips into fear. And that's why, whether you're scraping by or rolling in it, there's never been a better time to understand the ascent of money."
4. Built to Last: Successful Habits of Visionary Companies by Jim Collins and Jerry Porras
Recommended by: Jeff Bezos, Amazon
Popular quote from the book -- "Visionary companies pursue a cluster of objectives, of which making money is only one -- and not necessarily the primary one."
Jeff Bezos is the founder and CEO of Amazon. He is now the third-richest person in the world, with his personal wealth estimated to be up to US$65.2 billion.
Apart from Amazon, he also places big bets on AI, physical stores and space exploration. Having single-handedly built a business legacy, he believes that this book is a guide for every entrepreneur who wants to build a long-lasting company.
This book is not about visionary product concepts or visionary products or even visionary market insights. It is about building visionary companies.
In fact, this book is based on a six-year research project by the authors, during which they thoroughly studied 18 exceptional and long-lasting companies.
So, which of these books are you reading next?
Did we miss out on any of your favourites? Let us know in the messageboard below.