"The Master in Design program challenges students to understand and influence the underlying processes of what supports life today as a new generation of research-based creators, innovators and designers."
"Career prospects are strong and exciting."
NNS Chandra shares advice on how to pick the right international education.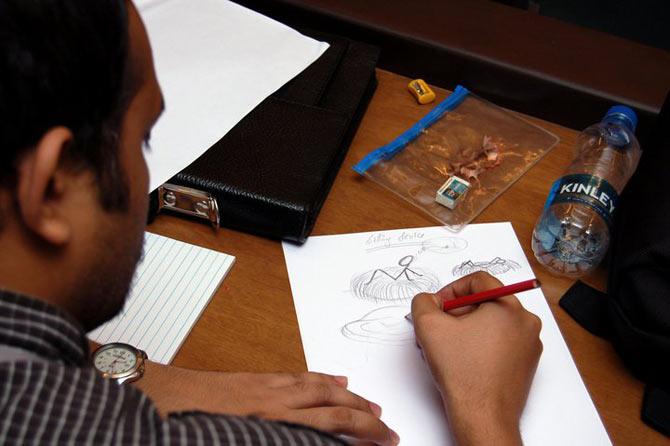 In an online chat with readers every Friday, overseas education consultant NNS Chandra offers advice on how to pick the right course and career abroad.
---
For those who missed the chat on November 20, here's the unedited transcript:
Pravin-Mestry: I am graduate BCom how to study in USA and get a job?
NNS Chandra: Two ways Pravin - you can apply fora professional development program (short study programmes leading to certification and accreditation in some professional area) or apply for a masters program.
Your bachelors program is a 3 years or four years program?
---
Sunderesan Srinivasan: Hello Sir My son is doing his mechanical engineering degree from India and wants to pursue Masters in design from US.
Is it relevant and what are the career prospects?
NNS Chandra: Good to know your sons interest, Srinivasan. Encourage him.
The Master in Design program challenges students to understand and influence the underlying processes of what supports life today as a new generation of research-based creators, innovators and designers.
I am trying to understand here -- is he interested in engineering aspects of design or pure creative design development. Focus would be different. Capabilities required and possibilities after graduation are different.
Ask him to write to me. I can guide him to specific courses and universities. To answer your questions as a parent Career prospects are strong and exciting.
---
mdzseeshan: hi sir if I complete Mpharma from any Canadian universities and get the pharmaceutical licence so it is applicable in US states also
NNS Chandra: Hello Seeshan,successfully completing MPharm is only one step in the process of getting eligibility to practice in North America. But that is a big step.
Licensing requirements and VISA requirements etc. are different and sometime challenging.
To answer your question straight, yes. Technically having an MPharm would speed up your process securing a legitimate and easy route for practising as a pharmacist.
---
Ashish-Kumar-Singh: Good day sir. I have just completed my engineering in computer science with aggregate percentage of 72.91 per cent.
I have 69.4 per cent in 12th and 82 per cent in 10th. I want to study further in abroad. Kindly suggest what programme I can apply for and which countries?
Can you help me regarding the procedure to apply there. Thanking you
NNS Chandra: Hi Ashish, I assume your program is a full four year one, right?
Your possibilities and opportunities to explore are many. Start your work or university prep immediately.
Starting with GRE. As I would recommend USA since it is here you will have maximum job prospects. Send me a detailed resume and final year transcript. All the best. NNS
---
aniket: Hi sir I am a mechanical engineer with post graduation diploma course in power plant engineering from NPTI.
Currently working as an engineer in a power utility with one year experience.
Please guide me about MBA in energy management from European universities.
What are the job prospects and how should I prepare. I am posting my sample resume.
NNS Chandra: Aniket – Can you send in your resume again, please?, I could not see the one you posted, unfortunately.
I recommend that you must consider Scandinavian countries. They have few great programs which might further your prospects. And fits right into your current educational back ground.
I will reply in details after going over the resume.
---
charles lobo: Good day Sir, my daughter is studying in her final year BSc Biotech.
She is interested doing further studies abroad.
Kindly suggest what programme she could apply for in the same field and which countries?
Briefly if you can outline the procedure how to go about doing that.Your advice would be well appreciated. Thank you .Regards Charles
NNS Chandra: Dear Charles, biotech and related fields are quite exciting area to work with.
Graduates can work in different industries (chemical, pharmaceutical, agriculture and aquaculture and research laboratories, but also in teaching.
First step - She must first identify what she wants to do and what is going to be her specialising area.
She must then decide whether she is in for a direct course work or doing it partly though academic research work associating with a university
Further studies, location (country) depends on that thinking.
She defiantly got several opportunities to study and then work, in USA/Canada and/or Europe. Is her course three year one or four year to graduate?
---
paresh gupta: My son is MDS in orthodontics.How can he further study inUS.
NNS Chandra: Paresh, As I wrote earlier - Admission to Doctoral studies in Oral Science (as some universities call it) or dental sciences or Dental Medicine is not difficult to get for an international student.
Application is demanding, Training requirements and academic requirements are quite high.
After MDS he must do transcript evaluation, different tests (TOEFL/NBDE etc), write SOP, several things….several steps.
Please ask him to email me when he is ready, I can guide him in all.
The process is simple and straight forward. He can do most of requirements on his own. Any help required please feel free to get in touch with me.
---
vinodadsule: I am Bcom, I have completed MBA in finance I want to do international taxation pl guide.
NNS Chandra: Excellent idea in a globalised world, you can take two paths – professional training and certification route or going back to university and take a masters in that area.
Several professional associations in North America and Europe provide education and training resources for reasonable cost.
And successfully completing would help you to secure a accreditation and officially start practising. Some course are on-line, some in campus, and exams in specific locations.
Looking at a masters would be interesting too. Great programs in NYU to top schools. Challenging to secure admission but can build a solid career around a International taxation post grad. degree.
---
Sachin Sheth: My son is in CBSE 11th std science stream, he wants to move to US for further studies.
He is good academically and in sports too. Is there a possibility for him to go US and get admission in 12th std. and then continue in Bachelor there only.
What kind of Visa and exams do he need to give now. Your inputs will be too valuable. Thanks
NNS Chandra: Hello Sheth – Getting a 12th grade admission is possible, he can move in this winter itself to an American school.
Please send in his grades, teachers recommendations etc. We can start process immediately.
I would recommend him starting in Jan 2016 that way by the time of application to University (Dec 2016) he would have a full calender year in USA.
VISA would be F1 (full time student status) and exams he must do are generally TOEFL (requires ACT/SAT, honours exams for university) -- not all but depends on what his current grades, and ECs are.
He must start his work and preparation ASAP.
---
Lead image used for representational purposes only. Image: Courtesy National Institute of Design, India's Facebook Page
Have questions for NNS Chandra? Post them here!