Eight lakh applicants. Vacancies in thirty plus government government departments.
Here's everything you need to know about cracking the Staff Selection Commission Combined Graduate Level Examination this year.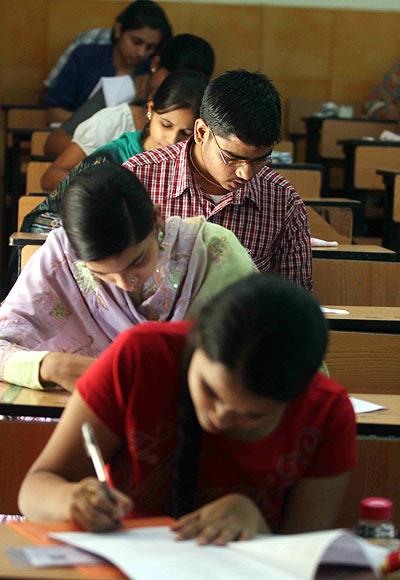 The Staff Selection Commission, popularly known as SSC is a Government of India organisation entrusted with recruitment of staff for various posts in ministries and departments of Government of India (GOI).
It is also entrusted with recruitment for GOI's Subordinate Offices.
Every year, SSC conducts the big daddy of all recruitment examinations, the Staff Selection Commission Combined Graduate Level Examination, more fondly known as SSC-CGL, for filling posts in 30 plus government departments across ministries.
The vacancies filled by SSC CGL exams are just next to the famed Civil Services examination conducted by UPSC. These jobs are central government jobs.
The Central government is a much better paymaster as compared to state government and PSUs. That is why, anyone who joins through SSC CGL examination is bound to have a high flying career.
Over eight lakh candidates have registered for the exam this year.
The exam is scheduled to be conducted between August 27 and September 11.
Who can apply
Eligibility
Anyone who has a graduate degree or a diploma can apply for this exam.
If you are in the final year of your diploma, graduation or engineering, you are eligible for SSC CGL.
Posts offered
This year SSC will be recruiting candidates for more than 30 posts.
Some of the most sought after posts on offer are AAO, Income Tax Officer, Preventive officer, Sub-inspector CBI, Accountant/Auditor in CAG, Central Excise Inspector, and Assistant in Ministries of Railways.
Apart from these posts, there are several other jobs in other departments as well.
Salary
The median salary for posts offered in SSC CGL hovers around Rs 40,000 along with perks.
To summarise, if you are a graduate, looking to earn a handsome salary working for or in the most influential ministries/departments of the Indian government, then SSC CGL is the exam you can't afford to miss.
What has changed in the exam?
Till last year, the SSC CGL examination was conducted offline (pen-paper OMR sheet based). This year SSC, following the GOI's directive, has decided to conduct the examination online. This is aimed at increasing transparency and decreasing bureaucracy. Following is going to be the pattern of online SSC CGL examination.
Tier 1 exam has been changed from 200 Questions in 2 hours earlier to 100 Questions in 75 minutes.
Tier 2 exam is same as last year
An additional English Descriptive test (Tier 3 Exam) has been also added to the selection process.
Interview process has been scraped off for all the positions.
The new pattern: Detailed overview
The SSC CGL Tier 1 Exam: Tier-1 of the Combined Graduate level Examination will be Computer Based Objective type (MCQ) test and will be common for all categories of posts.
The questions will be divided into four sections having a total of 100 questions to be completed in 75 minutes.
The sections are:
General Intelligence and Reasoning
General Awareness
Quantitative Aptitude
English Comprehension
Each question will carry two marks. There is also a negative marking of 0.5 marks for every wrong answer.
SSC CGL Tier 2 Exam
Tier-II of the SSC Combined Graduate Level Examination -2016 will be of Computer Based Objective Type (MCQ) Test.
It will consist of two mandatory and two optional papers.
Each paper will be of 200 marks and two hours duration.
Compulsory Papers
Quantitative Ability
English Language and Comprehension
Optional Papers
Statistics: only for those candidates who apply for the post of Statistical Investigator & Compiler.
General Studies (Finance and Economics): only for those candidates who apply for the post of Assistant Audit Officer.
SSC CGL Tier 3 Exam
Tier-III of the SSC Combined Graduate Level Examination 2016 will be a English descriptive type paper.
Key points to remember
In Tier 1 exam, all subjects have equal weightage in the exam so you should focus on every subject.
In Tier 2 exam, Only English and Quantitative Aptitude will be asked. So switch your preparation syllabus, after The Tier 1 Exam accordingly.
Negative marking also takes effect on your overall score calculation for every wrong answer you are charged for 0.25 marks.
In tier 3 Exam, only descriptive English will be asked. So start it's preparation early on with Phase II.
Tips to crack SSC CGL Exam
Cracking the CGL is not rocket science. You can easily crack the SSC CGL exam by doing many small things correctly. You should remember the following points
Get the exact syllabus from the SSC CGL website or official notification.
Divide the topics on the basis of importance and your level of understanding of those topics.
Design a study plan: You can create your own study plan or follow the guidelines below. I have divided the time from the SSC CGL examination (August 27) into 3 periods of 15 days (fortnight) each.
First fortnight
Give 60 per cent of your time on the topics that you know the best. This will build up your confidence.
Give the 40 per cent remaining time to important but not your favourite topics.
Second fortnight
By now, all your favourite topics must have been completed.
You are brimming with confidence and now it's the time to tame the wild horses. Go for the toughest, most important topics covered in SSC CGL syllabus.
Third fortnight
Go for the kill.
Revise what you have learned by now, go for the easy topics with less importance which you haven't covered earlier.
Solve papers, give mocks, and in fact give a lot of mocks. Note your timings down and fine tune your paper attempt strategy.
This article is written by Vaibhav Mehta of Sarkari Jobs, a Bengaluru based portal for discovering government/PSU jobs.
Lead image used for representational purposes only. Image: Sahil Salvi