Go beyond the curriculum. Talk to experts. Build your network, says Dr NV Raghavendra.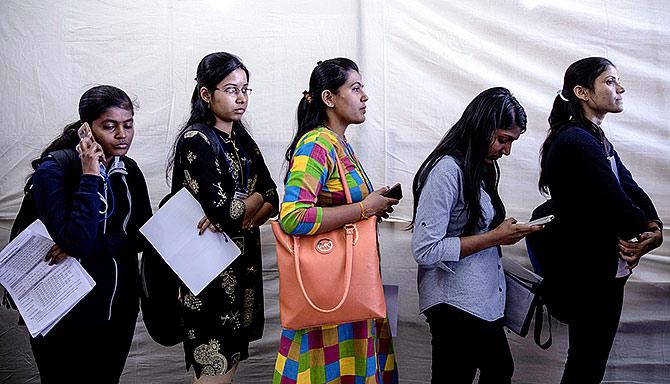 Photograph: Danish Siddiqui/Reuters
As per data provided recently by the Centre for Monitoring Indian Economy (CMIE), currently, there are about 31 million unemployed graduates looking for jobs in India.
Various estimates have put the figure of unemployed engineering graduates around half-a-million every year.
Even if we take away or add a few lakhs, the fact of the matter is that there is an alarming increase in the number of unemployed graduates in the country.
Several factors, either intrinsic or extrinsic to a graduate, can be attributed to the burgeoning problem of unemployment.
The intrinsic factors include a lack of personal goals, a lack of awareness about what the employer expects from a graduate, peer pressure to go for only white collar jobs, poor communication skills, to name a few.
Personal goal setting and concrete career plans can channel the talent and efforts of a student in the right direction.
The absence of the same may make an individual choose a wrong course and end up being a misfit in the eyes of a prospective employer.
The student, instead of depending solely on rote learning, should also develop self-learning capabilities.
This attitude will provide the ability to comprehend the skills required as a successful professional and work towards building those skills by putting in extra efforts.
The right way to employability
The pertinent question that has been bothering many is, when do you start getting ready for a job and how?
To be honest, a huge majority of the population has never considered it as process.
A lot of students think about getting a job only in the final year of their course. However, the idea is to start soon.
Here are a few things that students can consider to make themselves more employable.
1. Go beyond your curriculum
It is very important to expand your knowledge and go beyond your curriculum.
A few short term courses can definitely be added as an advantage in your profile.
These can be some certificate courses or Massive Open Online Courses (MOOC).
2. Understand the industry
Many face hardships to find a job as they have lack of knowledge about the work culture.
A mere degree is not enough to get the job you want!
There's nothing better than to do internships to help this cause.
Make sure you are not just doing just one mandatory internships referred by college.
Utilising your summer holidays to try out internships in different industries can help you figure, where you exactly fit in.
3. Talk to the experts
You might be not getting the job not because you are not good enough.
It could be just that; you are in the wrong industry.
In order to have a clear understanding of your abilities, talk to career counsellors and take up an employability test.
Now with the availability of various psychometric assessments in the market, you can get scientifically accurate description of your capabilities.
When taken this test as a student, you will still have time to work on the area where you lagging behind.
4. Build your network
This might sound far-fetched idea for a student. But, it's not.
It's never too soon to connect with the industry experts. It could be people you met from a seminar or education fairs, make the most of it to know the right people.
5. Do the homework!
As a child, you were always reminded constantly about the significance of doing your homework right?
Well, that applies for your career as well.
Before getting into any stream, do an intensive research about the industry.
This helps you from not making the wrong choices by peer pressure or any other factors.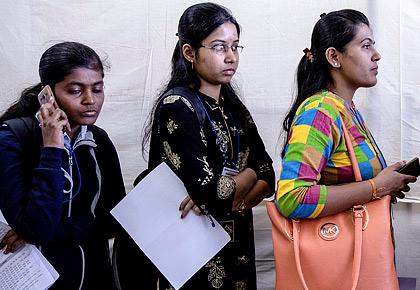 Image published for representational purposes only.
Dr NV Raghavendra is professor and head, IQAC, The National Institute of Engineering, Mysore.