Find your aptitude. Think beyond engineering and medicine, says Neeti Sharma.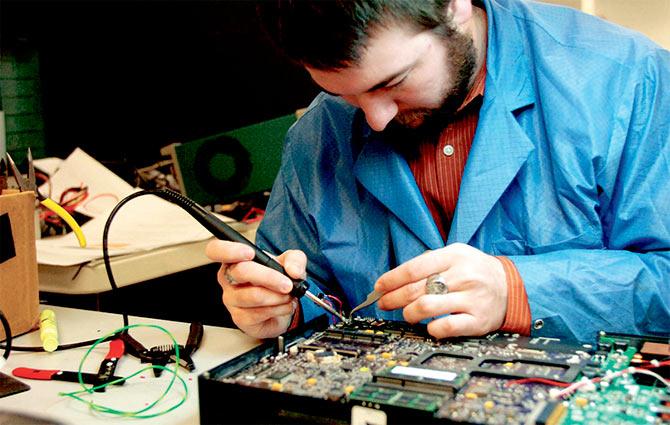 The class 12 results have just been announced in most states of the country.
This is the time when most students are wondering what to do.
Should you go ahead with graduation in science, commerce, arts or should you try something different? Something new?
Before you decide, keep in mind that what you take has to be based on whether you have the aptitude for that career.
It is important to not make a career choice based on what others are doing.
A very common statement one gets to hear from students is that "I have taken this course because my friends also are doing the same".
If you do not have the aptitude for that programme or career, you will not be able to succeed.
You need to be aware of all possible choices you have and make informed decisions about your future.
If you intend to pursue science, here are some options you could consider.
Engineering
Engineering involves job roles like maintenance, design, invention etc.
Which one you choose would depend on the career path you would want to take.
The most popular stream opted for by students these days is computer engineering.
A word of caution before you chose this stream. Please be aware of all job possibilities for each of the stream.
You can pick an engineering branch from the given list:
Computer engineering
Civil
Mechanical
Electrical
Electronics & Communication
Biotechnology
Aerospace
Agricultural
Petroleum
Textile
Chemical
Medicine
A career option in medicine is one of the most vied after by science students.
The medical field is one of respect and challenge.
Often, the main motive of most of students behind choosing biology after class 10 is to become a doctor; but this field offers a vast number of career opportunities other than Bachelor of Medicine, Bachelor of Surgery (MBBS).
Many industries that are linked to the field of medicine like Pharmaceutical, Healthcare, Research, Hospitals etc offer an array of opportunities.
So apart from a doctor, there are many other job roles that can be looked at such as technicians (one of the most sought after and well paid job roles as this needs the knowledge of both medicine as well as technology), elder care executives, home care executives amongst many others.
The major streams in the medical field are :
MBBS
BDS (Dental)
BAMS (Ayurveda)
BHMS (Homeopathy)
Nursing
Physiotherapy
Lab Technicians
Nutritionist
Management
Post Class 12, you can opt for doing Bachelors in Business Administration.
This will take you directly in the league of business and help you take up sales / marketing related jobs immediately on completion.
Bachelors in Science
Students wanting to continue with traditional science fields should go for BSc after Class 12.
Post graduating there are many options in areas of banking, management, biology, zoology, R&D, teaching that you can consider.
Apart from the above very obvious career options, you can also consider these
Biotechnology
A research based science, and as the name suggests, Bio-Technology is a mix of biology and technology. Areas such as microbiology, virology, genetics, chemistry and engineering are covered in this subject.
There is a growing need of Biotechnologists globally.
Various career opportunities for BioTechnology graduates are research, lab technicians, sales and marketing etc.
BioPhysics
A mix of mathematics, chemistry, biology and physics, this science stream primarily relates to the study of living cells and organisms
Veterinary Science
It is the science of treating and curing various types of birds and animals. So if you love animals and are passionate about their cause, this is a good career option to choose.
There are varied career options post completion of this program. Opportunities are available with government agencies in animal husbandry department, the Army and BSF need vets for their mounted regiments.
Other options are teaching, private practice , technical sales , pet food sales , management etc.
Pilot
The foundation for training as a commercial pilot is 10+2/equivalent with physics and mathematics.
The minimum age is 17 years. One must also meet the medical standards set by the Directorate General of Civil Aviation (DGCA).
Defence
A career in Defence is one of the noblest careers today.
If you are passionate about the country, want a disciplined life, then you should opt for a career in either of the three defines services -- Army, Air Force or Navy.
The selection happens through a written examination conduction by the UPSC twice a year.
Pharmacy
Pharmacy is a fast growing sector and thereby skilled manpower need is also on the rise.
Career opportunities in this sector could be in sales, quality, research, pharmacists, food and drug control etc.
Forensic Science
This stream involves study of criminal behaviour using knowledge of medicine and technology.
There will always be many choices in front of you but I would urge you to be wise with the choice you make. As the choices you make today will determine your future tomorrow. Good luck with your career.
The author Neeti Sharma is senior vice president, TeamLease Services Ltd.
Lead image: Kind courtesy YouthIncMag