Dear aspiring bloggers, have you heard of these sites?
Illustration: Dominic Xavier/Rediff.com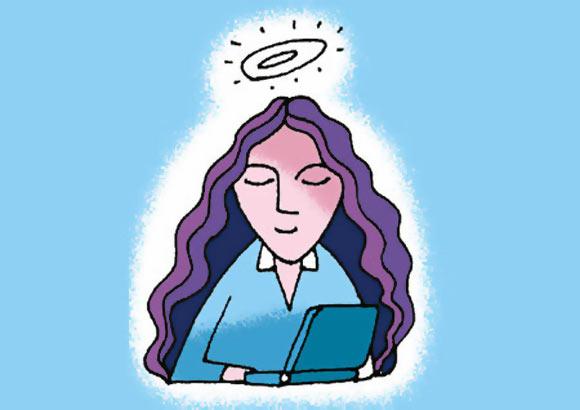 Want to write, share your content but don't know where to start?
Check out these top blog sites and find out what suits you best.
1. Penzu
Penzu was founded by Alexander Mimran (CEO), Michael Lawlor and Simon Wilkinson in 2008.
The private online diary-hosting website allows users to upload photos from their devices and can also create written entries which is similar to a standard personal journal.
Penzu uses freemium business model that includes special paid features with unique fonts.
It offers cloud based diary platform that is designed to be private by default.
The user is free to sign up and to create entries, share post and upload pictures.
2. Weebly
Weebly is a web hosting service that features drag and down website builder.
It was founded by chief executive officer David Rusenko (CEO), Chris Fanini (chief technical officer) and Dan Veltri (chief operating officer) on March 26, 2006.
The start-up competes with Webs, WordPress.com, Squarespace.com, Wix.com, Yola, Jimdo, SnapPages and other web-hosting and creation websites.
Weebly uses a simple widget based site builder that operation the web browser.
All the sites elements are drag and drop which will automatically generates a mobile version of each website. Storage is unlimited but it also restricts individual file sizes.
3. Wix.com
Wix.com is a cloud-based development that allows users to create site using HTML and also mobile sites using their online drag and drop tools.
Users also may add functionalities such as e-commerce, e-mail marketing, contact forms and community forums to their web sites using Wix-developed and third party applications.
Wix uses freemium business model, earning revenue by premium upgrades.
Users must purchase this premium package in order to connect their sites to their own domains.
4. MindStick
Mindstick was established in 2010, headquartered in Allahabad. MindStick blogs consists of invaluable series of programming blogs and tutorials for software developers, coders ad programmers.
MindStick blog is Microsoft ISV Gold Partner in software application development.
They give services such as custom programming, product design, web design, database design and cutting edge mobile development.
5. Tumblr
Tumblr is a microblogging and social networking site founded by David Karp in 2007. Now, it is owned by Yahoo! Since 2013. They provide service such as multimedia and other content to a short-form blog.
Bloggers can make their blogs private and users can follow other user's blogs.
For bloggers, many of the sites features are accessed using "dashboard" interface.
The dashboard is basically a primary tool for the typical Tumblr user. Using dashboard, users are able to like posts from other blogs that appears on their dashboard, comments and reblog. Users can also connect with Twitter and
Facebook accounts, so when they make a post, it will be sent as both tweet and status update.
6. Jekyll
Jekyll was first introduced by Tom Preston-Werner in 2008. Jekyll begun a development towards websites.
Jekyll takes content, renders textile and liquid Templates and produces a static websites which is ready to be served by Apache HTTP Server, Nginx and other web server. Jekyll is flexible and also support front-end frameworks such as Semantic, Bootstrap and may others.
Jekyll sites is published using cloud-based CMS software that enables content editors ability to modify site without knowing how to code.
7. HubPages
HubPages was introduced by Hummer Winblad in 2006. HubPages is a user created content,sharing site. It recently acquired website Squidoo.
HubPages is a site that hosts content created by its member.
Each member has a sub domain, where they can post content. Members have features such as videos, external links, reader surveys, providing a comments box and photos.
Members have all intellectual property rights to their contents and can delete whenever they want.