Young people have an abundance of choice today. Yet finding purpose is an altogether different challenge for them, says Indrajit Gupta.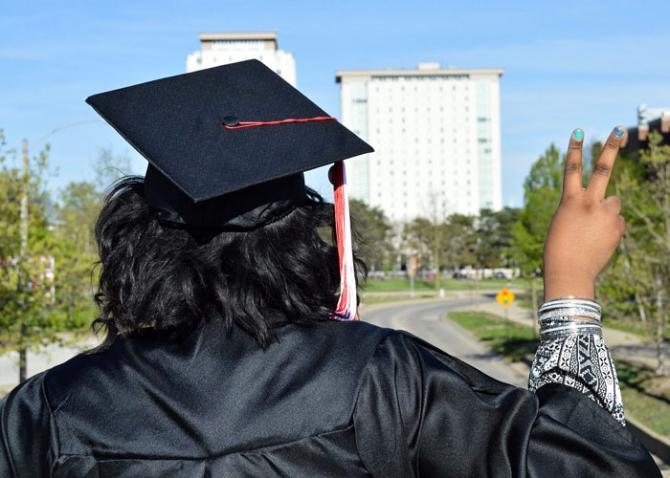 Photograph: actaylorjr/Pixabay.com
As you read this today, I will be away at a commencement ceremony at one of the leading IIMs this weekend.
Addressing an audience of 500 first-year students is always tricky.
Especially since it is not easy to figure out what they're interested in. And running an interactive session with such a large audience is equally challenging.
But the director was kind enough to allow me to choose the topic. "Please feel to talk about what you think will be relevant to them," he said.
Over the years, I've been fortunate to have worked with a bunch of bright, young people.
This has easily been the most satisfying part of my career. And I've no qualms in admitting that I've learnt more about how to manage careers by observing these young people than I have from my various bosses.
These days there are many pertinent discussions about how to manage millennials -- and why they're a different breed altogether from the previous generations.
Some of it may well be true. I'd like to believe there are some universal truths about how young people stumble and fall, pick themselves up again -- and finally set themselves up for success.
Here are a few lessons I've learnt:
1. The greatest pleasure in life is doing what people say you cannot do. -- Walter Bagehot
So it was with N.
She arrived in Mumbai in 2002 to be part of my team on a rather short leash.
The powers-that-be at the publication where I worked decided that I should I try her out for two months -- and if things didn't work out, I should ask her to leave.
She was practically a fresher, having worked at another publication for less than a year -- and a few months in our Delhi office.
She was quiet and low-key, and it would have been easy to miss the steely reserve.
She simply needed a chance to prove herself.
In the next five years, she blossomed into a gifted management writer, earning the respect of an impressive network of gurus -- from C K Prahalad and Jagdish Sheth to Jeffrey Pfeffer and Henry Mintzberg -- who knew her personally.
Today, she edits a global management magazine, based in Hong Kong, and two weeks ago, she won a major award in Europe for the magazine she completely revamped a year ago.
2. Travel is rich with learning opportunities, and the ultimate souvenir is a broader perspective -- Rick Steves
R came to us as a cub reporter on marketing, retail and advertising.
After a few years, he decided his heart lay in development reporting. I reluctantly agreed to let him go for his masters in development studies in the UK.
When he came back, it took a while for his career to pick up pace.
He stayed invested in ground reporting -- something that was fast disappearing.
More than two years later, he took a 50 per cent pay cut to join an online journalism platform with a 15-month mandate to lead a reporting project to identify and report on the most significant changes underway in six of India's states.
That project stretched on for two years, as he criss-crossed the country to report deeply on transformational stories that even local media had failed to spot.
His work won him four major awards. And a book is now underway.
3. Curiosity is a willing, a proud, an eager confession of ignorance. -- S Leonard Rubinstein
S started his journalism career in Nagpur.
Within a few years, he realised that he had outgrown the local paper and its crime beat.
Many of his seniors had headed to Mumbai. And he too plotted and planned how to bag a job in the big city.
When he joined our team, he was eager as hell to succeed. But building a network in a new place takes time.
What he had going for him was his intellectual curiosity.
He read voraciously and widely, enjoyed meeting new people and loved taking risks with story-telling.
Yet, he quit mainstream journalism thrice, once to join a publishing and content start-up, and then worked as an executive assistant to an IT tzar and finally, as part of a content team in a large Indian conglomerate.
I guess the zeal to tell stories never really died. And each time, he came back to the profession, richer for the experiences he had been through.
Today, he is heading a digital media start-up within a large media company that hopes to break new ground with a subscription-based model.
What do these mini-stories tell us?
Young people today have an abundance of choice. Yet their biggest struggle is invariably figuring out purpose.
As author T D Jakes wisely said, 'If you can't figure out your purpose, figure out your passion. For your passion will lead you right into your purpose.'
The writer is co-founder, Founding Fuel.