Anjuli Bhargava explains why so many young Indians are packing their bags to study abroad and the steps that need to be taken to stem this outflow.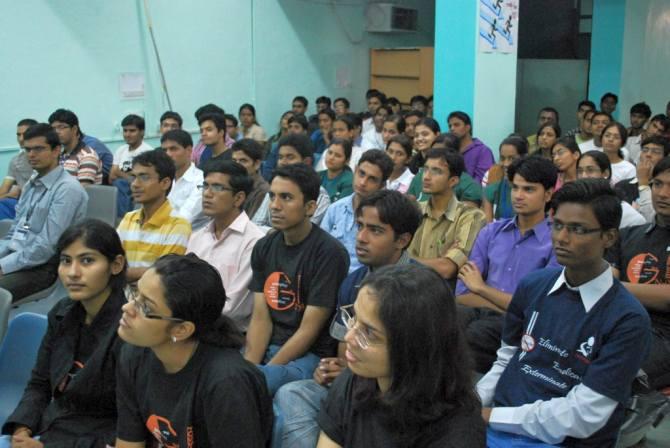 September-October is that time of the year when a lot of children I know start leaving home to study overseas. When we were young, there were a handful of children that made it abroad and almost all had some scholarship or the other to fall back on.
Parents provided some basic support and, perhaps, paid for air tickets. Who could afford anything else?
Well, times have changed.
One can squabble over the numbers but there's no denying that what used to be a trickle is now a flood. And while back then, most children left for post-graduate studies, today it is at a far younger age (mostly 17- to 18-year-olds) for under-graduate studies.
Why is this happening to this extent? One, there's a growing demand for global-quality education that, no matter what we claim, most Indian universities fail to provide. Few Indian universities figure in global rankings as of now.
But it's not as if all Indian children who go overseas to study are aiming or making it to the Ivy leagues or other ranked institutions. Many go to B- and even C-grade universities.
That brings me to the second reason: an alarming number of children simply don't make the cut-offs required by the few reputed universities in India. Delhi University cut-offs -- a topic of hot debate -- have risen one to two per cent every year and the day doesn't seem far when cut offs in most subjects will reach 100 per cent.
What, I sometimes wonder, happens then? How do colleges admit children who have all got a score of 100 per cent? What will distinguish one from the other?
Today, parents can also afford a whole lot more. They are paying anywhere between Rs 20 and Rs 25 lakh a year for one year of study abroad. The rich can easily afford it; the not-so-rich scrape it together as far more importance is given to children's education today than it was back then.
Parents are forced to spend this kind of money on a graduate degree despite the fact that it won't take the children too far. A post-graduate is almost a must for any kind of serious career today.
Why is all of this a matter of concern? One, it's sad to see your children have no option but to leave. Two, these kids are still at a young and impressionable stage. And three, this is a huge financial drain on the country.
If India got its act together and set up university towns here with high-quality colleges, think of the number of jobs it would add. A whole eco-system -- teachers, boarding houses, shops, restaurants -- could develop around it as one sees in so many American university towns or at Oxford and Cambridge.
When I asked senior bureaucrats and officials in the union human resource development ministry about this, they were dismissive. They argued that "these kids who lack the hunger" are welcome to leave; they have other, more serious problems and less privileged kids to worry about.
An unfair argument to my mind since the country doesn't belong only to the less-privileged. The fact that some parents have done well and can afford to send their kids overseas surely doesn't mean they should be forced to.
If there is a growing demand for a global education in the country and more and more parents are trying to find ways and means to find the funds for it, isn't it the government's responsibility to make sure there are global quality institutes to cater to this demand?
Some years ago, Carnegie Mellon and some other foreign universities did try to set up campuses in India. But they were thwarted rather than supported.
There are a few private options -- Ashoka University, Shiv Nadar University to name a few -- which are hoping to offer a global experience here, but as of now these are few and far between (and yet to prove themselves).
The government has so far -- as in many other areas -- abdicated this responsibility too: we can't do it, let the private sector go ahead. But it cannot wash its hands off every headache and ask the private sector to step in.
If that's the case, let the private sector run the government too.
Disclaimer: If anyone I know happens to read this, I wasn't referring to you!
Photograph: Niyam Bhushan/Wikimedia Commons