Overseas education consultant NNS Chandra shares advice on how to pick the right international education.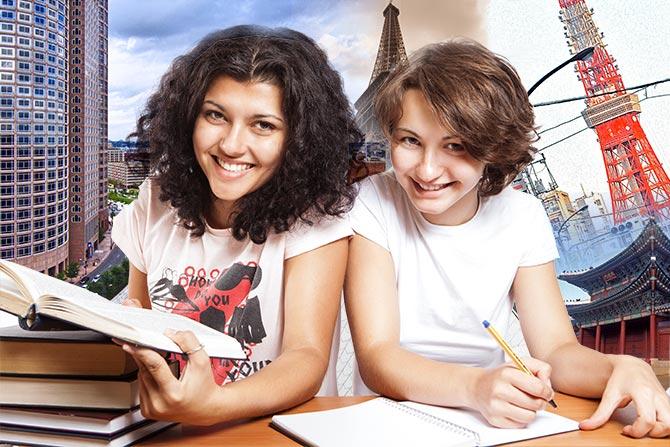 In an online chat with readers every Friday, overseas education consultant NNS Chandra offers advice on how to pick the right course and career abroad.
For those who missed the chat on March 11, here's the unedited transcript:
---
Rashmi Jaiswal: My son is doing is first year engineering in Civils. He wants to drop and shift to Japan as US is too costly.Is it right
NNS Chandra: These days youngsters have it in their mind, Rashmi. I understand your worry as a parent.
Try to find out why he want to drop. I too had these thoughts while I was in my first semester of Engg (years back, 30 years back!!!) Please try to understand what is going on.
Where to go and study - to Japan or to USA come second. Yes USA tuition is expensive. Japan living cost might be high.
Shifting to Japan is not easy too. Ask him to e-mail me or pass his number I can call him. I cna share my experience as an engineering student.
I would encourage him to take a break if he has reached that point. May be travel to Japan and USA. And see for himself what it truly is and may be that would encourage him to come back and study in an year. That is what I did. I took a gap year. It helped me.
---
sukhdev: hi..my name is Sukhdev..I have done hotel management four years' degree course and then two years MBA after that worked as assistant manager in a government bank for three years ..den joined government job as auditor, presently working from 3 years.
I want to go Canada with PR and do job. pls advice job opportunities in Canada accordingly
NNS Chandra: Hi Sukhdev, unfortunately, I cannot direct you. After the rule change and with new point system in I have limited idea on PR models.
I am positive that service sector in Canada is booming and hotel management should come in handy.
There are several know consultants in those areas they should be able to guide you better. If you write to me I could probably give you a list. I cannot recommend anyone.
---
Rajib-Kumar Bandopadhyay: Hello, Sir!I want to know about very good universities in the US and Canada offering Undergraduate and graduate degrees through research,for both myself and my daughter.
Could you help us in our pursuit for knowledge and entrepreneurship please? Regards, Bijar Mysore
NNS Chandra: Hi Bijar, research and entrepreneurship are closely linked, I understand.
Keeping up with the tradition of invention and its commercialisation from Industrial Revolution period. What type of research are you both interested?
I am more interested in and involved in Academic research. Pure academic pursuit. If you give me additional data and on your interest I could guide you better.
---
Gangy Arora: What are IVY league universities and what is the difference between universities in USA? Are there government universities in USA? How does the cost compare?
NNS Chandra: In the United States, a state college or state university is one of the public colleges or universities funded by or associated with the state government.
Several US territories also administer public colleges and universities.
The US federal government does not run colleges or universities except for the service academies (Example Army and air force related institutes) US Federal Govt does grant land/fund universities. And, of course, the cost of tuition in a state university is lower than private research universities.
---
ravi shankar: My nephew is in final semester of B-TECH chemical engineering.
He has cleared GRE, scored 85. He is interested in studying in Canada. Can you suggest me which are the best institutions to take admission both in Canada and the US.
NNS Chandra: Hello Ravi Shankar, top school, if are looking at rankings etc, are definitely start from MIT, UC Berkeley, Stanford etc.
I have no data on your nephews GPA and other achievements. I always recommend schools like Minnesota, Wisconsin, UT Austin. U Alberta lost some of its charm after oil price crash and economy going down in Alberta. But I consider it as a great place to learn chemical engineering.
Other Canadian options are UofT, McGIll. I should mention GT too. Great school.
---
Rishi Dhanawat: I will complete my 12 this year in commerce. Then I am planning to do BCom and go abroad to do MBA. Is it feasible enough? Which I are the best countries to offer me a good experience in MBA?
NNS Chandra: HI Rishi, most the of the top b-schools abroad require a four year under grad degree to begin with. I assume you are looking at 3 year bachelors in commerce, right?
To answer your first question I would encourage you to consider to work for a while after your bachelors and apply.
Training you receive in most countries, for masters in business administration, may remain the same. But the experience and energy in USA b-schools I personally felt much more close to reality and one would get a good learning experience here.
---
debby: Sir, I'll be completing my 10th CBSE and I'm interested in being a pilot so can you advice me the best pilot training academy abroad or in India which would help me after my 12th. Nishanth. K
NNS Chandra: Hi Debby/Nishanth, So you want to become a pilot? Great career.
There are several prestigious academies like in Florida and in LA. Great fun facilities etc.
I would recommend you to consider smaller facilities where you can get good training and lot of flying time. That will make a lot of difference to get the commercial licence. Same idea when you are looking at academies in India.
Recently, my close friend's son completed the programme in Bradford Flight School and secured his licence in record time. And got a position. All with in a shorter time frame than I had expected.
Please e-mail me I can connect you to several flight schools in India and abroad.
---
Have questions for NNS Chandra? Post them here!
Lead image used for representational purposes only. Credit: Image created using Creative Commons