"One-year MBA degrees can cost between £15,000 - £20,000 pounds on average, with top schools such as Oxford and Cambridge potentially costing up to £45,000."
"Securing a great admission is important. You need to be quite strategic."
NNS Chandra shares advice on how to pick the right international education.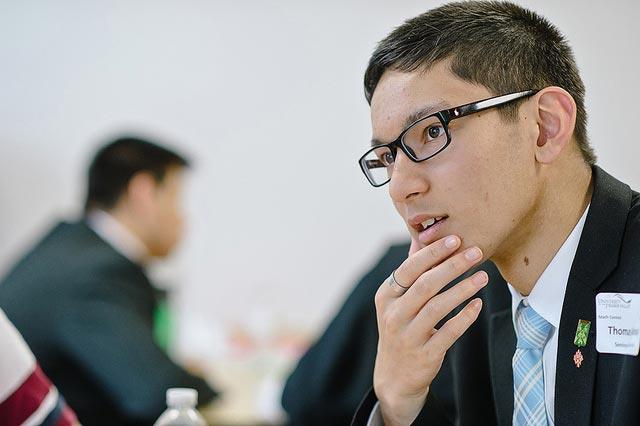 In an online chat with readers every Friday, overseas education consultant NNS Chandra offers advice on how to pick the right course and career abroad.
Those who missed the chat on January 8, here's the unedited transcript:
---
C Kumar: My son is pursuing the 5-year Integrated MBA course at O.P.Jindal Global University, Sonipat, What are the further educational avenues available (India/abroad) w.r.t Sports Management.
Request for your e-mail ID so that my son can get in touch as advised. Can you help my son to undertake a 2-3 week internship at Liverpool Football Club, UK
NNS Chandra: Educational opportunities - of course specialising is the route.
Several courses in specific areas, short, long term and including doctoral studies opportunities.
Even during these years in school doing his MBA, I would encourage him to do some internships in India or in USA with one of these sport franchise and/or do a research intern-ship in an University, spending 2-3 weeks in USA> Please ask him to email me. I can give some pointers/direction.
I can definitely guide him in his Liverpool application, absolutely.
It is an ambitious attempt. Requires strong academics, powerful SOP, a decent resume to begin with.
He should also try to get some work with ISL franchise. Or a USA University research internship in same area.
---
vinaykumargoud mothkur: Hi,My sister completed her Bachelor in Dental Science(BDS) and want to pursue Master in Health Administration(MHA) in US for Fall 2016 where we can afford around 10 lakhs/annum including all tuition, fee, books and living expenses.
Please suggest four to five universities or colleges in US.
NNS Chandra: Applications to the MHA program are considered by a faculty admissions committee, in top universities, which reviews a range of criteria and considers the overall balance of each applicant's qualifications.
For example the top MHA program in country in John Hopkins - a strong undergraduate record is expected and the personal statement. Plus a resume.
Please ask your sister to email me her resume, SOP and academic records, then I might be able to guide her in her university selection.
---
Tayyab Ghaffar: Hi sir I am a mechanical engineer, I am very much interested in doing energy management. Please guide me about Mba in energy management from europian universities...thank you
NNS Chandra: Hi Tayyab - Take a close look at the MBA (oil and gas courses) programme available at London School of Business and Finance. Also the Global energy Program at Warwick Business School.
Another way to look at is to do an MBA with Green Energy and Sustainable Business concentration - designed to provide an opportunity for specialization and in-depth focus on financial viability, ecological sustainability, and social equity. Several schools across Europe are offering these.
Take a serious look at Scandinavian countries, where lots of work in this area are happening.
---
Dinkar Dosanjh: Hello sir, my son is in his last year BCom, he is very good in his studies, he is very keen to go to UK for his MBA, can you please suggest some good universities in UK and the fee structure?
NNS Chandra: Hi Dinkar, University list preparation is one of the important things a prospective student must do with utmost careful manner.
I believe, it should be pure;y based on data. Academic works, current interests, future goals etc must be considered and matched with opportunities cost etc.
Please ask him to send me an email with details I would be glad to help him.
Cost - One-year MBA degrees can cost between £15,000 - £20,000 pounds on average, with top schools such as Oxford and Cambridge potentially costing up to £45,000. There are however a number of universities offering low tuition fees with high quality education.
---
hitansh: Sir , once applied for the course in abroad how much time does it take for the admission letter to come?
NNS Chandra: Hitansh, It depends. For under graduate admissions, for example, it take 90-100 days for American universities to announce results. And start issuing offer letters.
For shorter courses the turn around time could be less. It depends on university, duration, semester one is applying too, etc.
---
kundan kumar: Hi, I have done MCA and I am working as a Marketing Professional. I want to do MBA from US university. Please guide me what to do.
NNS Chandra: Hi Kundan, How many years you spend in marketing? What exactly you do in marketing? I assume you are looking to study marketing management or something around that, right?
Securing a great admission is important. You need to be quite strategic.
---
Lead image used for representational purposes only. Image: University of the Fraser Valley/Creative Commons
Have questions for NNS Chandra? Post them here!