International education consultant NNS Chandra shares advice on how to pick the right international education.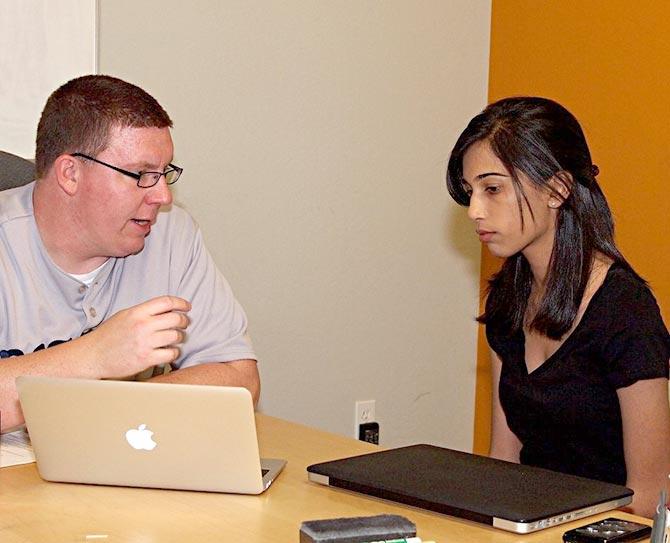 In an online chat with readers every Friday, overseas education consultant NNS Chandra offers advice on how to pick the right course and career abroad.
For those who missed the chat on January 6, here's the unedited transcript:
---
Jitender: I got your contact details from AMC website. My daughter, who is an American citizen, is currently studying in a school in Gurgaon in India.
She was interested in appearing for AMC 8 exam. Can you please advise about any centres in India where she can take this exam?
Also, if there is any other information which will be useful to her, please do share.
NNS Chandra: Hi Jitender, Really happy to note your interest in American Math Competitions.
Your daughter can write the exam at her school. Please ask your school to write to me, my office in India or MAA office.
The MAA AMC contests are designed to engage students and teachers in effective mathematical problem solving that is consistent with curricular goals, and to prepare students for future mathematical success.
Several resources are available to help students to prepare.
Please check MAA website. You c an any time reach out to me or our office as we are authorized by MAA as exclusive provider of exam and and related resources to students in South Asia.
---
M Birlan: I am a 12th grade student applying with USA university this year. I received a deferral letter from one school.
What does this mean and what are my chances? What should I do now? Please guide me and help me.
NNS Chandra: Deferrals are purgatory of Early decision and Early Action college admission process. You are not in yet you are not out.
Chancing the process has got limited meaning. In my opinion. Very relative.
My experience shows additional data, like fall grades, new activity to report, significant new actions can improve the chances.
My recommendations: Step 1. Acknowledge the deferral ASAP (email). Step two. In next 15 to 20 days write a detailed letter of continuing interest with additional data (if any)
---
Gopinath: Hi Mr Chandra, I am Gopinath here.
We currently live in Chicago, USA. For next 3 to 4 years, we need to stay in India. And then come back to US. My son is a 7th grader now and he is a US citizen.
My question is How will this affect my sons university education/admission in future? How can he stay connected?
Please do advice me how I can help.
NNS Chandra: I understand that your concern is that a part of your sons high school is going to be outside India and that might affect his college admission later. Right?
Yes, to certain extent. The residency requirements are there in several schools and programs.
More than the residency requirements, I would argue, as parents you guys should focus more on how to guide him and continue to prepare him for his eventual University studies.
Try to see this as an opportunity for him to become more of a global citizen.
I would recommend that you meet with his school counsellor and also identify an independent counsellor and prepare a plan. If I can be of any help, please do write to me.
---
Lead image used for representational purposes only. Image: Gangplank HQ/Creative Commons
Have questions for Chandra? Post them here!