Your interviewer is going to judge your merit on your preparedness, ability to respond to their questions and your body language.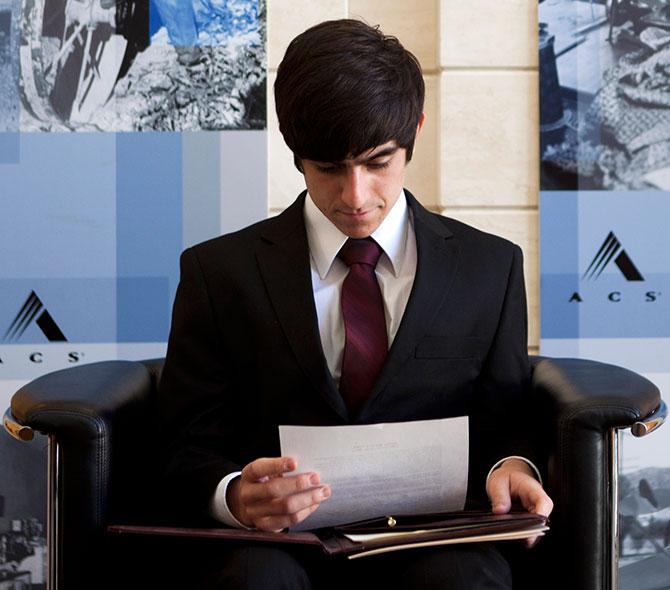 Congratulations! You have secured interview calls from the Universities you have applied to and are now in the final stages of your application process.
College interviews can be conducted by either the admissions board or an alumnus of the school, depending on the interview process of each school.
Furthermore, they can take place on over the phone, via Skype, on campus or in select cities and last between 30 minutes to an hour.
Regardless of the format, these simple tips will help you crack your next study abroad interview:
Do your homework
It's imperative that you go through your whole application a few times prior to the interview, so that you are aware of what to say in the interview.
Your answers to interview questions need to support the rest of your application and convey why you are the best fit.
Practice! Practice! Practice!
Meticulous preparation is the foundation of an effective interview.
Review a comprehensive list of questions and write down answers or bullet points for each of the answers.
Practice answering questions in front of a mirror, so that you can see what you look like, and be mindful of your body language and facial expressions.
Be on time for the interview
You do not, under any circumstances, want to be late to your interview.
Showing up on time is a clear indicator of your ability to manage your time, and tardiness will be viewed negatively.
Reach your interview site at least 15 minutes early.
Showing up early to the interview also gives you time to relax, compose and take stock on how you are visually presenting yourself.
Dress well
The general rule of thumb is that over dressing is better than under dressing. So when deciding on what to wear your default dress code should be formal business attire, unless you were specifically provided a more casual dress code option.
Essentially, you would want to dress in the same way that you would for a job interview at a large company.
Exercise basic etiquette
You need to build a positive and engaged conversation throughout your interview process.
When you enter the premises please be polite towards any administrative staff who you encounter before (and even after) your interview, without being overly friendly.
Casual remarks have a way of making it to the admissions committee, which is something we want to clearly avoid.
Make sure to greet the interviewer at the start of the interview, and to thank them at the end of it.
Take copies of your resume with you in case the interviewer needs on and of course keep your cell phone switched off, or at least in airplane mode, during your time there.
Strike the right tone
During the interview, maintain a friendly, engaged tone with your interviewer. Do not respond negatively to any comments or questions.
If at any point you feel thrown off by a question, it's okay to ask for a minute to recompose yourself, think about the question and then communicate your best response.
Showcase your genuine enthusiasm for the school and program through insightful and honest answers that best reflect your experiences and personality, rather than by speaking aggressively or too quickly.
Maintain eye contact with the interviewer to show confidence and build trust.
Use your resume as a reference tool, only if you need to, otherwise you should be well prepared so that you do not feel the need to look at it at all.
Be yourself
Be the best version of yourself -- authentic and confident.
Share stories that have genuinely had an impact on your life, and make a list of these experiences in advance.
The admission committee has significant experience conducting interviews and can sense even the tiniest inkling of phoniness. Put forward the best version of your true self!
Pay attention to your body language
The way that you present yourself is of critical importance.
Your interviewer is going to be judging on the entirety of his or her interaction with you, including your background and experiences, your ability to articulate yourself, as well as the way in which you communicate with your body language.
Sit upright and at the edge of your seat to convey that you are both engaged and passionate throughout the interaction.
Have your own set of questions for the interviewer
The questions from your interviewer will be centered on determining whether you are a good fit for their specific programme.
Usually, at the end of the interview, you will be given a chance to share any specific questions that you may have for them. Although this is optional, by asking appropriate, well thought-out questions, you have an opportunity to make a strong impression.
Don't forget your Thank You!
Ensure to write a formal Thank You letter/e-mail to your interviewer/s.
To demonstrate courtesy and develop a rapport with the interviewer, it is imperative that you send a thank you message within 24 hours of the interview. Most interviewers do expect this.
The Thank You note should be written separately to each interviewer, and reiterate the critical components of your conversation.
Make sure to reflect your sincere appreciation and reconfirm your passion for and commitment to the program and school.
If you do your homework well and come in prepared you can make a great first impression! Good Luck!
The author of this piece is Vibha Kagzi, chief education officer and founder of Reachivy.com, an educational advisory firm.
Lead image used for representational purposes only. Photograph: Patrick T Fallon/Reuters