"Getting research experience should start with a course in research methodology.
"Several short programs are available in American Universities (on-line and in campus).
"Some research institutes might consider to give internship opportunities to those who are qualified and trained."
Overseas education consultant NNS Chandra shares advice on how to pick the right international education.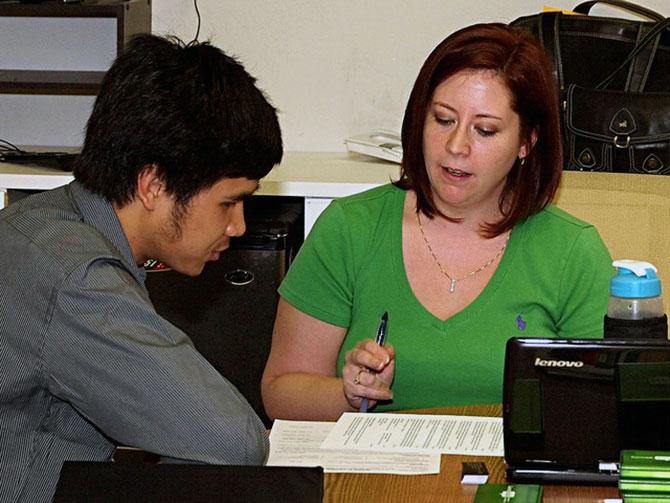 In an online chat with readers every Friday, overseas education consultant NNS Chandra offers advice on how to pick the right course and career abroad.
For those who missed the chat on December 4, here's the unedited transcript:
---
vinodadsule: I am BCom, I have completed MBA in finance I want to do international taxation pl guide.
NNS Chandra: Several professional associations in North America and Europe provide education and training resources for reasonable cost.
And successfully completing would help you to secure a accreditation and officially start practising. Some course are online, some in campus, and exams in specific locations.
Looking at a masters would be interesting too. Great programs in NYU to top schools. Challenging to secure admission but can build a solid career around a International taxation post grad. degree.
---
monoj sen: Sir, my son wants to study master (M.Sc) in Nuclear Sc & Tech from Graduate School of Engineering, Mines Nantes, France. Is it UGC recognized in India for NET etc? How is the value of the course ? Kindly guide me.Thanks
NNS Chandra: Monoj, Great school. Good program. Pass my congrats to your son.
I am positive that your son would get good opportunity to learn techniques of conducting research and do several intern ship in the area.
I meant there are several opportunities to involve in research while at School of Engineering, Mines Nantes.
So, in my opinion, it would not be a challenge to pursue research fellowships in India after Grad program.
NET is only an eligibility exam, right? With what I know and understand I am positive he should not have any issue with the degree while applying to UGC
---
Kartik Sehgal: Dear sir, hope you are doing well. I have done BTech in biotech, and aspire to pursue higher studies in neuroscience from abroad. I have scored 307 in GRE and yet to take the TOEFL.
I lack a research experience, and quite doubtful about my admission abroad without it. Can I do something about it? I am considering the GATE as a second option. Thanks
NNS Chandra: Hi Karthik Really appreciate your academic interest.
Great subject area to pursue your graduate program. I fully did not understand the relevance of research program, In my opinion you should be more concerned about credits and required courses for securing seat in a neuroscience program.
Getting research experience should start with a course in research methodology.
Several short programs are available in American Universities (on-line and in campus).
Some research institutes might consider to give internship opportunities to those who are qualified and trained. Consider them Write to me if you need more details. NNS
---
mdzseeshan: sir my friend had done his 12 class in 2015 after gap of 14 years now he want to do mass media from us or Canada Australia do this gap effect him how he should prepare for IELTS?
NNS Chandra: Hi, Your friend wants to get into an under grad programme right?
If that is a case getting in directly to a top University for a Mass Media Under Grad program would be a challenge.
Your friend might want to attend college and build academic credits. There are several schools that consider mature students, that would depend on type of experience and relevancy of experience.
---
ramesh taneja: My daughter want to study abroad after 12th PCM, what are the option and what will be expenditure
NNS Chandra : Good to know about your daughters interest. Ramesh. Great. Encourage that.
Which grade is she in right now? Is she clear on where she wants to study? I mean USA? UK? The planning and steps depends on all these.
Cost too depends. For example in American private research universities, like Harvard, she will be looking to spend around 50000 US $ an year.
---
vibha malhotra: How are University of Richmond, Swarthmore College, and Knox college for undergrad engineering programs
NNS Chandra: HI Vibha, All are great schools, UR has got some Grad programs but all three schools are focused on under graduate programs. All with years or decades of history and high rankings.
Swarthmore and Knox are pure liberal arts schools. Top schools in the country. Exciting location.
Great teachers and wonderful programs. Listed as 'Colleges that change your life' - book by Loren.
---
sumit jain: Hello Sir, I am interested in doing MBA from a good college in US , my GMAT score is 710 but i have completed my engg. in 2000.
Is 15 yrs education gap going to affect my admission chances.
NNS Chandra : Hi Sumit, I can say with absolute confidence that in American B Schools experience is an asset.
Every school will try to build their incoming MBA batch with fresh graduates and mature students so the class would be dynamic, and ideas across the board.
Your experience of 15 years and what all you did and did not do these years would become critical in the selection process as a mature student.
I would strongly recommend to build your application around your experience.All you scores and current GMAT scores would definitely support you.
---
Angel : Hi,I am Nazia palanning to Go Australia for for Masters. I have completed my graduation in First Division. Do you suggest me to take MBA or MFA (Master in Finance and Accounting (or Master in Finance and banking.
Which will boost my career.Please guide accordingle.Thank you..!
NNS Chandra: Hi Nazia - I would encourage you to look things in two different ways - when it comes to career. 1) The raw data available on opportunities for a particular graduate degree holders 2) What would be you as a person interested in and you feel like you are good at.
Take for example, as an MBA grad one might have great opportunities (number of jobs to apply) when compared to, let us say, a Finance and Banking Grad. But when it comes to building ones career it always depend on how good are with your job, how excited you are each day to go to your job and perform, develop your career.
So in short, my answer to your question is, to ask yourself what excites you - being an business administrator/leader or managing numbers and aiding growth of organisations.
---
Lead image used for representational purposes only. Image: Gangplank HQ/Creative Commons
Have questions for NNS Chandra? Post them here!