Overseas education consultant NNS Chandra shares advice on how to pick the right international education.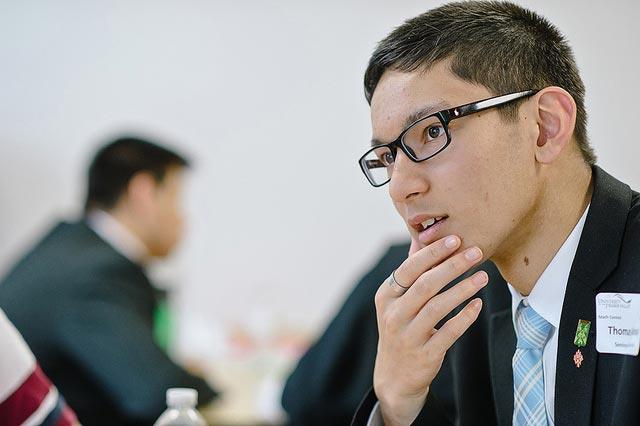 In an online chat with readers every Friday, overseas education consultant NNS Chandra offers advice on how to pick the right course and career abroad.
For those who missed the chat on April 29, here's the unedited transcript:
---
Parvathi Rajan: Sir, I want to study in USA and live in America. I'm interested in getting a degree in either neurology or oncology. What should I do after my high school?
No one in my family is a doctor. I am going to be the first person in my family to go abroad to study. Just confused. Could you walk me through the process?
NNS Chandra: Your overall GPA, science GPA and MCAT score will determine your eligibility for admission to medical school.
If you meet eligibility criteria, your ECs, LORs, personal statement will be reviewed and if all these match the mission and needs of the medical school, you may get an an interview.
(An interview does not guarantee you'll be admitted, but you cannot be admitted without an interview.) Ultimately only about 40 per cent of students who apply to medical school are accepted. After four years of medical school, you will enter a further medical training period (called a residency).
Depending on the speciality, residency last for 3 to 5 years. If you want to further specialise, you will have still more training, called a fellowship. (Neurology requires a 4-years residency; hematology/oncology requires a 3 year residency followed by a three-year fellowship.)
---
Priyanka Varavatoor: His marks are good. He has lots of academic honours and scholarships.He worked in research position during his final year.
Also had two internships with major companies. Your advice will guide him in right direction.
NNS Chandra: I will write on this in detail. My time is running out today. I will write in detail.
---
hetul Trivedi: Sir, I have completed my 10 board exam and awaiting for results. I want to get forward in actuarial science.please.Please advise I am good in maths,science and eco. I maintaned 90 per cent in my school days.
NNS Chandra: Trivedi - I am impressed with your focus and interest at this age. Actuarial science requires application in mathematical and statistical methods. Do some university level course in the same. Write to me.
---
Sudipta RoyBarman: Dear Sir, I want to know your opinion about Bard College at Simon's Rock at Mass. There one can start college after 10th and get BA in 4 yrs. My son wants to study Humanities in U.S. How good is Simon's Rock? Will the degree be recognised in India? At present my son have completed 10th, appeared already in SAT and got 2130.
NNS Chandra: Considering Bard College? That is wonderful. Great liberal arts programme with options on science. Which concentrations he is considering? Their associate degree may be considered in India. I am not sure of their bachelors programme.
I always recommend to international students do the two year programme get the associate degree and have a great experience and learning opportunity and look beyond
---
Ganesh: My daughter would be completing her HSC (12th Std) from Gujarat. She wants to do her graduate course from USA. Could you advise me sir. She had very goods marks in all the three semesters i.e. around 92 per cent so far. Her subjects are Physics, Chemistry and Biology.
NNS Chandra: Ganesh - which programme is she on, state board or IB? To secure a solid admission in USA she might need more than good marks. What are the things she is involved in? Did she take external academic challenges?
---
Jitesh: Hi Sir, I am a Diploma Holder in Electronics and Communications Engg. (10+3) (Scores in all exams above 70 per cent till final year) with 21 years of experience of which 5 years in Technical & 16 years in Marketing..I want to take admission for International MBA. Is it possible?
NNS Chandra: Yes JItesh. Some universities might consider you as a mature student and may consider your application. I would encourage you to take some university level courses to strengthen your application. Along with GRE. But your success will depend not on the number of years of experience but your achievements during those years and how you present it.
---
sudhir patil: Sir, my daughter has completed 12th and wish to study agriculture. Which are good colleges in India and also cheap but good colleges in abroad. Also write about fee structure in both cases.
NNS Chandra: Hi Sudhir, The government colleges in India are considered to be some the best in the world when it comes to Agriculture in tropicals. Consider Agricultural school - Canada Agricultural University in Guelph. Take a look at that and let me know.
---
Anamika Singh: I want to migrate to USA and want to settle there, for this i am trying to find some Job there inline with my work experience. I would like to seek your help regarding this
NNS Chandra: Hi Anamika - I assume the path you want to follow is that go study in USA then secure a job and VISA (temp work permit). That could be moved to permanent VISA (green Card and eventual citizenship. I, as an educator or someone like can only guide you on your first steps - securing an admission. And we need lots of data - scores, grades, SOP - a lot to help you in the process.
---
Ravinder Naik: Sir, My son is not very proficient in mathematics. He always got mostly around 60 per cent high school classes in Mathematics. He struggles with ADD like symptoms, and slow in learning. I want him to get an MBA eventually. What should I be doing? Please recommend.
NNS Chandra: My first question would be whether he completed Fundamentals of Calc (course before pre-calc) and Statistics in high school.
A lot of programs accept non-STEM business-focused calculus, which is usually substantially less intensive. So definitely gear towards them if you're sticking with business and math is already troublesome for you.
---
Shashank Agiri: Is work experience really necessary to get into a top MBA program? If so, how many years?
NNS Chandra: In fact, some top MBA programs even run special programs that foster this sort of thing.
The Wharton MBA program has a 3-2 sub matriculation program with the Wharton BS program where somebody can get both degrees in 5 years.
However, it is true that it is extremely difficult to get into a top MBA program with no work experience. Almost all successful candidates have extensive experience. The average level of work experience ranges from 4-6 years.
---
Devansh Tiwari: I graduated with a BE in Mechanical in 2015. My CGPA is 7. I created a Website to revolutionise Film Making and casting process. Last year I got one of my fiction Novels Published. I am looking forward to do Ms in innovation management from US. Can you please tell me a bit about the job prospects and Colleges i Should look for?
NNS Chandra: Great academic achievements and wonderful proven track record, Tiwari. This should grab attention of several schools (top ones) offering the programs like innovation management.
The job opportunities are available in both academic and corporate sectors. Your choice of program and school becomes critical. I assume you should do great in a program which touches both technology and innovation and teaches entrepreneurship.
---
Prejisha: I am planning on applying to Brown, Dartmouth, Claremont McKenna, and some other very good schools and I am wondering how much of a difference a 33 vs a 34 or a 35 will make. Thanks.
A lot, I would say Prejiksha. 33 is very good score. But if you could increase to 35 it will get very competitive in several top schools. Schools in your list like Brown and Darthmoth might requires more than a great ACT score. You can definitely improve and take overall above 33. All the best.
---
sur27: sir I had completed my graduation in chemical engineering with 75.4 per cent. I wanted to do MS in chemical please suggest me the colleges I can apply and also about the scholarship when and how to apply for scholarship ?
NNS Chandra: Dear Sur, That is a good score to form a base for applying for good schools with great chemical engineering programme in the USA. The list of school/university requires more info than that, GRE score for example.
The first draft of SOP would also come handy in college selection. Scholarship requires separate application.
Some scholarships you can apply after you sending application to a particular school, some requires firm offer. The funding opportunities like TA/RA position based funding you can apply once in campus.
---
Have questions for NNS Chandra? Post them here!
Lead image used for representational purposes only. Credit: Image created using Creative Commons