Rising costs and stricter visa regulations are forcing Indian students to look for options beyond the US. Vinay Umarji reports.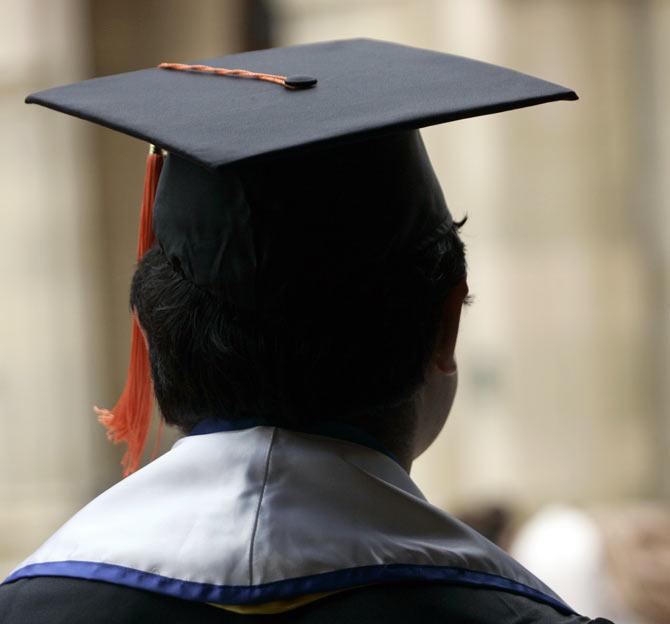 Photograph: Jonathan Alcorn/Reuters
According to foreign education service providers, the number of Indian students applying to the US institutons for the academic year 2018-2019 have dipped by 30 to 40 per cent.
Instead, students are opting for institutions in Canada, followed by Australia, New Zealand and Germany.
The drop has been observed in both science, technology, engineering & management (STEM), and in management education.
The reasons for a shift from the US are both political uncertainty and rising costs on American campuses.
Meanwhile, according to Open Doors Report on International Education Exchange, for the academic year 2017-2018, 1,86,000 Indian students had gone to the US institutes and around 1,00,000 went to Canada.
The actual figures for the academic year of 2018-2019 will be known when students begin their academic sessions at foreign campuses.
"There are two major factors. First, the economy itself and the other is visa regulations. Therefore, we are seeing a 30 per cent shift towards Canada from the US. Though Canada's permanent residency (PR) process is easier, the economy is not as large as the US. Yet, students are opting for the North American country, along with other destinations," said Arun Jagannathan of CrackVerbal, a test preparation and admissions consultancy firm.
Another factor in the decreasing number of applications to US colleges is rising cost of education.
"A couple of years ago, in the North American market, if 100 students were applying from India, 80 to 90 would apply only to the US and the rest would apply to Canada as well. The proportion has changed to 50 to 60 applying only to the US and another 40-30 applying for both Canada and the US; the rest apply only to Canada," said Jagannathan.
Of every 100 Indian students going abroad, 50 to 60 per cent would apply to Europe and the US; that number has come down to below 30 per cent.
This is not only because of rising costs among the leading destinations but stricter visa regulations.
Canada in North America, Ireland and Germany in Europe, and Singapore in South Asia have seen a rise in applications due to cost-effective programmes. These tend to be 25 to 30 per cent cheaper. Also, visa norms in these nations are comparatively relaxed.
According to Bala Ramalingam, Neptune Educational Consultants, another leading foreign education services provider, Australia and New Zealand are gaining prominence predominantly due to easier visa regulations.
"People applying to Canada, Australia and New Zealand are also those seeking permanent residency and, hence are looking at further studies after completing their postgraduation," said Ramalingam.