Overseas education consultant NNS Chandra shares advice on entrance examinations, admission procedures at international universities.
Illustration by Dominic Xavier/Rediff.com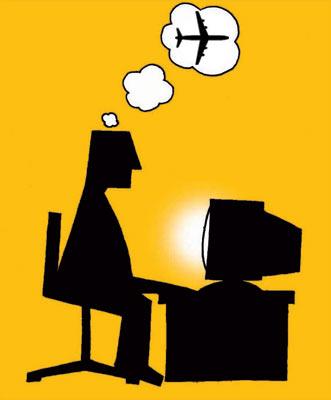 In an online chat with readers every Friday, overseas education consultant NNS Chandra offers advice on how to pick the right course and career abroad.
For those who missed the chat on February 17, here's the unedited transcript:
---
Salman Khan: Dear Sir, respectfully I disagree with the President of America's view on young people like me with a faith different than most Americans.
I am in a dilemma. I really hope you can guide me. I am admitted to a prestigious American university for a graduate degree. I am asked to join in for Spring semester. I am considering not to take admission. What do you recommend?
NNS Chandra: Dear Salman, I understand your feeling. Many in education sector share your concerns. Including myself. But President or one moment does not define a nation or people in nation.
I am not an expert to comment on psychology of crowd. But, in my opinion, the decision on choices of education/carer/relocation etc must be more based on logic and not emotion. Think again with your brain more and less allow your mind to get involved. If you need to talk to me I am always open, I am so proud of you
---
Prathiksha: I am a working nurse. Passed in 2011. I want to move to Germany and work. I can go there to study. What are the steps? Tuition fees is free in Germany.
NNS Chandra: Prathiksha, I do not believe anything is free. Going for learn is one thing and using education as a path to migrate can be challenging during this time of moment.
---
Mary Ville: NNS Chandra, My daughter will be finishing her MBBS this year. She is not interested in pursuing MD in India. What are her options to study in USA?
NNS Chandra: Practice of medicine can be over whelming to some, I understand. What is she interested in? Her basic training in medicine can come handy in securing admission to prestigious programs in Public Health to Bio statistics.
---
M Shah: Sir, My son is studying in 10th grade. He is an American citizen but now studying in Ahmadabad. I want him to join a public university in United States for his bachelor degree. My question is that whether he should join IB school or international program for his 11th grade. I will be very glad if you can guide us.
NNS Chandra: Mr Shah, Being an IB student can give your son access to lots of resources and ideas plus a curriculum with more focus on preparing for university in United States. And he can get transferable credits if he reaches highest grades in IB math for example. But if the question is if this going to be required, not really. A good thing to have.
---
Agency: Hi NNS last week i had question regarding mature student could you suggest any university and fees if you have an idea do they offer scholarship for mature student how to expain them what i have done 13 years in sense what document had to submit. Should i approach university or through an education consultant. kindly advice it matter most Thanks. Good weekend ahead
NNS Chandra: Lots of scholarships (funding as we call it) are available for mature students in certain school for certain programs. Not proportional to year of experience but mostly on what that mature student brings to the class. In most cases application remains the same, entry level requirement remains the same. For example base requirements of standardized test scores (GRE) test of English (TOFEL) GPA etc.
Once the applicant passes the gate keeper then for mature students goes through a process. And offers would be made.
The role of a education consulting agency in admission process is limited in US admission process. But can be useful for students who needs guidance in documentations.
---
Barduan Patel: My son is studying in USA. Is he safe there? I am reading a lot on news and feeling very sad and worried. Can you talk to him?
NNS Chandra: Hi Patel, absolutely. I assure you that he is and will be safe. Yes we have a new administration. And some changes are being made. Some small, some huge. These might impact his future in United states. But in no way, there is a safety issue. Absolutely not. There are concerns, International students are worried, I assure that he is safe and no issues.
---
Have questions for NNS Chandra? Post them here!