"I am a corporate story teller. I write stories that people can relate to," says Partha Basu, author of Mid-Career Crisis…Why Some Sail Through And Others Don't, his fourth till date, in which he charts out a plan to tackle mid-career crisis and offers insights into how you can achieve success in your career..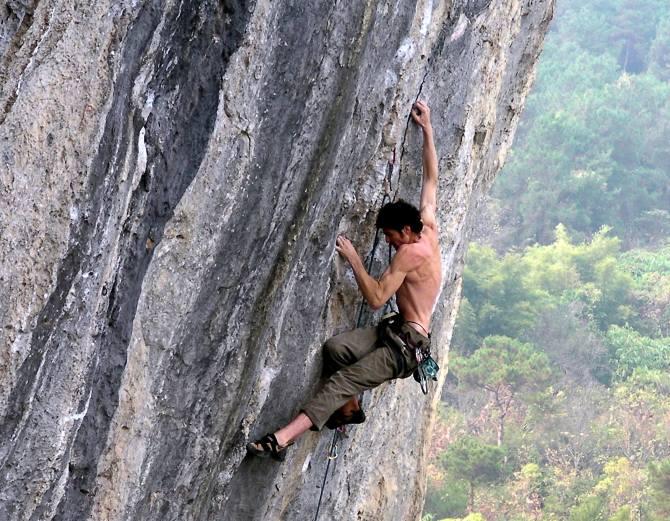 Photograph: Maria Ly/Wikimedia Commons
Global Director with multinational company Akzo Nobel, and based out of Amsterdam, The Netherlands, Partha has to his credit books like Make It or Break It: Mantras for a Successful Career, With or without You and Why Not...! Racing Ahead With Mentors, each written using his rich experience in the corporate world.
All of Partha's book offer useful career tips and insights to help climb the corporate ladder.
In Mid-career Crisis Partha has tried to answer many questions that trouble employees in their careers.
Questions like:
Are professionals who continue to grow in their career different from the rest?
Do they possess superior knowledge, sharper leadership skills or better educational qualifications?
But if that's the case, why isn't the top of the organisational pyramid always filled with the people who excelled in their studies or had the best academic qualifications?
Or is it sheer luck that helps some sail through at work, while others start experiencing a plateau as they pass their mid-career?
It is questions like these facing you and I, that Partha has tried to answer in Mid-career Crisis drawing from his stints at AkzoNobel N.V, Coca-Cola India, Whirlpool of India, IFB Group, Tata Group and Spicejet Limited, and also from real-life stories of 10 chief executive officers.
In an email interview with Prasanna D Zore/Rediff.com, Partha charts out a plan to tackle mid-career crisis.
This is your fourth book? Where do you get your ideas from for so many books?
I get ideas by observing people, and feeling their problems to be mine. And then I convert those ideas into reality, in the form of a book.
I try to understand the issues that are burning and needs to be addressed in today's corporate world. Mid-career crisis (MCC), is something, I heard every one talking about, but I could not find a book to address it. Hence I wrote one.
How do you find time to convert those ideas into reality?
Being a Global Director of a large multinational company, I have a busy job to attend. I believe if one fails to plan, he plans to fail. Hence I plan well.
Life is all about choices we make and having time or no time is a state of mind. We certainly have enough time in our hand; we spend it the way we want to spend. For instance, when I travel, I have time at the airport, at the aircraft. Many travellers like to take some rest; it's a choice they make. I choose to utilise the time writing.
You would be surprised, probably 75 per cent of this book was written in air or at the airports or at night at a hotel.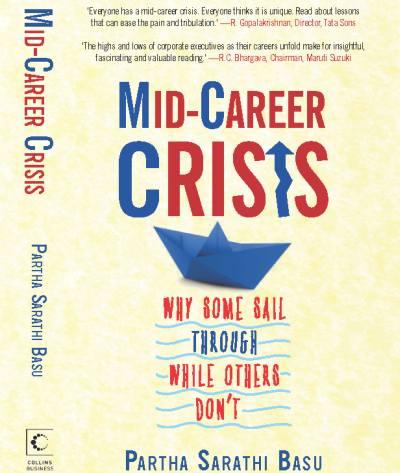 Your books are not typical management books, why so?
I am a corporate story teller. I write stories that people can relate to. In this book too I maintained my style of corporate storytelling, took break from the monologue style of management books. I have dealt with issues through near real life corporate stories which professionals can relate to, and if the readers exclaim… 'I think I know this guy' or 'this is what has happened to me' …my effort will be successful.
The book thus have 34 near life short stories coupled with 10 CEO stories (written by them) to ensure that the readers relate to a situation.
Is a mid-career crisis for real? How would one know if s/he is facing at one such crisis?
Mid-career crisis, in my mind, for many of us is real. It's an ailment that needs to be detected early, and addressed. The way to tackle MCC is purely in our hands but the problem is, most of us do not even recognise that we are into MCC, and we start sliding downhill that leads us to a sense of misery (M) , self-pity and loss of confidence.
It is a stage when you are often confused(C), start believing in many myths which leads to many changes (C) in your behaviour, leading you to a less effective way of delivery.
How is a mid-career crisis different from mid-life crisis?
I think mid-career crisis is a subset of mid-life crisis, which is an issue of its own, a much larger subject to tackle. In this book I tried to address MCC.
What do people who overcome mid-career crisis do better than others who get stuck in their routine jobs? Is there a 'one-size-fits-all' formula to overcome MCC?
Last many years, I have been closely studying people, listening to their stories to understand why some people power ahead in their career while for the rest the progress slows down during their mid-career. I wondered why only a few people reach the top while others fall behind after a good progression in the first few years of their careers.
What is it? Superior knowledge, sharper skills, better education or just sheer luck…?
How do people answer the questions that start bothering them mostly in their mid-career: Should we stay put and grow, or quit and move to a better-paying, bigger profile? Should we continue drawing salaries or build our dream start-ups?
So there are many questions that need to be answered. There is no 'one size fits all' formula.
In my study, I have noticed different people go through different issues which need to be addressed differently. However, one thing is for sure, ignoring the issues won't lead us anywhere. We need to recognise and embrace them upfront.
Your book has 10 real life stories of CEOs who successfully defeated their MCCs. What are the top common threads that run across these success stories?
During this amazing journey to understand the different phases of MCC, I approached a few senior corporate leaders and discussed my understanding and then asked them to share their personal experiences.
While some of them refused, most of them agreed.
Also Read: Are you the MIDAS in your office? Don't fool yourself!
They shared their learnings, the moves they made during their mid-career and their experiences on how they dealt with MCC -- without any guidelines or suggestions from me.
But when I read their stories, I was amazed to note how neatly they fitted into the patterns I had observed, and how well they illustrated the theme of this book: why some sail through while others don't.
And if I could pick up 5 common threads that I found in these CEO write ups, they would be:
Rewrite your goals/ ambitions, it might have changed over time
Have confidence in yourself, take clear decisions, recognise your unique ability
Be ready to leave your comfort zone, embrace the unknown
There is no short cut to success. Do what is right, with passion and integrity. Never ever give up or alter the course for short term gains
Enjoy your journey.
Finally, tell us about your MCC and how you overcame the confusions, changes and miseries that you faced :-)
Let me refer back to a time, when I was the General Manager – Commercial of Coca-Cola India. I had been in the corporate world for about thirteen years and had spent time in three companies, performing multiple functions in different industries. In my mind, I was all set to leap ahead in my career.
When I compared myself to my friends and colleagues, I could safely state that while I might not be ahead of all my contemporaries, no one could tell me I was a laggard. In terms of my personal life, I had nothing to complain about.
But still I was unhappy. I felt miserable; it seemed as if nothing was going right for me.
I was confused. My life was nothing but chaotic and I was convinced that I was in a big mess.
Also Read: 'Only the fittest survive in the corporate world'
I spent many hours introspecting and spoke to my friends, seniors, peers and also my juniors. Against my firm beliefs, I visited an astrologer, hoping that he could tell me about my future. I wanted to convey how unhappy I was with my career.
In the end, almost everyone sang the same tune and reassured me that 'all will be well'. Though their words provided me temporary solace, in reality, nothing changed.
I continued to feel miserable. It got worse with every passing day. But where was the problem? What else was I looking for? Frankly, I did not have an answer.
However, I was determined not to leave my suffering unattended.
During our conversations, my seniors, peers and juniors told me interesting events and stories. I realised that I was not alone and almost everyone went through this phase.
But while some people came out and kept growing, others failed to sail through. These stories gave me many insights into how winners conducted themselves at this stage of their careers. These stories shattered many myths that I used to believe in. Identifying those myths and understanding their effects helped me overcome my MCC.
The opinions/views expressed in this interview are purely personal in nature, and has nothing to do with that of AkzoNobel