Overseas education consultant NNS Chandra shares advice on how to pick the right international education.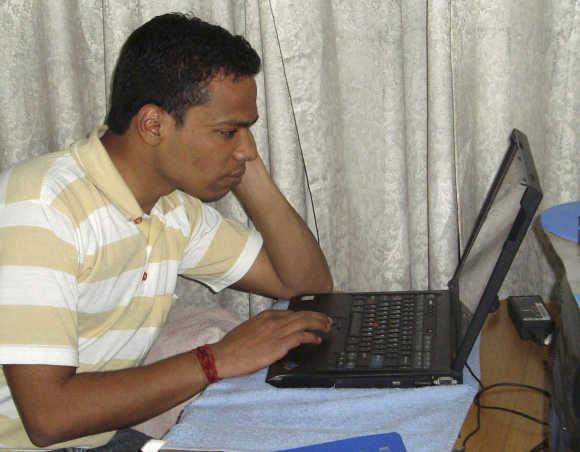 In an online chat with readers every Friday, overseas education consultant NNS Chandra offers advice on how to pick the right course and career abroad.
For those who missed the chat on January 22, here's the unedited transcript:
---
Sai Hyderabad: My daughter is doing PCM. She likes to apply and get admission in top engineering college in Germany or USA.
What are the steps she should take? What are colleges she should consider?
NNS Chandra: Dear Sai, I would ask your daughter to start with a statement of purpose.
That should bring out all her achievement together and her passion, interests etc.
Apart from academic results from high-school she need to show her leadership skills and her involvement in society as an engaged citizen when applying to an American university.
Sunaizee Mamdani: My son in 10th standard studying in Sri Satya Sai Institute of Higher Learning, Puttaparthy, AP.
He is very good in his academics and in 9th he got 10 CGPA. Just now I want to know more about such competitive exams outside India also, which he can appear for, and also any other scholarship exams later."
NNS Chandra: Hi Sunaizee, thanks for posting this question we received as email. Very important question.
There are several opportunities. Participate in American Math Competitions in Feb for example. There are a lot of exams like Sir Isaac Newton Physics exam or Biology Olympics. Take a look at University of Waterloo exams.
---
Aswani Dravid: Mr Chandra. I am journalist and working on a story about Mr Rohit -- his life, his activities and academic work and his death. I knew him since seven years.
I am least bothered about the political storm it has created in India, I want to know what is your position on his legacy if any, from a global perspective. And your experience as an academician and educator working in North America.
NNS Chandra: As an educator I North America I have, several times, got engaged in conversations around affirmative action (affirmative action refers to admission policies *in US Universities) that provide equal access to education for those groups that have been historically excluded or under represented, such as women and minorities.)
Discrimination and marginalisation of groups based on colour of skin, castes, religion, sexual orientation, disability - it is true and real.
And different societies have economic, social and legal tools to protect the oppressed. The events unfolding gives us an opportunity to discuss these complex issues openly and honestly.
I am promising myself that I will work on this and write on these issues and my position and probably send to Rediff Editors next week. Thanks again for the question. I hope I answered it.
---
Thomas: Sir/Ma'am, I am finishing my E&E engineering by next year. I am interested in research.
I want to do a masters program through research programme in an Ivy League University. What is the GRE I should be aiming. How to get more experience in research.
NNS Chandra: Dear Thomas, Interest in research is a great thing. Appreciate. Research is a commitment, especially when it come to academic research.
There are several research internships available for international students in American Universities. One can do a masters through research. That is one idea, #Study-Abroad
But you must make sure you have the aptitude and desire to be in this career.
I would strongly recommend you to take a research aptitude test. Based on results take additional course work to strengthen unsure areas.
Course work in research statistics is strongly recommended. And apply to a good internship. Please feel free to email me. For more information
---
Sonal Bansal: Dear sir, My daughter wants to study in US after 12th but little confused in science stream or economics...can you guide us what is the scope of economics and good colleges in US for studying economics..
NNS Chandra: Hello Sonal Bansal, Studying economics and commerce/business is quite popular in United States. Opens a lot of opportunities in career and in further studies.
List of top schools with strong economics program starts, of course, with Ivies. Harvard to Yale.
Some of my top students from India choose UChicago and UC Berkeley. I always recommend programmes in Liberal Arts schools like Hamilton. Great school, Excellent economics programme.
Sonal Bansal: Sir, she is doing undergrad in Germany possible..do they teach in German language only?? And if yes then is it good to study in Germany??
NNS Chandra: There are English Universities in Germany.
Sonal Bansal: Sir what are the career opportunities in economics?? plz if you can suggest us some..
NNS Chandra: Hi Sonal, Again - From Accountant to Claims Adjuster/Examiner, to Commodity Analyst/Trader, in Insurance to Labour Relations Specialist to Market Research Analyst, Media Buyer, to specialising jobs like Agricultural Economist, Demographer to Foreign Service Officer, Government Economist, Historical researcher, Health Policy Planner, International Trade Specialist....so many opportunities
Researching and teaching in University is a good opportunity. I am a survivor of University academic life:-) It is interesting and exciting field.
Please ask your daughter to participate in international math and economic competitions like Harvard economic challenge. Another possibility is participating in economic essay writing competitions.
---
Patel: Sir, My best friend is interested in a career in medicine. She is considering to get trained in providing First Aid. Will this help in her application for study abroad? Do you know who can train? What would be the cost?
NNS Chandra: This is a step towards taking a leadership role in society and school with confidence and training. in different jurisdictions (Quebec for example, or China) it is required by law to treat a fellow citizen who need emergency assistance.
One cannot walk away from that responsibility. If done, the state can file civil and criminal charges against that person.
The idea is as a whole society is responsible. These certifications can give confidence in such situation
What I am saying is this training is important, much beyond an entry in the application for medical school. Check local Red Cross or Heart Association for information on courses and cost.
Lead image used for representational purposes only. Image: Kshitij Anand/Reuters
Have questions for NNS Chandra? Post them here!