Overseas education consultant NNS Chandra shares advice on how to pick the right international education.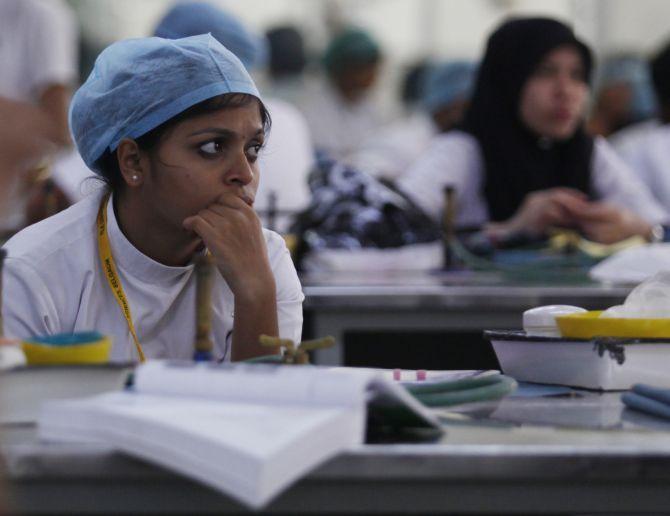 In an online chat with readers every Friday, overseas education consultant NNS Chandra offers advice on how to pick the right course and career abroad.
For those who missed the chat on April 22, here's the unedited transcript:
---
wasim-ahmed: Hello sir, my scores are very average around 10th - 75 per cent; 12th - 59 per cent , BE (civil) 61 per cent....did my engineering from a private college under Gauhati university Assam because could not crack state level common entrance. again after completing be in civil giving my entrance exams such as bank, SSC and all but chances are very very less to crack for me being an average student
NNS Chandra: Hello Wasim - Can you please explain the question again? I did not understand.
I understand your challenges. If you are more specific and frame the question I can guide. You can also email me.
---
Deep: Hello Sir My scores are GRE=310 CGPA = 9.1.I have poor finance.Would having loan reject my visa.And being a Android Developer for 3 years will be a good impression. Please replyThank you
NNS Chandra: Hi Deep - I do not think having an educational loan is going to be a challenge during VISA processing. But your course selection and university should reflect your interests and academic work.
Sarah: Hello sir, I have completed my SSC here in India. I want to continue my education in US. How should I prepare for better school.?
NNS Chandra: Sarah - What are your grades? Activities? Are you taking a gap year? I fully did not understand your question - are you planning to do under grad or grad in USA?
---
Ram Darpan: I am an international student who recently got accepted to decent universities such as University of San Francisco, University of Illinois at Chicago or USC. However, my biggest dream or more like a goal plan in my life was to get accepted to NYU. I applied to NYU as well, but, I got rejected. What are the steps I need to follow to get a transfer?
NNS Chandra: Congrats Ram. All are good schools. Transferring from, say USC, to NYU is definitely possible.
Are you trying for winter or spring transfer? Only thing I will say is to keep focus on your studies, maintain high GPA. Get involved in campus clubs.
---
Suresh V: I finished by bachelors and masters in commerce from Mumbai University. I want to continue my studies in trade and commerce in a foreign university. I have started preparing for GRE. Please guide me.
NNS Chandra: Hi Suresh -- what is your specific question? Applying for research programs in international trading can be one idea.
---
Komali Kiran: Sir - I received an invitation to attend the international student orientation program but i have no idea where i could stay! Is this compulsory? IT starts 2 days before move in date.
NNS Chandra: Hi Kiran, I would recommend to attend the orientation. You should be able get accommodation in dorm. Please do write your requirement in advance.
---
sandeep anil sable: I want to get my kid addmitted for a pilot training program and convert this to CPL in India and again do the type rating for the Airbus rating abroad.What are the chances of getting a loan for education in his name
NNS Chandra: Dear Sandeep - The chances of getting a loan needs to be discussed the bankers. I assume it should be available.
---
Srishti Catherine: I am a Canadian citizen (my family is from India) currently living in New York State. I was recommended to you by my cousin in India. I am very interested in UNC but from what I read they give no need-based financial aid for international students correct? But what about their wide selection of merit scholarships?
NNS Chandra: Hi Srishti,You are partially right about UNC. They do have few funding options for Canadian citizens including merit based ones (need to apply after admission)
Many schools including IVies consider Canadian citizens for need based financial assistance.
---
Pradumna Kanodia: Hi, my son has got a 2070 in SAT and is taking up Maths 2 and Physics subject test he wishes to pursue a STEM course but not hard core engineering something with statistics eco and Data analytics what would you suggest
NNS Chandra: Hi Pradumna, 2000 plus SAT score is a good one. Congrats. Is he an IB student? What other activities?
I would encourage him to look at Econometrics courses/programs. Ask him to check out programs in UC (B) or GT. If he emails me I can possibly guide him to specific programs. Is he applying this year?
---
shailja golash: hi , my daughter will appear for class 12th exam in 2017 she has opted for biology combination and preparing for AIPMT, PL Advice me what good institution for perusing her mbbs abroad ,how to get admission there and how much is fees .whether it is advisable to go abroad after MBBS for PG .what are the best medical college abroad & how to get admission in that
NNS Chandra: Hi Shailaja, MBBS is a degree mostly offered in UK and Asian countries. English Med Schools take lots of international students and that is where she should start searching first. Go entrance exams (for Oxford etc you have separate exams). Check out University of Karkov, Poland (it is an old University where Copernicus studied).
Caribbean med schools are another option.
In North America, Med Program training is done after an under graduation in say health science or even pre med. Practice of medicine requires lots of maturity in my opinion. And maturity do not only come from years of education but life experiences, observation etc too.
---
ravinder singh: Hi Sir,My daughter is studying in last semester in BTech in Computer Science. She is desperate to go USA either for MBA or for any course in Hospitality sector. Pl suggest budget university with good record.
NNS Chandra: Hello Mr Singh - I understand your daughters interest in USA. Cost of study in USA, like anywhere else, depends on several things - program, location, university, living style, duration etc. I always ask students to budget around 40-45,000 $ per year of study, including tuition, board, lodge and other expenses. Then one must include travel cost.
---
Eknarayan Adhikari: Sir I got job offer from Us company and the Company Hr instructed me to follow to his agent who is working in In indian embassy in mumbaiThe agent is asking money for BTA (Basic travelling allowance) Without BTA i cannot travel. I want to know is this true or not.
NNS Chandra: Hello Adhikari, Encourage you to report this to US consulate. I am not an expert in this area. But I have read about these things reported as scam. .
Quoting BBC " According to the U.S. Embassy, the scam may ask for similar funds for travel allowance or funds. As the BBC details, the scam often targets owners of travel services and accommodations, requesting that owners pay the BTA to travel agencies, who promise to repay the amount when they book rooms for guests."
Quoting again "According to the Embassy of the United States in London, a Basic Travel Allowance refers to a scam under which foreign nationals request money from U.S. citizens for travel to the United States, claiming that a BTA is required under US law."
---
seema ramesh: What is the scope for employment for Food Processing engineers in Canada?
NNS Chandra: Hi Seema. Welcome to show. Large part of Canadian economy is based on agriculture.
Food processing industries are huge in Canada and opportunities are good for qualified engineers.
Are you a citizen of Canada or PR holder? Or planning to go to Canada to study? Are you trained in North America or elsewhere would determine the personal chances.
---
Have questions for NNS Chandra? Post them here!
Lead image used for representational purposes only. Image: Danish Siddique/ Reuters