Before heading to your wardrobe to decide what to wear for your next job interview, here are a few things you must know about wearing it right.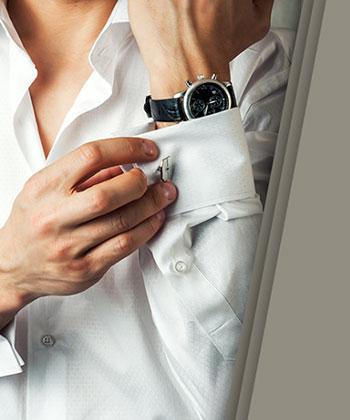 If this is your first job interview, you must realise that impressions are formed within the first 3 to 5 seconds of you entering the room.
In fact, appearance plays a huge part of what that impression connotes.
It is not only important to wear the right clothes that fit your body well but it is equally important to wear the appropriate ones.
First impressions are essential to forge long -term relationships professionally.
Here are some tips on what to wear for your interview.
1. Don't overdress
Looking like a style diva isn't the point of your interview, coming off as professional and a confident one is.
Noisy overpowering jewellery is a No-No.
Pick pressed pants or trousers not black jeans or jeggings!
A crisp ironed shirt will give the impression that you are a neat and disciplined individual along with being serious about the job.
2. Go neutral
Invest in neutral colour trousers like black, grey, navy as you can never go wrong with them.
Dress them up with a button down contrasting blazer and a shirt for a more business casual look if it is a media, publishing or advertising interview.
3. Pick the right footwear
Peep toe heels work well with formal pants and look formal enough for an interview.
Never wear open shoes! No sandals, no floaters, no chappals.
Women invest in ballerinas or pumps 2 to 3 inches in height and men invest in loafers!
4. The perfect shirt
Button down shirts, even though they may sound boring have great scope for experimentation.
Mandarin and double collars are in trend this season.
5. No body-show
Make sure you avoid showing cleavage and don't leave too many buttons open in your shirt as that is definitely a taboo when it comes to interviews.
Girls, if you are wearing translucent sheer fabrics make sure to wear a camisole under.
No bright colour bra straps should be visible either.
6. It's okay to be unconventional
Even though it is imperative that your interview outfit be conservative and formal that shouldn't restrict or discourage you from playing around with colours.
Turquoise, teal, tan brown, ivory whites deep reds, charcoal greys and even greens are great for interviews when you want to move away from the conventional black and whites.
However, keep the experimentation to colours and avoid daring necklines and hemlines.
7. Don't distract
Stay away from distracting neon colours.
8. Prints are good
Don't be afraid of prints, as long as they're not distracting to the eye. But, I have to insist that you draw the line at printed pants for an interview and stick only to printed tops.
Animal prints aren't appropriate for interviews either, but simple stripes, checks or polka dots would work very well to spice up an understated outfit to a chic, classy, trendy one.
9. Go low on the perfume
Keep your perfume pleasant and apply it on pulse points only.
Do not go for something that is too strong. BRUT is a total NO-NO.
10. Minimal accessories
Funky sunglasses, or rather any sunglasses, should NOT be part of your interview attire as it portrays a very casual look.
Even if you wear them while commuting to the interview, make sure they are not on you when you enter the premises, but instead safely tucked away in your bag.
The same goes for headphones or headsets and earphones.
11. Do not show off
Try not to flash the Louis Vuitton and Guccis of the world in your belt buckle.
Buckles must be simple and understated.
We don't need to know that you belong to a rich family. We need the job.
12. Dress for the occasion
Nothing wrong in experimenting with a pocket square. However don't do that for an IT interview.
Events, media houses anyone in the fashion, entertainment or sports business could give this a try.
The author is the youngest leading image strategist certified as a personal branding and merit image consultant by the London Image Institute. She is founder and CEO of Iopener.
Photo: Raymond India
i2Addicted.com is an online Lifestyle journal that covers various genres like lifestyle, health and fitness and technology for Indian consumers.