It's not just about saying the right things at an interview with your mouth -- but with your body too.
Ace these body language basics when meeting a prospective employer.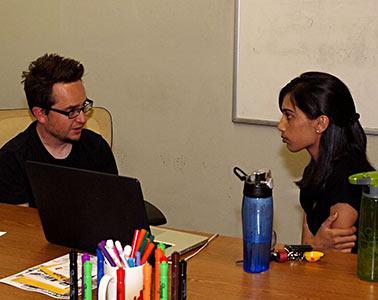 Come into my parlour," said the spider to the fly.
And poor Fly Number One began to shake as he walked in for his interview with the spider.
His little insect knees began to knock together, and the arachnid could tell the fly was nervous.
He seemed weak -- both in body and spirit.
Fly Number One certainly did not measure up. Nope, thought the spider. This fly just will not do.
So the spider swooped down and finished him off in one clean gulp. Burp.
Next came Fly Number Two.
This little trooper had decided to put his bravest foot forward. He had prepared himself.
He had practised his walk, his handshake and how he would present himself.
Fly Number Two was determined to triumph.
He displayed a very calm and together exterior.
The spider was suitably impressed.
This fellow may just be the right candidate, he thought to himself.
"Come into my parlour again tomorrow," the spider said to the fly after their interview was through.
"I'll show you the ropes." Fly Number Two had succeeded.
He was now the newest employee at Cobwebs Incorporated. Bravo.
The message here is not that interviewers are like carnivorous arachnids waiting for a weak candidate to feast on. Or that interviewees are commonplace flies.
The message here is that ultra cool-and-collected cucumbers can ace their interviews and bag the job.
Now, wouldn't you want to be this guy? Or fly, as the case stands?
Come to think of it, everyone wants to be this fly!
So how do you wow the interviewer?
How do you create a brilliant first impression that has the interviewer at "Hello"?
Here are some cheat-sheet tactics guaranteed to help you succeed in an interview.
Note: At this point, it's understood that you've done all your research.
You've gone through the commonly-asked interview questions. You've read-up on the company you're interviewing with.
You're as mentally prepared as can be.
What follows are guidelines to nail the subtleties that can make or break the deal. That is, your body language.
Photograph: Gangplank HQ/Creative Commons
Clothes maketh the person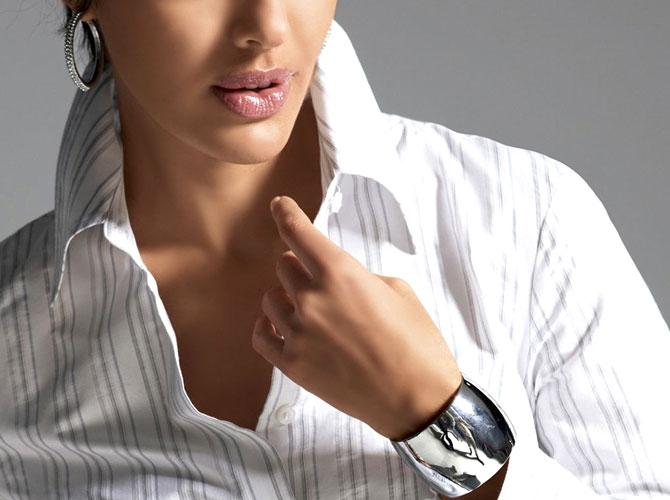 Your appearance makes a difference.
Be well groomed. Dressing like a hobo for a corporate interview is a no-no.
"But getting decked up can work against you too," appends HR executive Lalitha Chavan.
"We had a woman who came in for her interview dressed to the nines -- tailored outfit, caked-on make-up and chunky jewellery. But we're an NGO, so she was already a misfit in our eyes."
It can't be stressed enough -- dress appropriate to the job.
Photograph: Anicaps Le Forum/Creative Commons
It's in your face
Speaking of eyes, it's important to maintain eye contact with your interviewer.
Shifty eyes give the impression of an untrustworthy person. And lowered eyes scream low self-esteem.
In case you have more than one interviewer, try to briefly make eye contact with one while answering the other's question.
"However, don't make it look like you're watching a tennis match!" advises editor Aruni Rathore.
Keep your head straight. It suggests self-assuredness. Or tilt your head slightly.
This shows you're listening interestedly.
You can also show that you're paying attention by nodding at appropriate times.
But don't be a bobblehead! You'll come off over-eager and silly.
Watch your mouth! Keep your lips relaxed.
Pursing your lips suggests disagreement and disapproval of what's being said, and biting your lips suggests nervousness.
Photograph: Patrick Fallon/Reuters
Hold yourself up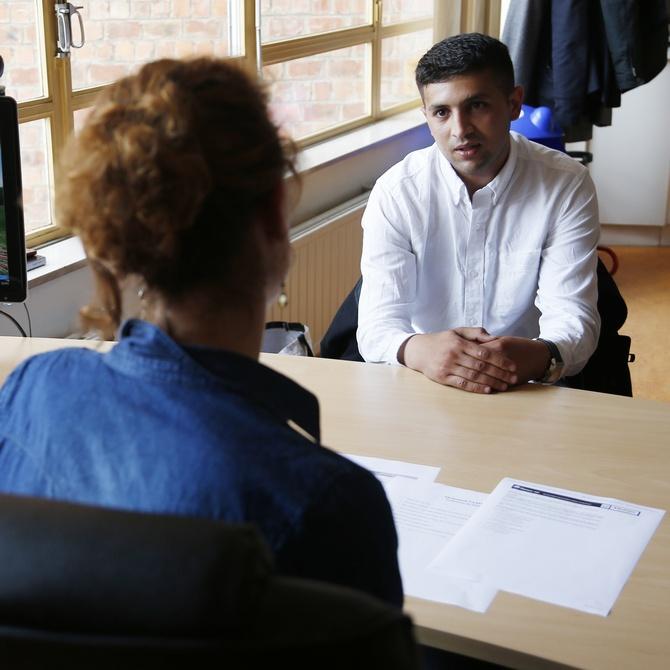 Posture is important.
"It's easy to dismiss anyone hunching or looking exhausted," shares recruiter Radhika John.
Also, avoid crossing your arms at your chest.
It comes off as defensive.
Not the ideal quality in an employee.
"We don't just observe candidates during the interview. We observe them while they're waiting their turn and as they head out too," she reveals.
Keep yourself on interview mode from the second you enter the building till a little after you've left to clinch the deal.
There you have it, the tools for a positive interviewing experience.
So go forth and gain employment, Super Fly!
Photograph: Francois Lenoir/Reuters
Courtesy:YouthIncMag.com