According to a multi-city survey, about 70 per cent students do not get the required the 7 to 8 hours of sleep in the weeks leading up to final examinations.
Anna Chandy suggests how parents and students can cope with exam-related stress.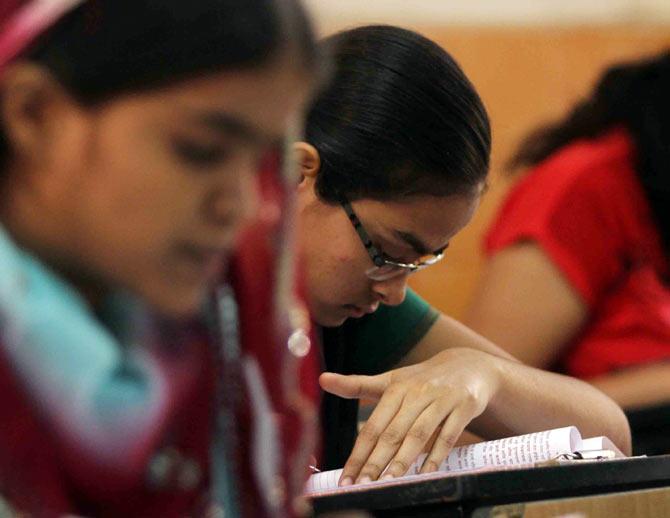 Photograph*: Sahil Salvi/Rediff.com
The examination season is around the corner.
It is normal for a student to feel anxious.
Most often, it is the children who have set high expectations for themselves. Or, their parents /guardians have certain parameters that they want their children to achieve.
While expectations and goals are helpful, they should also be realistic and attainable.
Stress levels are also at their peak during this period with children spending most of their time studying in order to achieve the desired results.
While some amount of stress is good and can help children channel their energy better, increased anxiety can hamper concentration, lower self-esteem and even lead to other mental health concerns.
Anticipatory anxiety peaks before exams and can have adverse effects on the body and mind, and in turn affect performance.
Many students are so anxious and stressed that they even find it difficult to read and understand questions or recall terms and concepts.
It is therefore imperative to engage in a self-care routine during the exam period to tackle increased stress levels and concentrate to study better.
According to a recent multi-city survey, about 70 per cent students do not get the required the 7 to 8 hours of sleep in the weeks leading up to final examinations.
About 18 per cent of them said they slept only for about five hours and others struggled to cope with assignments.
Here are some tips that can help:
Sleep well
A good night's sleep helps remove stress and anxiety.
During sleep, the mind and body have time to refuel and provide energy for the next day.
Although the amount of sleep required varies from person to person, at least 7 to 9 hours of sleep is needed to help a child achieve optimum mental health, concentration, prevent mood swings and feel motivated.
Lack of sleep can lead to a weakened immune system too.
Eat healthy and on time
Children often have the tendency to eat comfort foods and gorge on fast foods during examinations.
It is important to try and avoid these habits.
Eating processed food can leave you feeling lethargic, exhausted and even lead to weight gain over time.
Make sure to include healthy items such as fruits, vegetables and whole grains and eat at regular intervals.
Hydrate well
The importance of drinking adequate water cannot be underscored for any age group.
Dehydration can cause anxiety, panic, and even forgetfulness.
Make sure you drink at least 6 to 8 glasses of water a day as it will help you feel refreshed and help avoid bloating.
Limit the intake of caffeine as a way of staying awake.
If you feel unable to concentrate, get up, drink water, and exercise.
Declutter
This is one of the best ways to concentrate and remove distractions.
Removing unnecessary items from the area around you will also help declutter your mind space and allow for more focus on the task at hand.
Break time
Although there may be a lot to cover and study, it is also important to take regular breaks -- every hour or so.
Studies indicate that it becomes easier to concentrate when we take breaks, even if they are short. These breaks will also ensure that your memory is refreshed.
Practice mindfulness and meditate
Practicing mindfulness through techniques such as yoga is a great way to beat stress.
Not only does it aid concentration and memory, it also boosts overall health.
Even 15 minutes of meditation can have a relaxing effect on the mind and body.
Get support
Last but not the least, it is always a good idea to talk to family and friends if you are feeling anxious.
Your classmates are in the same boat and you can exchange some tips on how to cope and manage better.
Examinations are an important aspect of every student's life.
They encourage healthy competition, help you evaluate your learning, and are also a stepping stone to your career goals.
However, you should also remember that examinations are not a proof your worth and that life will give you more chances to showcase your skills and do well.
Wishing all those who are taking the examinations this year, the very best!
*Lead image published for representational purposes only.
Anna Chandy is chairperson, board of trustees, The Live Love Laugh Foundation that helps individuals improve their mental health and wellness.