'All my life I have lived by a simple mantra -- 'Kuch banne ke nahi, kuch karne ke sapne dekho''
Excerpts from the book Exam Warriors by Narendra Modi.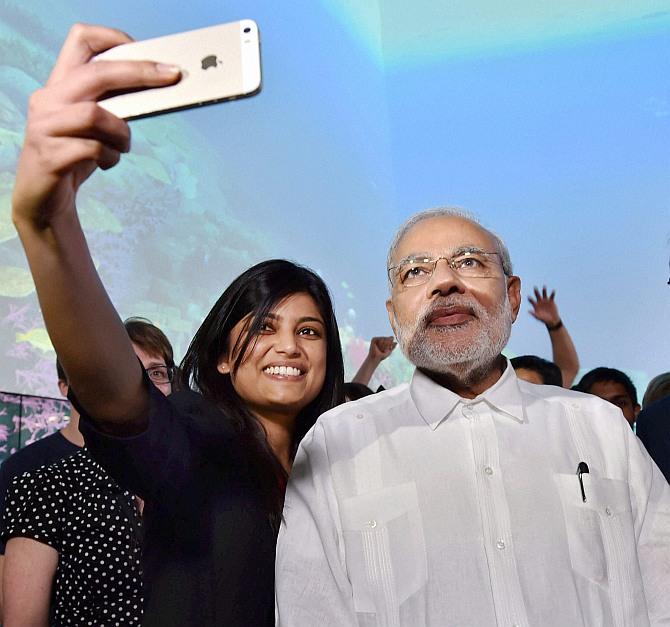 IMAGE: Prime Minister Narendra Modi poses for a photo with students.
Photograph: Kamal Singh / PTI Photo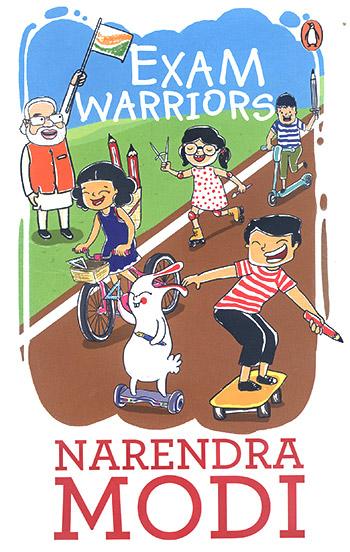 The book Exam Warriors written by Narendra Modi aims to promote a healthy learning environment for students.
Through a bunch of letters with illustrations addressed to India's youth, the Prime Minister talks about the importance of discovering their interests and making the most of their time.
We bring you excerpts from the book aimed at students and parents.
***
Aspire not to be, but to do
People often ask me, Modiji, when you were young, did you ever dream of becoming the Prime Minister of the world's largest democracy?'
I must confess, forget dreaming about becoming the Prime Minister, I was never even a class monitor!
All my life I have lived by a simple mantra -- Kuch banne ke nahi, kuch karne ke sapne dekho -- Aspire not to become something but to do something.
'Aspiring to do something' leads you, 'Aspiring to become something' misleads you.
Normally, the desire to become something is driven by the expectations of the family, fashionable professional trends, peer pressure or fantasies of fame, money and power. It distances you from your true potential and gradually snuffs out the innate passion you are blessed with.
However, the desire to do something, which is invariably fuelled by your natural instincts, will lead you to your true destiny.
Do not merely dream of becoming a doctor, engineer or lawyer. Think of how best you can make a difference to society and let that ideal guide you.
***
In the book, Narendra Modi has also shared some suggestions for parents of students appearing for board examination.
Here's another excerpt for you to read:
Dear parents,
Family is the strongest support system for any child, more so as he or she prepares for examinations.
I do understand that these are crucial times, for both the student and his or her family. During this time, if there is anybody whose encouragement will make your children happy, it is you.
You are your child's best mentor. You know your child better than anyone else, having seen him or her grow up in front of your eyes.
Thus, I would request you: always accept rather than expect. The burden of expectations is even heavier than the school bag, and there's no point in weighing your children down with it.
Ask yourself: Are you burdening your child with unreasonable expectations?
Sometimes, parents seek to realise their own unfulfilled desires through their children. In the process, the child loses a happy childhood and the parents miss out on the joy of seeing their child grow up and blossom in front of their eyes.
The dreams, aspirations and ambitions of children can differ from those of their parents. Accept this and give your children the space to pursue their own dreams.
As parents, you always want the best for your child, including good schooling and a comfortable lifestyle. But one of the best gifts that you can give your child is a spirit of adventure, which will inspire your child to do something new and different.
In this book, too, I have told my young friends to step out of their comfort zone.
Comfort weakens the mind and the body. Adventure prepares one to face life's challenges and that too with poise and determination.
Spend quality time with your child. The exam season is naturally characterised by a scramble for time. Make the most of every moment you spend with your child. Remain positive and laugh.
Always listen to what your child has to say. Those children who are not heard can never become good listeners and learners themselves.
Once the board exams are over, children are required to choose their subjects, colleges and universities.
Guide your child to make those decisions based on his or her interests and strengths.
As I have said in the book, there are several opportunities waiting to be created and harnessed. Let there be no limitations or pressure on the children.
My best wishes to you as you extend invaluable support to our young and valorous Exam Warriors.
Yours,
Narendra Modi
26 January 2018
Lead image used for representational purposes only.
Excerpted from Exam Warriors by Narendra Modi with the permission of the publishers, Penguin Random House India.