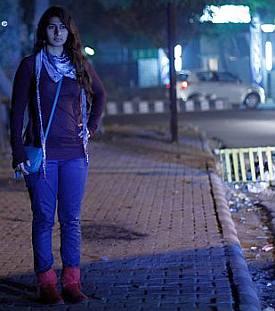 Help identify spots in your city where you've been harassed.
A recent survey revealed that 84 per cent women in Chennai have been harassed while using public transport.
Ninety-six per cent of the respondents in the survey -- conducted by Survival Instincts, a non-profit CSR initiative of ZEiSys Technologies -- said they were harassed while commuting.
That included situations when they were walking on the road or shopping for groceries!
As a woman, have you faced harassment when you've been out and about in your city?
In which places have you been harassed the most?
While travelling in an autorickshaw or a taxi?
On mass public transport like a bus, the metro or a train?
Have you been bothered at a shopping mall or in a cinema or in a hotel or a lift?
Are there situations that get repeated over and over again?
Where have you been harassed the most in India's cities?
What have you done to protect yourself?
Do you have any tips you could suggest to other women?
E-mail getahead@rediff.co.in (subject: I have been harassed) and tell us where and how you've been harassed.
How did you deal with it?
We'd like to carry your responses. Please mention if you wish your name to be withheld.
It is time to raise your voice -- just like these sisters in Rohtak who were harassed on a bus, but thrashed their assaulters -- and bring awareness.
We are waiting to hear from you.
Please note that the image is used only for representational purposes.