The CBSE exam paper leak fiasco can be a blessing in disguise if it can give an impetus for such an exam reform, says Arghya Banerjee, founder of The Levelfield School, and an IIT-IIM alumnus.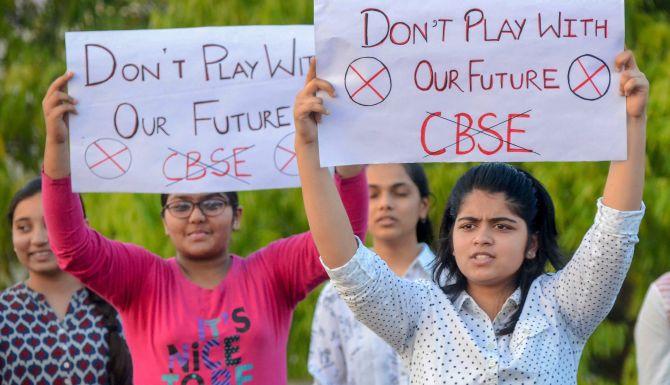 The big hullaballoo around the CBSE question paper leak obscures the more important fact -- that the entire board exam exercise, of CBSE or any other Indian board, is a charade.
These exams test memory-driven knowledge which has no value in real life. Dishonesty is the inevitable result when we take this charade too seriously instead of skills that really matter.
One of the main objectives of education is to prepare us for life. Exams too should assess how prepared we are for life and work, rather than meaningless formulas of science or dates from history. Other than history teachers, whoever has any use for the date of Third Battle of Panipat in their job?
In our entire adult life, how many times did we need to recall the formula of barium sulphate?
Alas, it is such memory-based trivia that we are tested for in board exams rather than our ability to read and write, or think and reason.
Our board exams and textbooks are disconnected from real world needs. As a result, there is a tendency to take a shortcut to tide over this one exam, this one subject, which will never again be needed in life.
To understand this point, let's go back to the very ancient times when education was not so far removed from reality -- to the time of hunter-gatherers. Then, if a father was teaching his child how to hunt or how to identify poisonous fruits -- the child paid attention. Because he knew there was a real cost to not learning, like, being killed! So, there was no question of taking shortcuts.
Of course, cheating is not acceptable no matter how pointless the whole exercise is. Granted, the board should plug the holes and punish the guilty. But instead of moralising, instead of patching over the short-term problems, it will be more effective to find some long-term solutions to this malaise.
In my opinion, such a solution must have these components:
1. A skill-based, objective-type standardised test
If we are to prevent cheating, the exams must be less stressful, and less of a high-stakes one. Exams should test real-life skills of reading, logical reasoning, problem-solving, which need long-term preparation, rather than frantic last-minute revision -- so that there is no exam-year stress.
If exams are more aligned to real-life skills, students will perceive learning such skills to be useful and the tendency to take shortcuts will be less.
We can take inspiration from SAT (Scholastic Aptitude Test) of the US, or even our CAT (Common Admission Test) to prepare appropriate tests for different age groups, focusing on basic language, math and reasoning skills.
2. Multiple exams over the years, rather than one high-stakes board exam
Such skill-oriented exams can be held four times, say, in class III, VI, IX and XII. That will ensure we have multiple data points about a particular student, so that one single exam does not assume enormous importance.
This data can also be used to measure a school's effectiveness in improving students -- paving the way for a countrywide ranking of schools. Such transparent competition among schools may be the magic wand that can push up quality.
3. Optional subject tests
The tests on subjects should also be made objective and conceptual. More importantly, they should be made optional.
Not everyone uses Ohm's law and such in their lives -- so why do they need to be tested on those?
Most of us do well in our life if we can speak coherently, think logically and get along with people. Our curriculum must focus on building those skills. Our assessments must focus on testing those skills.
In conclusion
Our children do not know why they study what they study. They cannot see the linkage between the subjects and the real world. This is the root cause of many ills: joyless environment in schools, an army of unemployable graduates, and a tendency to take shortcuts.
If we can bring in skill-based exam reforms, we can eliminate all of these problems at one go. The CBSE exam paper leak fiasco can be a blessing in disguise if it can give an impetus for such an exam reform.
We Indians place a lot of priority on exams. If the exam-system demands a shift to skill-building, then the whole nation's priority will shift. It is only then can we truly reap our demographic dividend.

Photograph: PTI Photo.
Arghya Banerjee tweets at @arghyaban