With less than two months left for the Common Admission Test, it is important for candidates to make optimal use of their time, says Gavin DSouza who scored 99.49 percentile in CAT 2013.
Read on to find out how the software engineer from Goa cracked the test.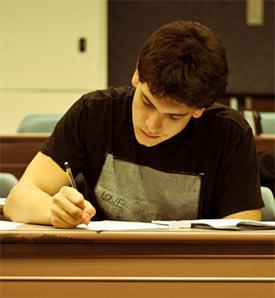 Gavin DSouza secured admission to the Shailesh J Mehta School of Management, IIT Bombay with his high CAT percentile of 99.49.
Among other top business schools which offered final admissions to Gavin includes Goa Institute of Management and all the new IIMs.
DSouza is a software engineer from Goa who worked with Indus Valley Partners in Mumbai, prior to joining this management programme at the prestigious IIT-B.
He feels it is important to set strict timelines for preparation and utilise the weekends to the most.
His disciplined approach towards his preparations along with consistency despite a hectic work routines led him achieve admission to IIT Bombay.
In the following interview, he reveals how he made his mark into the IIT Bombay.
What was your objective behind pursuing MBA?
I used to work as a software engineer for an IT consultancy that specialised in offering data warehousing and reporting services to alternative asset management funds.
However, in a short duration I realised that I would rather be handling risk than reporting it.
Interacting with some of the biggest names in the industry only made me more confident of my career path as a consultant in the risk advisory domain.
An MBA degree gives you the holistic knowledge you need to understand your clients business and provide real value.
Apart from CAT 2013, which other MBA entrance exams did you appear for ?
Besides the CAT, I also appeared for the Xavier's Aptitude Test.
I did well in the exam and was satisfied. But my aim was to crack CAT and I focused my energy in it.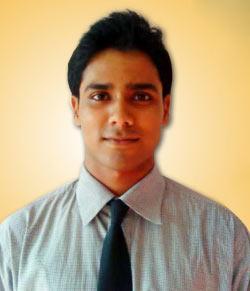 Why did you choose to join the IIT-Bombay?
SJMSOM offers a great deal of industry interaction.
Being in IIT Bombay, I have had the opportunity to listen to and learn from more than 20 industry stalwarts.
This ensures that as a future leader, you not only have the functional knowledge that you require but is also aware of the current scenario of the industry and what the rising trends are.
I believe this gives all SOMites a distinct edge as they are industry ready by the time they graduate.
I also received calls from GIM and the new IIMs for admissions.
What was your preparation strategy for CAT 2013?
My preparation strategy was to mainly focus on Quant as that was my weakness.
I started my preparation in September 2012 and prepared a timetable of what topics I would complete every week and stuck to it.
Breaking the portion into manageable chunks and then knocking them off one at a time makes it more manageable.
How important is coaching or mentoring to crack the CAT or other MBA entrance tests?
I believe the answer to this question varies from person to person.
Some people may require a little guidance and support to get the best out of them.
I was working in 2013, which meant long hours at the office.
I simply did not feel that I could dedicate a few hours every week travelling from the classes to learn a concept and then start practicing.
For most engineers the Quant concepts are pretty simple, which means that it all comes down to practice.
I could understand the need for help if you are from a non-science background.
How did you manage CAT preparation schedule along with your full-time job?
Maintaining the balance was tricky.
Working in an IT company as a software engineer simply means that you have long hours and crazy deadlines to meet, but, it is important to set a timetable right at the start of your preparation and try to stick to it.
Following to a strict study routine is the ultimate key to success, when you know you have to do it anyhow, half of the CAT battle is already won.
Along with strict schedule, utilising the best of the weekends, and focusing on quality preparation rather than quantity, is the mantra.
These two combined can make you a winner in a long run.
Please share your section-wise preparation strategy?
In Quantitative Ability my score was 97.94 and in Verbal I secured 99.15.
I focused on the concepts for the Quantitative Ability and Data Interpretation section.
I feel that as long as your concepts are clear you can solve any question in the exam.
The CAT tests your understanding of these basic concepts.
I practiced solving sums to make sure I had a good grasp of the concepts.
I did not really prepare for the Verbal Ability and Logical Reasoning section apart from reading the newspaper.
However, I know many aspirants suggest reading books to improve your grasp of the language.
What was your time management strategy while taking the actual CAT paper?
The CAT is more focused on accuracy than speed.
As long as you ensure that you are never too far behind the timer, you should complete easily.
For instance, if you have to solve 35 questions in 70 minutes, make sure that you are never too far away from two questions per minute.
The worst thing is to get stuck on a question you can't solve.
Leave it and move on to the other question.
What were your strong and weak areas? What special efforts did you put for improving your weak areas?
My strong area was Verbal and my weak area was Quant.
To improve my weak area I dedicated more time practicing it. I would understand concepts and then practice sums to make sure that I was exam ready.
Another benefit of solving a lot of sums is that getting it right gives your confidence a boost.
How did you unwind?
A lot of people overlook recreational activities while preparing for CAT.
What you need is to realise that CAT isn't like other exams in college.
Whenever you are preparing its important that you feel good and your mind is alert.
One of the easiest ways to ensure this is by spending a few hours every week doing something you love.
I used to make sure that I would play football at least once a week.
What kind of movies do you enjoy watching?
I enjoy watching comedies and anything with Christopher Nolan's name on it.
I love The Dark Knight; I think every character in the movie has a message for us.
I also love Marley and Me, even though watching it come with a guarantee of finding yourself crying like anything in the end.
What is your advice for the MBA aspirants who will take CAT 2014?
Prepare a timetable of how you plan on to complete your preparation and work hard.
Try to spend a few hours a week enjoying yourself to make sure you don't feel burnt out as the exam approaches.
Finally stay confident and relaxed during the exam.
If you can handle the pressure you will enjoy taking the CAT.
Image: SamRosenbaum/Creative Commons