According to a survey, fifty per cent students in India said that their mothers inspired them to pursue technology careers.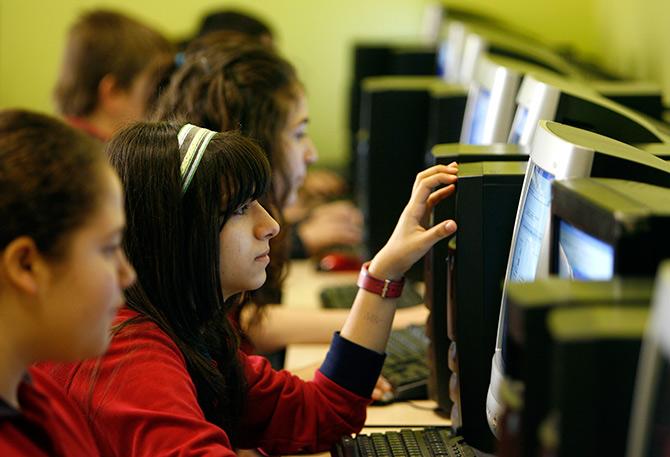 Photograph: Osman Orsal/Reuters
About 96 per cent of young girls in India between the age group of 7 and 14 years expressed their desire to learn more about technology in schools, according to a survey of 200 participants.
The survey was conducted by global digital payments platform PayPal, as part of a two-week annual initiative conducted across its tech centres in India.
As many as 61 per cent of the girls surveyed said they pursue their interest in technology through active reading and workshops outside school as the existing curriculum does not cover enough.
About 51 per cent of the participants also said that their mothers inspired them the most to pursue technology careers, followed by 34 per cent crediting their fathers while the rest (15 per cent) said their teachers inspired them the most.
"The average gap in the availability of skilled talent in India has risen from six per cent in January 2014 to 12 per cent in January 2018 in the Science, Technology, Engineering and Mathematics (STEM) sector," said Guru Bhat, GM Technology and Head of Engineering at PayPal.
"The need of the hour is quality technology craftsmen with a desire to strengthen the tech community in India rather than mere coders and engineers.

"Women representation in STEM courses has traditionally been low and the Girls in Tech programme is our effort is to bridge the gap through application-based learning,," he said.
Paypal's Girls in Tech programme, which saw the participation of over 200 girls and boys since inception in 2015, has also been extended to girl students from government schools, where the curriculum ranges from basics of technology to coding programmes.
During the workshop, participants are not only exposed to programming languages such as Scratch, Python, App Inventor and Online Me, but also introduced to other relevant concepts of technology such as Robotics and Digital Payments through fun and interactive sessions.