Never ignore your inner voice. Express your struggles, concerns, pressures and successes.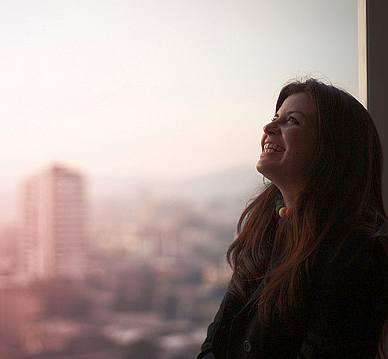 In all of modern history, there's never been a more dynamic, complex and fascinating epoch to be a woman.
Economic, social, technological and political progress have given women more independence, equality and choice than ever before.
In the intricate tapestry of global gender progress, young middle-to-upper class South Asian women face a unique balancing act.
The women of this generation straddle traditional values, culture and heritage, with independence, individuality and the ability to choose one's destiny.
Role models are few, as many are the first women in their families to have open pastures of personal and professional options. Others might be their family's first educated and financially self-sufficient women.
Many may pursue careers or marriages that defy family expectations. Brave women fight against demoralising religious and traditional values, such as dowry practices.
From the fight for women's safety to the intricacies of fulfilling both progress and tradition, this generation will carve its identity with dignity and resilience. Some parts of the revolution are televised, and many are not.
I'm a South Asian woman who takes pride in her heritage and culture.
I also cherish my independence and don't conform to traditions I disagree with. The first decade of my career isn't complete and I've been a professional artist, dancer, business consultant and high-fashion marketer.
I've followed my passions in an open-hearted pursuit of a fulfilling life. My personal and professional choices don't fit into my cultural context.
From backpacking across India to photographing Istanbul and living in New York, I've pushed myself to exercise the blessing of choice.
I've made decisions while retaining values from my culture that I hold most dear.
Here's what my experiences and those of other South Asian women have taught me about independence and fulfilling one's destiny, while celebrating culture and traditional values.
1. Define your unique values
Before you can make thoughtful decisions about your life, you must strive to understand who you are and who you want to become.
Without your socio-economic status, race, religion, education, nationality, family, who are you? What do you believe in?
These are key questions that will help guide professional and personal results. These questions aren't answered overnight.
They take years of active introspection and personal growth. "He who has a why to live can bear almost any how," said philosopher Friedrich Nietzsche.
In order to trailblaze your own path, you must define your unique 'why'. This wisdom will become your foundation and give you confidence in your decisions.
You'll be able to identify aspects of tradition, religion and family values that align with your beliefs and with a sound mind, disregard those that no longer make sense for you.
2. Trust your gut
Never ignore your inner voice. Our gut knows the answer well before our brains are able to intellectualise it.
Your intuition has knowledge your mind hasn't pieced together yet.
It will help steer you in the right direction when it comes to personal and professional relationships, career choices and much more.
Find a practice that helps keep you connected with your intuition and make it part of a weekly routine.
3. Seek inspiration
You may not be able to find inspiration within your close community. You'll have to collect inspiration from books and the treasure trove of the Internet. Read about female trailblazers and feminism.
The joys, struggles, failures and triumphs of other women make us feel part of a global sisterhood.
If you are lucky enough to find a mentor whom you aspire to emulate, hold on to her.
4. Be thoughtful, not rebellious
Elegance is rarely found at the extreme of any idea.
Just as you're able to enjoy your favourite dish by removing a few chillies, similarly don't throw away an idea because it contains elements you dislike.
Conversely, don't embrace an idea or action simply because it is the antithesis of what you're against.
Be introspective and cultivate wisdom. Maintain a calm and rational approach to both the values you disagree with and the people promoting them.
Put your energies towards sifting through the noise to decide the person or action that is right for you.
5. Practice empathy and compassion
Be kind to those who disagree with you, they might be the people who love you the most.
Be understanding and loving towards them because as you're learning to adjust to a new world, they're adjusting to a new you.
Your openness and empathy will help bridge friction that may arise from the decisions you take.
6. Share your journey
Our culture is defined by the stories we share.
Express your struggles, concerns, pressures and successes. It helps to hear about the journeys of others who have gone through similar challenges.
For me, this outlet is my website, Veneka.Me.
From life lessons from my twenties to interviews with trailblazing female social activists, my goal is to help people strive, dream and dare.
Through the personification of a journey to achieve one's highest self as well as collecting philosophies about life and happiness, Veneka.Me aims to inspire personal growth and authentic fulfillment.
Whether it's in quiet conversation with trusted friends or through social media, keep sharing your journey because you never know when it could be a pivotal point in someone else's life.
7. Give back
If you're reading this you're probably in the fortunate position of having received an education along with career prospects.
In a region where acid throwing, forced prostitution, rape and lack of education for women are critical global issues, our duties cannot be fulfilled until we are of use to the underprivileged.
It is imperative to volunteer resources, time or both to organisations that foster women's education, dignified work or rehabilitation after abuse.
If we each commit to donating time or resources once a month to a women's organisation or cause, our collective contribution will accelerate the progression of gender equality. As my grandfather put it 'one need not wait until they're rich enough or have enough time to give back.'
We may be strangers but we share a common sisterhood of being young South Asian women of this generation.
Our youth's population is the world's largest and plays a pivotal role in gender equality. The decisions we make today will pave new ground for our children tomorrow.
Lead image used for representational purposes only. Image: Annais Ferreira/Creative Commons
ALSO SEE