Job seekers can use Twitter to reach out to potential employers.
If you have a blog, link your blog post in your tweets and status updates.
Find out how social media can help you connect with prospective employers and get the job of your dreams...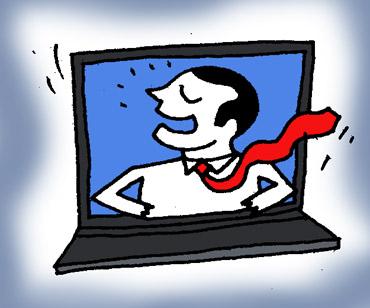 Recruiters these days tend to run a google search on potential candidates, which makes it all the more important that you look good.
Employers run a background check on the various social media platforms -- Facebook, LinkedIn etc -- for both potential as well as current employees.
Your social media activity helps employers weed out the undesirable candidates from the desirable ones.
Digital presence if used effectively can serve as a very powerful job hunting tool.
The right combination of social media profiles and activity can help you gain a clear advantage over other potential candidates.
It will help you establish your professional brand.
Here are three important steps to help you build a strong social presence that will also aid you in your job search.
Understand, identify and target the right social channels
The constant evolution of social media means new tools are coming up every other day.
Thus, it becomes imperative to avoid the temptation to try every new platform so that the efforts are not diluted.
Instead, focussing the job hunting efforts on the tried and tested social media should be of priority.
LinkedIn
Arguably the most trusted social network for business people, LinkedIn gives you space to create an extensive professional profile and network with other people.
You can add your complete resume, experience profile, education history, links to websites and more.
LinkedIn is the most predominantly used platform by recruiters looking for employees.
Facebook
Facebook is usually associated with personal communications between friends and family.
Include your profile, website links, photos and contact information. You can also build a network of followers.
Twitter
Job seekers can use Twitter to reach out to potential employers.
Using hash (#) tags such as #jobs or #jobsearch (amongst others), you can identify yourself as a job seeker.
In addition, Twitter allows you to create a profile page with a brief professional description and link to your website.
Forums
Choose discussion forums in your professional niche.
After joining a forum, set up your forum signature.
You will usually be given space to include your name and contact information, often with a link to your website.
Gain respect and become an industry expert by contributing valuable discussion to the forum, asking and answering questions.
Blogs
A blog gives you a fantastic opportunity to showcase your knowledge, write about your experiences and establish yourself as an authority in your field.
You can also use your blog as a landing page for links from other profiles.
For example, you can link your forum signatures, LinkedIn, Facebook and Twitter profiles to your master blog.
Brand yourself
Profile building needs to be superseded by building a personal brand.
Branding yourself begins with creating a similar look and feel across each of your social network profiles.
Photo
Use the same photograph as your profile picture across all your social networks.
A good photo helps build rapport with people who read your social media profile.
It is again imperative that you brand your comments (can be done via Avatar -- the profile picture) so that it makes you instantly identifiable when people scan a web page.
User name
Where possible use the same or similar username across all your platforms.
Tagline
Create a tagline or catch phrase you can include on all your social network profiles.
By including such a tagline on all your profile pages, you create a way for people to instantly recognise what you do.
Feed your network
Don't create your profiles in a rush.
Gather all the information you'd like to make available on the Internet (photo and CV).
Take time to create in-depth profiles with solid, persuasive information. Complete one profile before you move to the next social media tool.
Once you have created your profiles, commence your social media activity. Start by posting status updates and tweeting on a regular basis.
If you're on Twitter or Facebook, you should aim to tweet or update your status at least twice a day.
If you like to blog, share your experiences and insights into your profession. Also link your blog post in your tweets and status updates.
Grow your network. Follow people in your industry and invite prospective employers into your network.
As your level of social media activity increases, you will naturally attract followers. For example, on Twitter and Facebook, you can connect with your followers by following them back. On LinkedIn, you can add people to your list of contacts.
Social media platforms can aid job seekers in two ways.
One, as a tool for reaching out to prospective employers, while serving in researching unadvertised job opportunities.
Two, as a point of attraction for recruiters, designed to impress employers both before and after you apply for a job.
The key to success is creating an impressive professional image that captures the attention of potential employers
Courtesy