Make a time table. Indulge in some form of physical activity and spend some time with your loved ones, advises Dr Vivek Bindra.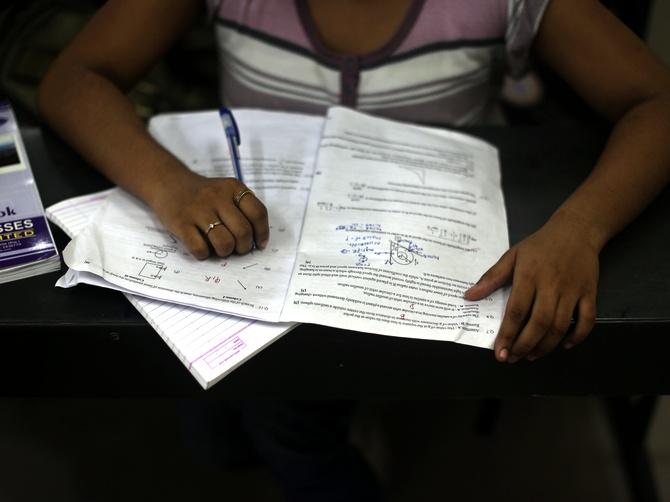 While a lot of people feel that board examinations can be stressful for students, there are some who believe that parents also ignore their health and well being while taking care of their children's needs.
With just a few days for class 10 and 12 exams to begin across India, here are some simple tips to help both students and parents cope better:
1. Manage your time
If you don't want last minute stress, you must learn to manage your time well.
Now that you are nearing D-day, don't waste your precious time on gossips, entertainment, browsing social media on your phone.
If you are addicted to social media, the best thing to do right now maybe to delete all distracting social media apps from your phone so you can focus better.
Have a time table and stick to it.
2. Indulge in some physical activity
You can sign up for some form of physical activity -- maybe an exercise routine, yoga, play some form of sport or simply go for a walk in a nearby park after lunch or dinner.
Try and find some time between your studies to keep your body active.
3. Meditate
You must meditate 3 times a day for 5 minutes each.
Do not go for fast or deep inhale/ exhale.
Breathe normally but try to observe that you are naturally breathing -- inhale or exhale.
This is a proactive step to help you de-stress.
4. Stay positive
Think positive and make 5 positive affirmations as per your goals.
Express your gratitude towards Almighty, your teachers, parents and whosoever are or have contributed in your life.
This will make you remember and list the good things in life, helping you feel happy.
5. Organise your academic life
Planning is always important for any project to be successful.
Make an academic calendar and divide it based on subject, chapter and the time you will spend on revision.
This will help you allocate ample time for every subject saving you from last minute stress.
6. Stop procrastinating
When we procrastinate our planned tasks for the day, it builds stress level in the next day(s).
So, it is always a good practice to finish today's tasks – today only -- even you have to stretch a bit.
Similarly, when you manage your time and your academic calendar is in place, you don't procrastinate.
7. Spend time with friends and family
While exams may seem time consuming, remember to spend some time every day with your loving/funny friends or family members.
Talk to them about the happy moments you shared.
This will also relieve you of stress and remind you of the love and affection you share outside of academics.
8. Do something you love
You could read your favourite book, make Maggi or eggs in the kitchen, listen to your favourite song or simply play with your pets.
9. Eat. Sleep. Drink water
Eat your favourite food -- home-cooked or from your favourite restaurant, preferably, anything that is healthy and hygienic.
But you must go for sound sleep at least 7 hours. When in stress or even in a normal situation, always make a practice to drink enough water based on the season.
10. Get a light head massage
I believe this is India's favourite stress buster. Ask your mother or elder sister to massage your head gently while talking about some pleasing incident or person.
11. Write down your thoughts
There may be times when you feel that no one may be able to understand what you are going through.
In such a situation, express or vent out your negative thoughts through writing.
Whenever you feel negativity or fear in your thoughts, sit in a comfortable place and start writing freely, whatever comes to your mind.
Write for at least 5-10 minutes and see the amazing results.
If you don't have a pen and notepad at this time, start writing on your mobile's notepad. This can be a great stress buster
---
Dr Vivek Bindra is a motivational speaker, leadership trainer and business coach. He can be contacted on ga@rediff-inc.com.
---