The merit of your application lies in the integrity of your intent to study abroad, ability to provide sufficient documents of proof and your confidence in clearing the interview round.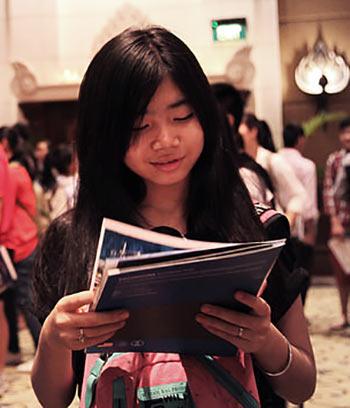 Studying in a world class university always gives a good exposure, living in a different country brings with it, its own set of opportunities and challenges.
Speaking of world class education – United Kingdom is a favorite destination of students. If you are also one of them who are planning to fly for higher education, then try to avoid these ten mistakes while applying for a UK student visa.
Applying for a student visa, officially called the Tier 4 visa, can appear to be a straightforward affair.
However, it can sometimes get a little tricky.
Here are some of the major reasons why Tier 4 student visas are refused:
1. Incorrectly filled out form
The Visa application form is the main document and it is important that all information be entered correctly.
Quite a few applications are refused when the applicants entered information incorrectly, this can range from Passport numbers, Date of birth or even recording CAS information on the form.
2. Not understanding the questions correctly
Filling out visa application for the first time can appear to be a challenging process for most applicants, particularly in interpreting the questions the way the authority intended for them to be answered.
At the simplest levels it could be an understanding what countries are included in the Commonwealth (when entering the travel history), or slightly more complex when the question asks do you have any spent/unspent convictions for traffic offences.
3. Insufficient research
It is surprising how often the students have limited information about their courses, structures or even University campus locations -- vague answers to these questions at the time of credibility interviews are also a cause for refusal.
So prepare yourself.
You have to at least be able to tell the interviewers why you want to study there (why you picked the University/Course that you have chosen), demonstrate that you've researched the area and thought about costs.
4. Missing documents
Compiling all the documents is necessary and absolutely crucial part of your application process.
Failure to submit a particular supporting document could lead to delays or even outright rejections, requiring you to start from square one.
Make sure all your supporting documents are translated into English and arranged in a systematic way before you submit them.
Most VFS centres now have the scanning process for the documents or in the event the documents are collected you will get them back with your application outcome in 15 days.
5. Documents not as per the standards
Applicants often (mistakenly) do not place enough importance on the format of the documents.
For instance, any document in a regional language is required to be translated to English and the translation must contain a date, signature, name and contact details of the translator.
If the translation date is missing, it might seem like a trivial thing, but the whole document might be considered void.

When you make a visa application, every detail on a document is important.
6. Presenting financial information
Firstly, you have to be able to pay all the fees involved in the visa application process as well as to support yourself in the country.
Once you have the finances to meet all these requirements, it is of imperative that you be able to provide evidence of these funds.
You'll need to provide documents proving that the required funds have been present in you or your guardian's accounts for at least twenty eight days before submitting your application.
You must prove you have enough funds to pay for one year of tuition fees, or the tuition fee of the entire course if it lasts less than one year.
7. Misrepresenting facts or false representations
In both the forms and the interview, tell the whole truth, and nothing but the truth!
If you provide information that is not accurate (knowingly or unknowingly) regardless of whether the information was relevant or not to the application you not only risk a refusal but even a country ban of up to 10 years.
It's safe to say that when it comes to visa applications, honesty is undoubtedly the best policy.
8. Previous Immigration background
If there are any previous violations of the visa rules (e.g. when you were in the UK on visiting visa) or violation of visa rules for any other countries it could have an impact on your Tier 4 application.
Entry clearance officers evaluate applications on the grounds of credibility and genuineness and previous adverse immigration history can be a red flag for the same.
9. Appearing for credibility interview
The student interview could be one of the most important aspect of the student visa process as it is the only way for the entry clearance officer to judge the not so objective qualities of an applicant, like the candidate's desire or determination.
The interview is where an immigration officer decides if the applicant does indeed intend to come to their country to study and not for any other purpose.
Applicants are asked to answer a number of questions about their choice of university and programme, the course content and the future plans after graduation.
They might also be asked about how they finance the studies. The immigration officer also evaluates if applicant's English skills are sufficient to study in the desired country.
Although none of the questions are difficult per se, they do have the potential to startle the applicant if he or she hasn't conducted proper research regarding their plans.
10. Taking advice from non-qualified experts
An Immigration Law is a complex area, taking an advise from non-qualified consultants or relying on information from family and friends can lead to mistakes.
Each application is unique in its way and what worked for one person may not always work for others.
Many Tier 4 Visa refusal cases happen because the adviser is not qualified or experienced enough in an immigration law.
If you are seeking an advise and assistance ensure that your Immigration advisor is a qualified Solicitor or your applications are being prepared by Immigration experts under the oversight of Solicitors.
The author Falguni Parekh is an English solicitor and managing partner at 'The Smart move2UK'- an Immigration Law firm specializing in UK visas.
Image used for representational purposes only. Credit: Creative Commons