Malia and Sasha Obama photographed in gowns created by Indian-American designer Naeem Khan for the Obamas' last White House Christmas Card.
IMAGE: While Malia, right, and Sasha Obama, left, both wore gowns by Naeem Khan, First Lady Michelle Obama picked designer Jason Wu.
President Barack Obama chose a classic tuxedo.Photograph: The White House.
In keeping with tradition, the Obamas recently sent out a Christmas card -- their last as the First Family of the United States of America -- to hundreds of thousands of lucky recipients.
And they did so in style with a little help from Michelle Obama's favourite Indian-American designer Naeem Khan.
They selected a photograph shot at the State Dinner held in honor of Canadian Prime Minister Justin Trudeau on March 10, 2016. It was the State dinner debut of the Obama girls and both of them had picked gowns designed by Khan.
Interestingly, Michelle Obama had also worn a Naeem Khan for her first State dinner -- for then Indian prime minister Dr Manmohan Singh and his wife Gursharan Kaur in 2009.
While Malia, 17, wore a strapless faille gown with crystal beading from Khan's pre-fall 2015 collection, Sasha, 14, chose an embroidered gown with beading and appliqué, accentuated by a fitted bodice and ball skirt from his resort 2016 collection for the Trudeau dinner.
Each gown was worth about $20,000, according to People magazine.
The night was filled with firsts for the girls, including a memorable moment with Hollywood hottie Ryan Reynolds.
Looking back...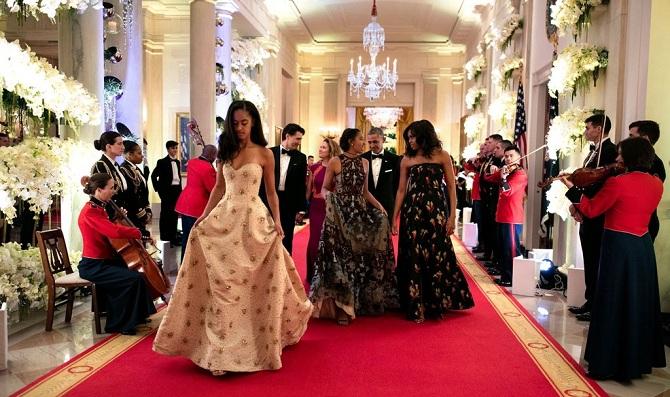 IMAGE: Malia, left, and Sasha Obama, centre, make their State dinner debut in Naeem Khan gowns on March 10, 2016.
The State dinner was held in honour of Canadian Prime Minister Justin Trudeau and his wife Sophie Grégoire-Trudeau. Photograph: Pete Souza/The White House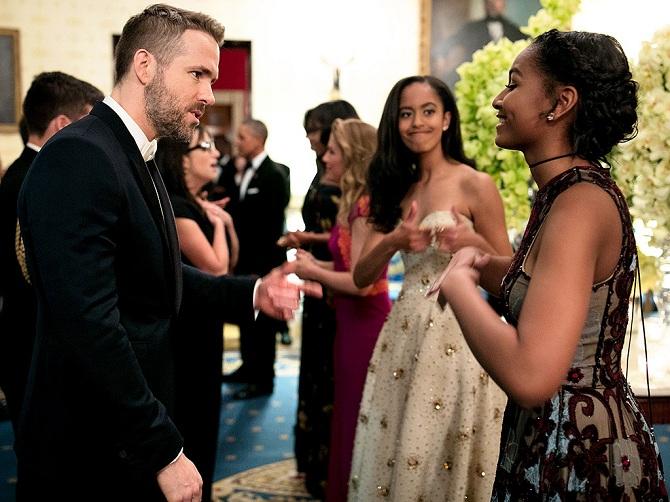 IMAGE: The cutest moment of the evening was Sasha fangirling over actor Ryan Reynolds as older sis Malia cheered her on. Photograph: Pete Souza/The White House
IMAGE: We loved how Papa Obama bonded with Malia in the middle of the party. Photograph: Pete Souza/The White House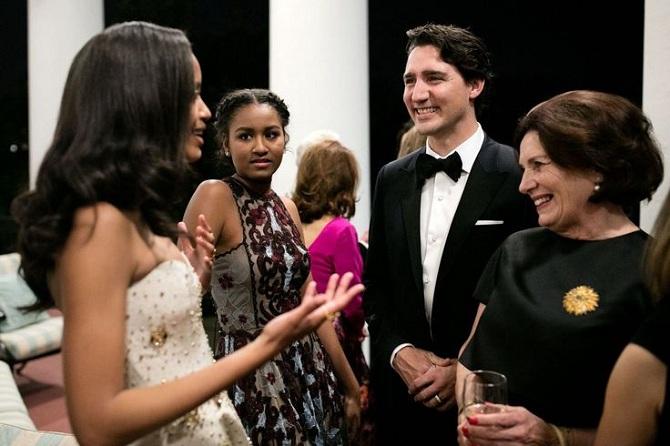 IMAGE: The First Daughters with Canadian Prime Minister Justin Trudeau. Photograph: Pete Souza/The White House