'This is the India I want to live in.'
'Not one filled with hate, bigotry, sexism, homophobia and intolerance.'
'THIS is the India I love.'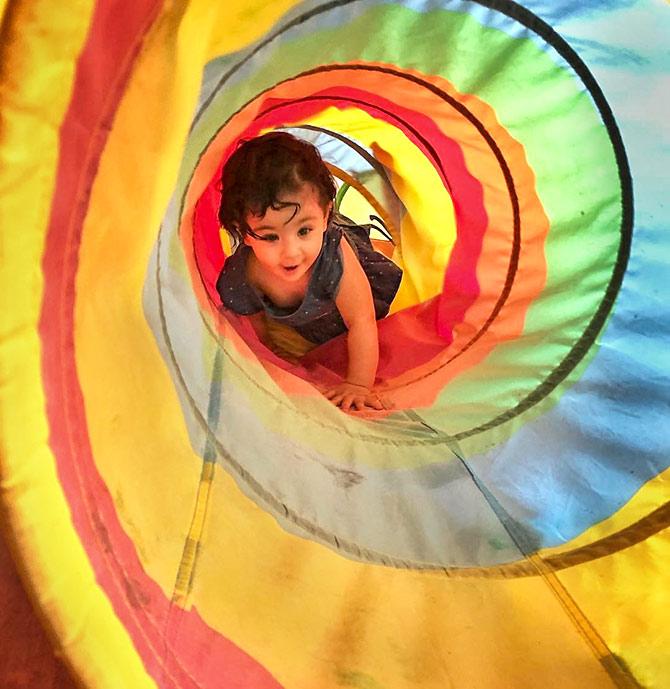 A five-judge Constitution bench struck down Section 377 of the Indian Penal Code in a historic judgment.
Soon after the landmark verdict, film folk took to social media to hail the judicial decision:
Soha Ali Khan posts an adorable picture of her daughter Inaya, above, and writes: 'There is light at the end of the tunnel!!'
Karan Johar: Historical judgment!!!! So proud today! Decriminalising homosexuality and abolishing #Section377 is a huge thumbs up for humanity and equal rights! The country gets its oxygen back!
Ranveer Singh: LOVE FOR ALL #Section377 #377Verdict
Swara Bhaskar: Congratulations to all the activists and petitioners on #SupremeCourt judgement scrapping #Section377 Your perseverance just made #India a freer place for everyone! #LoveIsLove #Pride #377Verdict #377Scrapped Three cheers for the #SupremeCourt.
Arjun Kapoor: Sanity prevails for once we can believe we have some sensible decision makers and lawmakers available to this generation. #Section377 gone with the wind.
Sonam Kapoor: This is the india I want to live in. Not one filled with hate, bigotry,sexism homophobia and intolerance. THIS is the India I love.
Ayushmann Khurrana: RIP #Section377. The new sunshine of this day is that of a progressive India. Love all!
Nimrat Kaur: RIP #Section377. Happy birthday 2018 !! Equal love. Equal lives. Proud Indian today.
Riteish Deshmukh: Justice for all, freedom for all, freedom to choose, freedom to be.... this is the my country, this is our country.. this is India ....It's a historical moment... #Section377
Bhumi Pednekar: Today is a historic day! And I'm so proud of my nation. Paving the path for a future without any discrimination and hate.Freedom to choose and love #377verdict.
Preity Zinta: "If you have a heart you should be free to love who you want." So Happy to hear that the Supreme Court of India has abolished #section377 decriminalising Homosexuality
Anushka Sharma: A huge step forward today for love and the right to love.
Aamir Khan: We thank the Supreme Court for its decision to strike down article 377. It is a historic day for people who believe in equal rights for all. The judiciary has done its duty, and now we must do ours.
Varun Dhawan: A law implemented in 1860 is now abolished. A day for our entire nation to live with pride. Bye bye #sec377 #lovealllovefree #historic
Jayam Ravi: Moving forward #377verdict
Taapsee Pannu: My India of 2018!!!! Truly heartening! Let's embrace one n all and their choices
Richa Chadha: There certainly is a rainbow in every cloud! So happy! #SupremeCourtindia upholds the right of people to just be! Such a massive win, much needed! #loveislove
Gautam Rode: #Section377 scrapped.. A very good decision by the Supreme Court.. This is the new PROGRESSIVE INDIA.
Shilpa Shetty: It is every human beings inalienable right to live with choosing how he wants to.. with dignity #Historicjudgement #Section377 #LGBT #loveislove
Huma Qureshi: Pride!!!!
Bipasha Basu: Today, India recognised that love is love. #section377 stands officially scrapped. Our love and unconditional support to our LGBTQIA family and our thanks to the four justices of the Supreme Court led by Chief Justice Dipak Misra for righting this historic wrong. Jai Hind.