Ever heard of 'gosht ka halwa' or 'dal ki dulhan'?
Avantika Bhuyan profiles a battery of food enthusiasts who are out to make sure that you do resuscitating the country's fading culinary traditions.
IMAGE: Chef Anahita Dhondy introduced us to dishes like
aleti paleti, chicken maiwalla, Granny's pulao, and malaido thanks to
recipes she unearthed during trips to Parsi towns across Gujarat like Navsari and Udvada.

Photograph: Courtesy Chef Anahita Dhondy/Facebook.
In January, SodaBottleOpenerWala, a Bombay Irani restaurant chain, introduced diners to ravaiyan baingan, small eggplant stuffed with prawns. In the vegetarian version, peanuts replaced the prawn stuffing. The dish was a mix of Iranian and Gujarati cuisines, the first visible in the choice of vegetable and the second in the ample use of sesame and peanut.
Other dishes the restaurant whipped up included aleti paleti, or liver and kidney stir-fried in spices; chicken maiwalla, a custard-like chicken preparation that defines the Parsi love for eggs; Granny's pulao, based on a 122-year-old-recipe; and malaido, similar to kadah prasad and served with pooris.
These were recipes that Anahita Dhondy, chef manager of SodaBottleOpenerWala, unearthed during her trips to Parsi towns across Gujarat, such as Navsari and Udvada.
"A whole lot of recipes were getting lost as people had started eating out a lot more," she says. "It was time to bring them back."
Dhondy has recorded these recipes in a book that will be published by HarperCollins early next year.
She is amongst the battery of food enthusiasts -- historians, restaurateurs, writers and chefs -- out to resuscitate the country's fading culinary traditions. They travel to remote places, jog memories of old folks and rummage through ancient texts to bring to life dying or dead recipes.
The old processes were elaborate but thrived nonetheless because people had ample time. As households got busier, and quick food became the norm, these began to fade away from collective memory. It is those lost preparations that the intrepid revivalists want to bring back to the dining table.
With the food, old stories, too, have got a new lease of life.
Historian Rana Safvi's in-laws came from Iran during Shah Jahan's rule and later settled at Shamsabad in Uttar Pradesh.
"They used to make a dish called tehsildari qorma," she says. "The story goes that a Mughal prince was appointed tehsildar in Shamsabad after the Mutiny by the British. He became friendly with the Safavi family. This qorma was made by him. The use of curd, rabdi and khoya makes it unique."
Safvi, whose family served the royals of Banaras as dewans, popularises such recipes on her blog. Some of the other exotic recipes on her blog include dahi phulki, dum ki machhli and kimam ki sevaiyyan (Kimam is a mix of tobacco and spices and is preferred by paan connoisseurs).
She recently showcased lost recipes highlighting Banaras's syncretic culture in the Benaras Ka Khana food festival at New Delhi's ITC Maurya along with fellow food blogger Sangeeta Khanna.
To Khanna, who has made Banaras food fashionable through her blog and food festivals, goes the credit for reviving dal ki dulhan and dal ka dulha, family favourites that were no longer cooked.
"The dulhan was a folded pouch, while the dulha was a whole wheat dumpling shaped like ravioli and stuffed with urad dal ki peethi," says Khanna.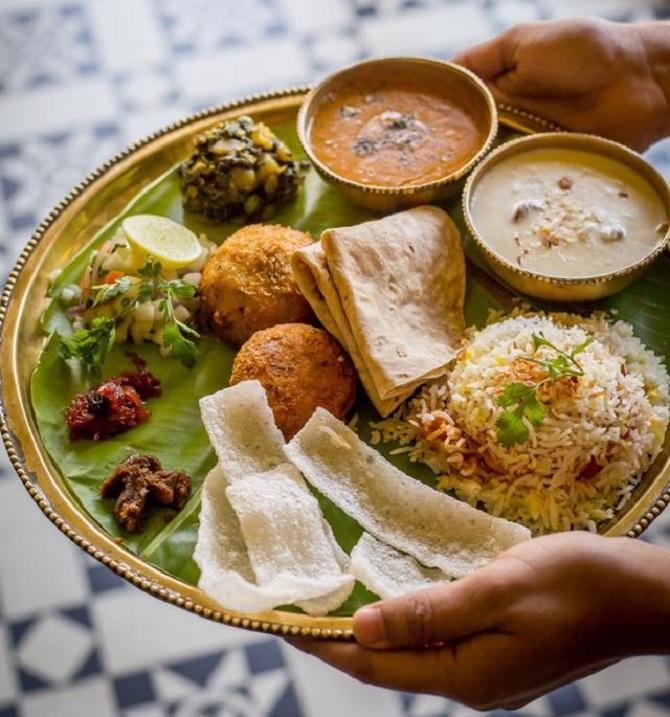 IMAGE: Archaeologist and caterer Kurush Dalal has been researching the evolution of the Parsi cuisine ever since the first members of the community landed on the Gujarat coast from Iran between the 8th and 10th centuries. His discoveries sometimes even manage to take the Parsis by surprise. Photograph: Courtesy SodaBottleOpenerWala/Facebook.
This sudden nostalgia for food of the old is a worldwide phenomenon.
"Globally, it has become fashionable to talk about lost recipes. People like Jamie Oliver and Michelle Obama have been talking about it," says food writer and consultant Sourish Bhattacharyya. "Also, people have become more conscious about eating seasonal, local produce. Indian tradition has always followed that. Hence, there is a revival of sorts."
As a country moves up the income curve, it invests time and effort to revisit its past. Indians have developed a new fondness for yoga, Ayurveda and mythology -- milked so successfully by authors like Amish. Food nostalgia was just waiting to happen.
Thus, millets that had disappeared from kitchens have made a comeback in a big way, as have ingredients such as makhana, phalsa and kokum.
"Today, brands offer makhana poppers in a variety of flavours such as wasabi. To me, revival also means coming back of these ingredients into the mainstream," adds Bhattacharyya.
Archaeologist and caterer Kurush Dalal has been researching the evolution of the Parsi cuisine ever since the first members of the community landed on the Gujarat coast from Iran between the 8th and 10th centuries. Some of these dishes continue to remain popular, while some have withered away from memory as they were difficult to prepare.
Take, for instance, kakdi ma gosht, which is marrow stuffed with meat. The seeds of the marrow are scooped out and the skin is left intact. The meat is then stuffed and slow-cooked. Dalal sometimes makes this as part of his catering service, Katy's Kitchen.
The combinations that showed up during the research took Dalal by surprise.
"Parsis eat sprouted bitter beans called titori, or kadu val, which is cooked in a spicy gravy. This is eaten with rice chapati and Bombay duck pickle, which has almost completely disappeared. In some houses, this is also made with prawns or chicken," he says.
Dalal also found out that in the olden days, guar, or cluster bean, was cooked with lots of tiny prawns, giving the dish a sweet-and-sour taste. He now cooks it frequently.
Another dish, which he had only heard of in his childhood, was the masoorma jeebh, or goat's tongue cooked in black lentils. That had vanished too.
"When I cooked it, shocked Parsis looked at me and said, 'What are you talking about!'" he says.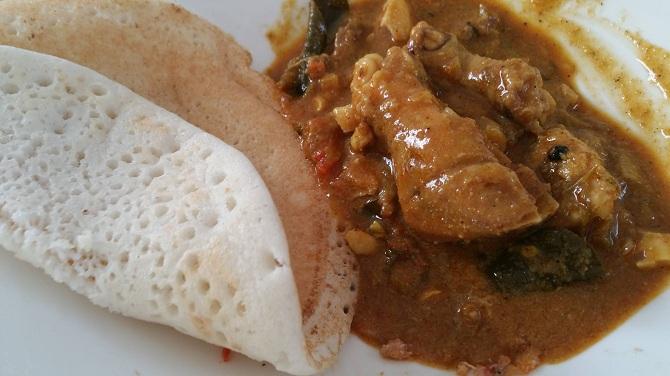 IMAGE: Paya Curry with Dosai -- one of the dishes cookbook author Sumeet Nair discovered when he started work on a book with Anita Goubert to chronicle Puducherry's Creole cuisine. Photograph: Courtesy Sumeet Nair/Facebook.
Sumeet Nair, too, has been trying to resuscitate old recipes by documenting them in books and on yummefy.com. In 2014, he co-authored a book with Meenakshi Meyyappan and Jill Donenfeld called The Bangala Table: Flavours and Recipes from Chettinad.
Some of the rare dishes that one saw in the book were kavanarisi or jaggery-sweetened black rice, mandis (curried vegetables cooked in water in which rice has been washed) and pineapple curry.
Nair has now fixed his sights on the Creole cuisine of Puducherry. He was surprised to learn that Creole food was any fusion of French cuisine with an indigenous one, be it in Mauritius or Puducherry.
Some of the rare recipes he has managed to document are the pastole curry made with minced meat, sun-dried fish in tomato chutney and a curry made with liver, mango and eggplant.
Nair has just started work on a book with Anita Goubert, who has an avenue in Puducherry named after her forefathers, that will chronicle the state's Creole cuisine.
Documentation has brought to light fascinating social practices as well.
"The nomadic Bawariya tribe cooks a special chicken dish, gadhia laharu, to celebrate the birth of a girl," says Ashish Chopra, culinary historian, gourmand, writer and TV host. "A whole chicken is cooked in a pit for six to seven hours. It is made by men and first distributed among the women folk."
Chopra's documentation of the tribal culinary traditions is based on 25 years of travel across India and will soon culminate in a book, Tribal Cuisines of India.
He shares yet another interesting story: "In Bastar, during Dussehra, a very rare dish is cooked in honour of the king of Bastar: meat made with toddy."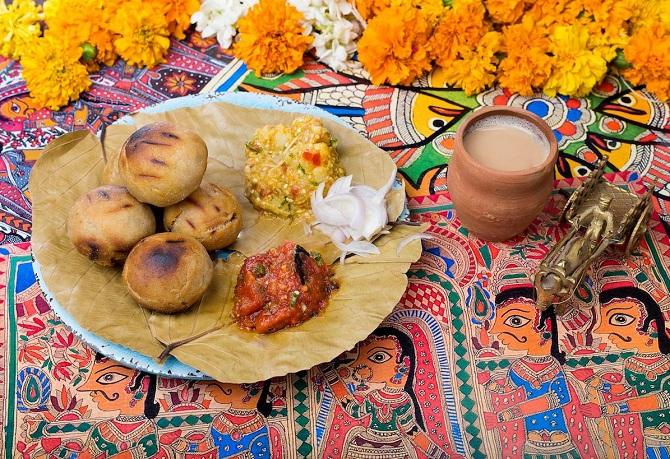 IMAGE: The quest to discover lost recipes often unearths innovations brought in by generations of cooks and housewives. Photograph: Courtesy The Masala Trail/Facebook.
Research on such recipes also shows how each family made a particular dish its own, with innovations wrought in by generations of khansamas and housewives.
Food writer Anoothi Vishal mentions the recipe for raw banana fish in her book, Mrs LC's Table, an account of the food and culture of the Mathur community. "It was an innovation of my grandmother, but fits in with this whole genre of faux meat," she says.
To make the dish, you need to cut the banana like a fillet, use besan for texture, and then curry or fry it. It brings together kasuri methi and fish in a rare combination.
Similarly, food writer and restaurateur Osama Jalali, who has interviewed in his quest cooks in Amroha, Sambal and Banaras, came across 82-year-old Masoom Ali at Delhi's Turkman Gate who remembered that his "mother-in-law had made gosht ka halwa for him after marriage".
Jalali searched high and low but couldn't find a reference to it anywhere. "Finally, I met a fourth-generation khansama who had heard of it. I got the ingredients -- sugar, mutton, and more -- and tried it at home," he says. "I asked noted chefs to try it out and not one realised that it was made of meat."
He now cooks gosht ka halwa regularly at food festivals.
It is not just dishes but also ingredients such as pan ki tehni and khus ki jhad that have witnessed a new lease of life. Jalali uses them in a preparation called murgh zamindoz (chicken cooked in a pit).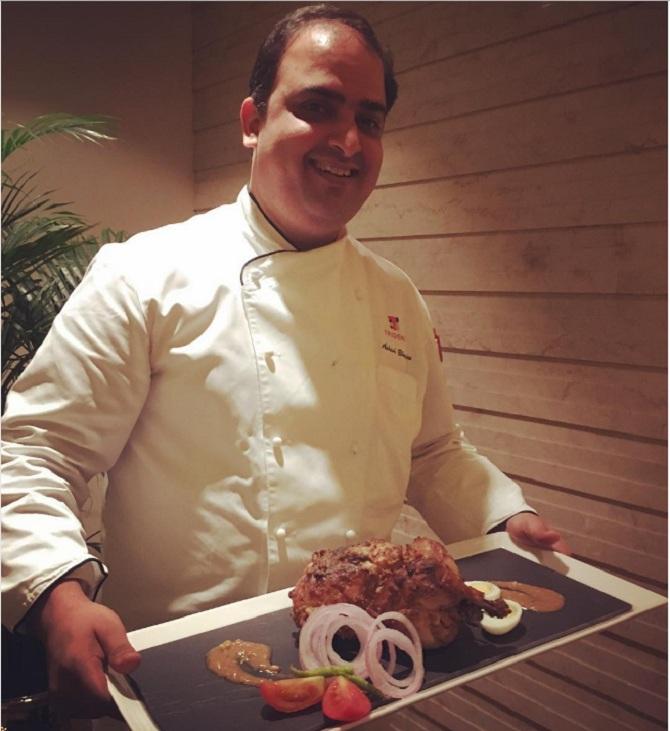 IMAGE: Events like the Rivaayat Culinary Conclave are bringing alive interesting recipes like parinde mein parinda, a highly skilled preparation. Photograph: Courtesy Skoranne/Instagram.
While researchers have been independently trying to document and archive these recipes, it is the support of hotels that has brought their work to the world.
For instance, both Jalali and Sangeeta Khanna found a platform to showcase their recipes when The Oberoi, Gurgaon, held the Rivaayat Culinary Conclave in 2014 to revive traditional Indian cuisine.
The hotel flew down 35 professional chefs from the entire Oberoi chain and amateur cooks to document the recipes.
Food writers, historians and culinary experts such as Salma Hussain were also part of the initiative.
People like Khanna, Jalali, Izzat Husain (expert on Awadhi cuisine) and Mumtaz Khan (of Hyderabad) worked hard to standardise and archive recipes that were dying out. A team of professional chefs worked alongside to verify the authenticity of the flavours, veracity of the stories and also to provide technical expertise.
For instance, when Jalali was trying to make sausages with lamb intestines for motia pulao, a dish dating back to the times of Wajid Ali Shah, they kept breaking in water. That's when a chef came to his rescue and suggested he use a different intestine with better tenacity.
Rivaayat brought alive other interesting recipes such as luleh kebab, a dish influenced by Humayun's Persian wife; murgh pateeli kebab from the table of Bahadur Shah Zafar, which featured chicken filled with raisins, pistachios, apricots, pepper and saffron, and was cooked in copper vessels; and parinde mein parinda, a highly skilled preparation in which a bird was stuffed into a bigger bird.
To ensure that such efforts are not a flash in the pan, hotels have made these recipes a part of their overall F&B offering.
At ITC Hotels, the regular Kitchens of India series focuses on such dishes and grain. In the past, it has brought out the vegetarian repertoire of the Sheherwali community through dishes such askheera ki kachori, the royal repast of Kalawar with recipes like pithod ka saag (gram flour cutlets, infused with herbs and cooked in spinach paste), and the cuisine of the Navaitha's through dishes such as tuari gosht, or lamb shanks cooked with ridge gourd.
If you ask Sumeet Nair about a defining food memory, it would be dodi, a drink containing milk, ghee and sesame seeds that his grandmother would make for him daily.
"I have been looking all over for a reference to it and can't find it. It's like the drink has just disappeared," says Nair.
There are mysteries that still remain unsolved.