Getting into one of the country's top management schools is hard. And then, there are the dreams and the expectations. What happens when someone working in one of India's large public sector companies ends up there, hoping IIM–A is all about leadership?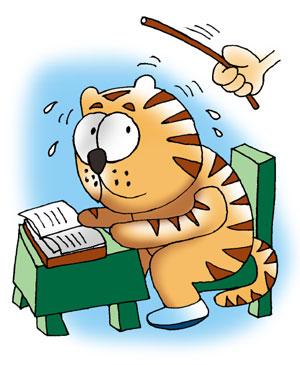 At 9 am the next morning, I stepped into my classroom.
We had three classes every day from Monday to Friday. The first was from 9 am to 10.15 am, the second from 10.30 am to 11.30 am and the last was from 11.45 am to 1 pm.
The classroom was quite unlike any other class rooms I had seen before. It was in the shape of a semi-circle and each row was more elevated than the one before it. There was no way of hiding in the back rows. In fact the back rows were the most visible. And you couldn't choose your seat. Each chair had a name plate.
The blackboard was very huge and long and there was a large empty space up front for the professors to walk. There were also lanes running into the rows of seating so that the professors could climb up and access anyone.
And here came the jolt – every class also had an RA, a research associate, who would seat herself in the back rows. Her job, as I understood, was to look around and evaluate each of us on the quality of our class participation.
And class participation, called CP, was not just about talking, but talking with sense. You could not ignore the CP's. CP's contribution to the total marks varied from 20% to even 50% depending on the subjects!
I was deeply worried now.
The first class was on Marketing and we all sat glued to our chairs, wondering what type of professors would confront us. I was quite nervous.
Soon enough, an old man with a square beard entered. He carried some papers with him. He did not look at anyone in particular. He just sat in the chair and started calling out each of our names. After every call, he would stare a long stare at the person whom he called and only then mark the attendance.
It took him nearly 10 minutes to finish the job. He slowly closed the attendance book, got up from his chair and came around the table to stand before us.
He was short. He removed his chappals. And then his watch. Then he loosened his buttons. It looked like he was getting ready for a street fight. I loosened my buttons a bit as well.
He looked around as one would stare at a group of enslaved enemies. His eyes flickered and then fell on a rather bubbly girl called Baitely. 'You may start the case,' he said.
Baitely was a topper from some university in Delhi. She looked very confident and happy and was raring to go. She started off with great poise and style on the contents of the case.
After a full five minutes, the professor stopped her and said; 'We have all read the case. Can you say what the case is about?' Her style vanished a little. I saw her compose herself and try to explain the case again.
After a full minute, he stopped her and said; 'Please don't repeat the case. Can you say what the case is about?'
Baitely's poise vanished further as she tried explaining the case again. She said it was about one Mr Shah having a problem branding his product, a pen.
'Is that the problem?' the Professor asked.
Now Baitely was losing her confidence. She said yes. Then she said no. Then she suddenly started saying that such a problem existed with Maruti cars.
By now the Professor was smiling. 'So who owns Maruti, the brand?' he asked. Baitely looked even sadder now, looked less decisive.
The Professor looked up at Baitely and asked her to come down. 'Don't fly kites,' he said mockingly. 'Talk only if you know.'
He'd destroyed her completely. And I thus learnt my first lesson at IIM – A: 'You don't talk until you are sure'. This was also my first exposure to the case study method of learning.
The class continued.
The Professor looked around and chose someone else to open the case. The case gathered momentum. Actually it was fantastic. One student said that Mr Shah had to build a brand around his pen; but the problem was that there was no technological difference between any two pens in the market.
The Professor stopped him right there. 'What makes you say that?' he asked.
The student's name, as I read his name from the board in front of him, was Sumit. He said; 'The case doesn't talk about any other pens being different.'
Someone named Arthur raised his hand and added to the thought flow. The Professor moved towards him. 'This is pure theory,' Arthur said. 'You can't just start a branding activity. Branding entails spending money to establish a set of values around the brand. And we don't know yet whether Mr Shah has the money. He should continue selling the pen as a discounted distribution brand.'
I had thought Sumit made sense. Now Arthur made more sense.
'And what's your work experience been like?' the Professor said, turning to me quite suddenly. I was sitting to his left, in a corner of the second row, thinking that all the action would be in the middle. So the professor knew the profile of every one of us in detail.
I quickly composed myself. 'Sir, I was into producing steel and electric power,' I said.
'Then you are the right guy,' the professor said. 'Have you ever thought of branding power?'
My mind raced… Branding power... Something along the lines of 'BHEL power now lights more lights than Tata power'. I thought it was laughable. 'Power is the same, Sir,' I said. 'It is produced in megawatts by the same process everywhere.' I thought that was a smart reply.
'So why didn't you work for the Tatas?' the Professor asked. 'BHEL is a public sector company and hence more secure,' I said.
'So is your power,' the professor beamed.
'Oh I got it, sir," Sumit said from behind. 'So they need not be really differentiated product-wise. It's just that one product is from the House of Shah.'
'Oh yes,' the professor said.
He stood in the center of the class. All smiles. He had brought out a branding point so very well. To me, he looked like a musician at the center, orchestrating every note until the crescendo struck.
The class went on. There were several viewpoints on the same one-page case. I felt fantastic. I also realised that it was vital to come prepared on the case. Only if you did could others learn more from the case. Just like how I learnt from everyone else.
Excerpted from Amongst Monkeys: A Frank Story From IIM-A by Narendran, with the author's permission.
Illustration: Uttam Ghosh