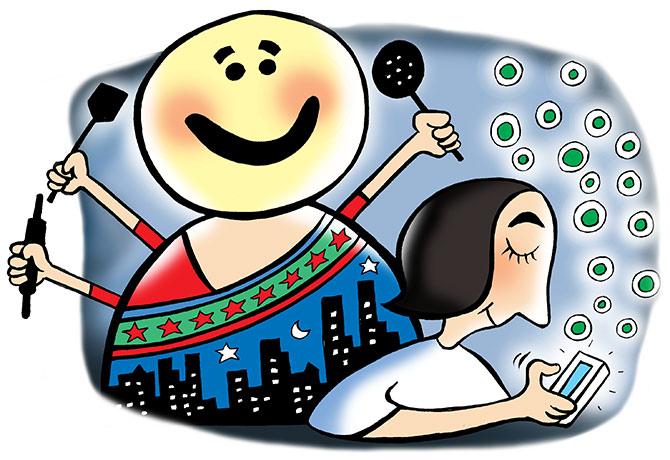 In the book A Wonderful Wife, twelve husbands write about the importance of their wives in their respective lives.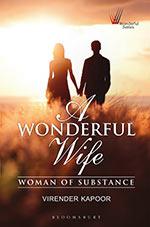 Author and management guru Virender Kapoor's latest book A Wonderful Wife tries to explore the importance of women in a marriage.
"In this day and age, where divorces are getting common, I thought it would be a nice idea to have husbands write about their wives and publish a book around it," Kapoor said in his interview to Rediff.com.
In the book, he gets 12 men from different backgrounds and faiths to write about their respective wives.
We bring you an excerpt from Piyush Kaloni's story on the equation shared by his wife and mother-in-law. Read on.
ALSO SEE
'A responsible wife is an asset'
---
In the Indian culture, the groom's mother goes through the entire hassle of inspecting and rejecting scores of matches for him before she finds that perfect match who is not only a culinary expert, but also a beauty and equally docile.
In my case, I had taken this hassle away from her by choosing my own bride.
This act of independence had definitely sowed the seeds of discontent in some corner of her heart.
My wife was strong-willed, not a docile mouse (the desire of every mother-in-law), quite good looking and a good cook and dancer to boot. There was no reason for her to be disapproved.
She came to stay with us for a month. And like any other son, I was very happy.
My wife was equally happy as it was a change from our usual monotonous existence. The day started with a brief chat between my mother and my wife over the menu for breakfast.
They then hurriedly made it as both of us had to rush to office. Both of them loved tea, which gave them reason to sit together and chat.
The common topic of discussion between the two was about the marriage and guests, the family members and gifts.
My mother used to tell her about our culture and she expected her to know it by heart within a day.
She felt that her son was being taken away from his culture and his favourite kind of food. No matter what; the fight in any house begins in the kitchen and ends in the bedroom.
In my case as well it was the same. Introduction of bread and butter, cornflakes and muesli had disheartened my mother who looked down upon it as angrezon ka nashta.
My wife making rajma was an act of Delhi culture intruding upon our traditional pahadi culture. Both the things were not liked by my mother.
She wanted her to learn our type of food rather than introducing and experimenting with her culinary skills. Of course, as a son, I also wanted to have what I had relished the most since my childhood, yet at the same time I was open to anything new and tasty.
From here, began the tug of war between choices and expectations. Amrita was struggling hard to meet her mother-in-law's expectations.
Since ours was a love marriage there was a lot of pressure on us to be one's best with each other's parents. We had to prove that we did not make a wrong choice by marrying each other. So both of us kept trying really hard to keep my mother happy.
Amrita tried to learn new recipes and make them exactly the way she wanted. I behaved as the most well mannered son who loved his mother the most.
While trying to be a well-behaved son I forgot that I had a wife who was somebody's daughter as well.
She was also equally pampered and loved as I was. She also had an equal right to exercise her choice of food and drinks, her preferences also held importance.
I had forgotten all these things. All this started distancing us.
It was not that Amrita wanted to rule over the kitchen or the house. She hardly had time for it. The only thing she wanted was her dignity.
My mother liked her for her will but not for her way of doing things especially in the kitchen. This interference brought about a lot of dissatisfaction in both of them.
Finally entered the saviour of all households, the 'bai' or maid. She was like a god in disguise for me. I could actually see a halo behind her.
Lord had heard me and why not. After all he is also a man in same kind of distress!!
In Kalyug, God could not step on earth so he sent 'bais' (maids).
The work would be done on time. Both of them could take a break now. We had everything now from hot food to a clean house and no tension. But nothing is as perfect as it looks.
The moment I thought that things would go smoothly, I heard a cry coming from the corner of the kitchen, 'khane main tel daalti hai ya tel main khana'….and that was enough to bring us back to square one.
It was not difficult to guess who could pass a statement like that. And so in order to avoid any more quarrels I retreated to my office, my wife went with a red face to her college.
My mother watched her favourite television soap to feel sorry for all the daughters-in-law in the saas bahu serials.
The days passed with the same humdrum routine and the day soon came for my mother to leave. So, my work to maintain a balance between wife and mother had come to an end.
Published with the kind permission of Bloomsbury Publishing India Pvt Ltd.