Contrary to the popular belief that the Beatles' 1968 trip to Rishikesh set in motion their eventual fallout, it in fact delayed the split till 1970.
The trip was photographed by Paul Saltzman, who is marking its 50th anniversary with the release of the book The Beatles in India.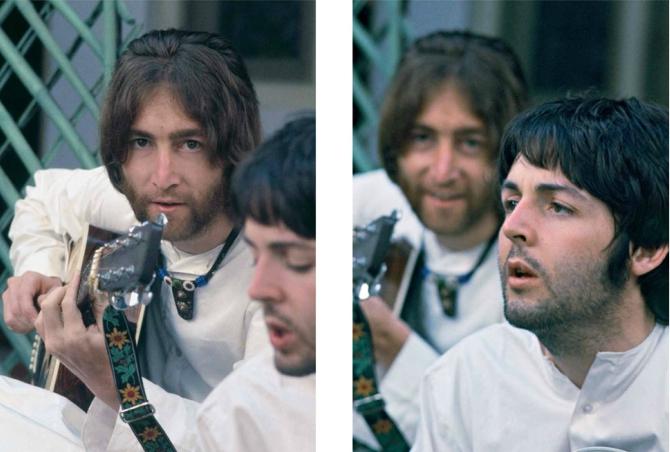 John Lennon and Paul McCartney.
The Beatles wrote around 48 songs during their seven-week stay at the Chaurasi Kutia Ashram of Mahesh Yogi in Uttarakhand, now known as the Beatles Ashram. Among them were Ob-la-di, Ob-la-da, Back In The USSR and While My Guitar Gently Weeps.
Photograph: Courtesy Paul Saltzman via The Beatles In India/Simon and Schuster.

In February 1968, The Beatles -- John Lennon, George Harrison, Ringo Starr and Paul McCartney -- travelled to Rishikesh in what is now Uttarakhand to learn transcendental meditation at the Chaurasi Kutia Ashram of Mahesh Yogi.
Contrary to the popular belief that it was this trip that set in motion the British rock band's eventual fallout, it was in fact that visit that delayed the band's split till 1970, author Philip Norman said at the recently concluded Jaipur Literature Festival.
Speaking at a session titled 'Magical Mystery Tour: The Beatles in India', Norman -- who authored Shout! The True Story of the Beatles -- said had it not been for the trip, the band would have likely separated in 1967, right after the death of their manager and father-figure Brian Epstein.
Lennon and McCartney, he said had begun feeling the burden of stardom as early as 1965, and the India trip worked like an 'interlude' between Epstein's death and the band's final fallout, during which they went back to making more songs.
A book featuring rare photographs of The Beatles clicked by Emmy award-winning producer-director Paul Saltzman during this 'interlude' in India will hit the stores this month, coinciding with the 50 anniversary of the visit.
No other person, except Saltzman, was allowed to photograph the group
The Beatles in India, published by Simon & Schuster India, contains a foreword by Harrison's former wife Pattie Boyd (who later married musician Eric Clapton).
Scroll down to read an excerpt from Pattie Boyd's foreword 'My Journey to Rishikesh with George' in The Beatles in India, which has been reproduced with permission from the publisher.
The Beatles at the ashram in Rishikesh.
They decided to go to India after the death of their manager Brian Epstein's death.
Actress Mia Farrow was also there with her brother John and her sister Prudence
Photograph: Courtesy Paul Saltzman via The Beatles In India/Simon and Schuster.
I met George on the set of A Hard Day's Night. It was 1964.
While the Beatles were on tour in America in 1966, I wanted to explore the spiritual arena as a way to try to understand the meaning of life and my own extraordinary life change. Then I came across an advertisement in the Sunday Times for lessons in Transcendental Meditation taking place in London.
Opportunities come to us and it's up to us to seize them or not: My girlfriend Marie-Lise and I went along to check it out and had a very positive experience. After many lessons, we were each given a mantra, and our initiation into the practice took place.
Then the Beatles came home after a very successful tour and I told George about the practice and how wonderful we felt after meditating. Sometime later, Paul called George on the phone to tell him that a spiritual leader called Maharishi was coming to London to give a talk on meditation at the Hilton Hotel. I said, "That's the guy who created the meditation technique that I am practicing."
When a member of the Beatles did something interesting, he shared the news. In this case they all attended the talk and wanted to learn more when Maharishi suggested going to Bangor, in Wales. He had an ashram there where mediators could be in his presence and learn more. It sounded like a wonderful adventure, so off we all went by train for a three-hour journey to Wales.
Mick Jagger and Marianne Faithfull heard what we were doing and couldn't resist coming along to see what it was all about.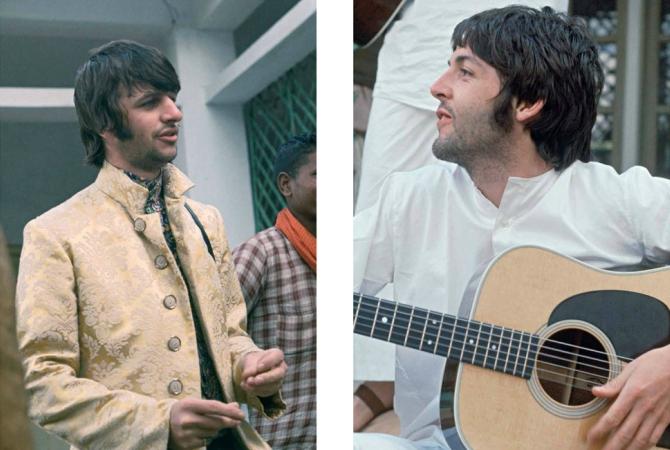 Ringo Starr and Paul McCartney.
Ringo Starr was the first of the Beatles to leave the ashram.
Photograph: Courtesy Paul Saltzman via The Beatles In India/Simon and Schuster.
On our second day in Wales we learned that Brian Epstein, the Beatles' manager, had been found dead in his London flat. This was the most dramatic and horrific shock to us all.
Maharishi was very respectful and supportive of the band. He realized that they saw Brian as not just their manager, but also their mentor, friend, and guide. They were all still very young when Brian died, and without him they really had no clear direction.
Through the grieving, Maharishi could see they would need his help. He suggested that we all go to India to have some downtime for contemplation and to figure out the next steps. This would help them reflect on where they wanted to go in their lives and their careers now that they were left without Brian.
That's when we decided that we'd all go to India. George was 24 and I was 23.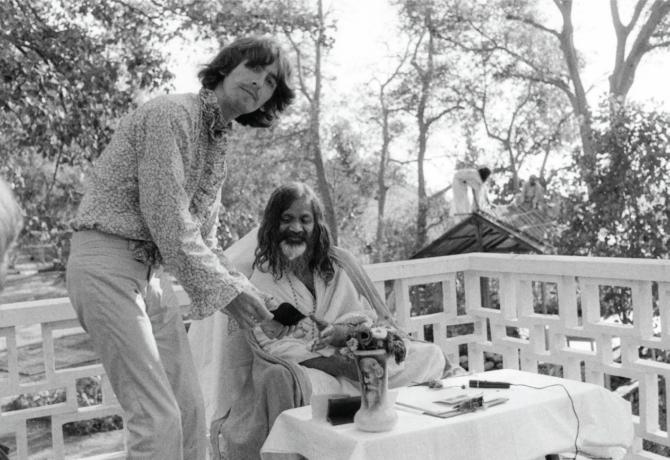 George Harrison with Mahesh Yogi.
He and Pattie Boyd had been to India before with Pandit Ravi Shankar, who not only gave Harrison Sitar lessons, but also introduced the couple to many aspects of India and its culture, including the Kumbh Mela.
Don't miss: The George Harrison I got to know
Photograph: Courtesy Pattie Boyd via The Beatles In India/Simon and Schuster.
George and I had been to India before with Ravi Shankar, when Ravi kindly gave George lessons in how to play the sitar and took us on an eye-opening tour of his country.
India seemed very exotic to us. There were bears and monkeys on chains in the streets beside beggars and mutilated children. Women were wearing the most wonderful saris of every color imaginable and the heady scent of incense permeated the hot summer air.
My grandfather and my great-grandfather had been in India as members of the British Army, and my mother was born there. I think because of that I always felt some sort of connection to this country. I grew up in Africa, so I was used to a different sort of lifestyle than what is common in the West, and none of India's local chaos frightened me. I thought it a joyous place, so full of life, art, and color.
I really embraced India.
First, we stayed at the Taj Mahal Hotel in Mumbai and traveled around India to attend Ravi's concerts and learn about a culture that is thousands of years old. He took us to Kumbh Mela, a major festival that draws millions of sadhus, who walk for days to attend it.
I remember sitting with Ravi at the festival and seeing a man with a bamboo stick sitting nearby. He kept putting his tongue into the stick, so I asked Ravi what he was doing. He explained that a snake was inside the stick and he was getting a little bit of venom to get high.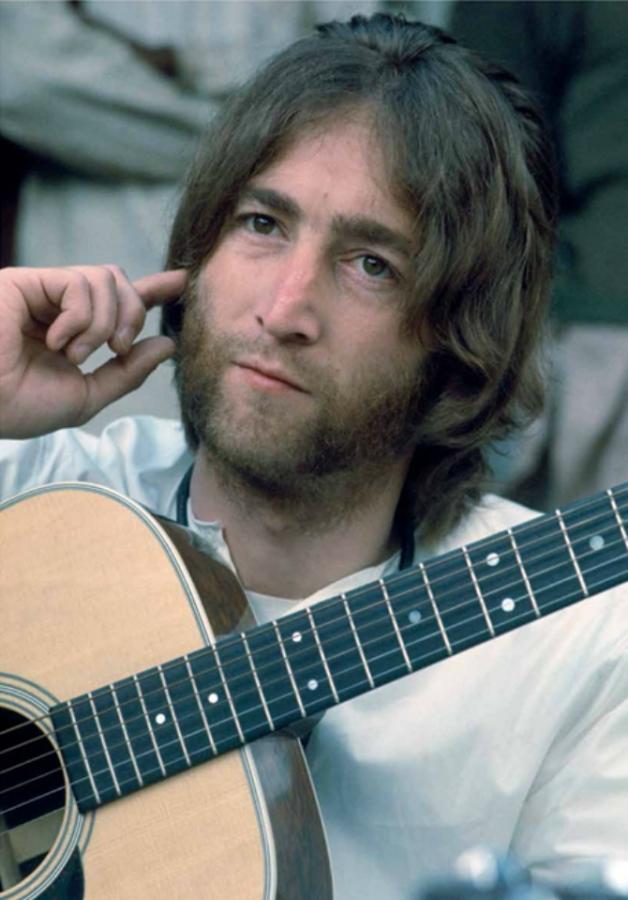 John Lennon at the ashram. The entire group lived a very simple life during their time there.
Photograph: Courtesy Paul Saltzman via The Beatles In India/Simon and Schuster.

When we visited India for the second time with the Beatles and few other friends, we flew into Delhi first.
Then, to get to the ashram, we took black Ambassador cars to Rishikesh, a town in the foothills of the Himalayas. Maharishi really wanted to keep us all together there, rather than have us going into town, so that we would stay in the same frame of mind.
The ashrarn was very basic; our rooms felt almost like a monastery, and the electricity gave off a faint orange glow.
We lived a very simple life. Food was vegetarian Indian, cooked by some Australians who happened to be traveling the world until they came across the ashram. They loved their new job, and we loved what they cooked together with a few Indian cooks.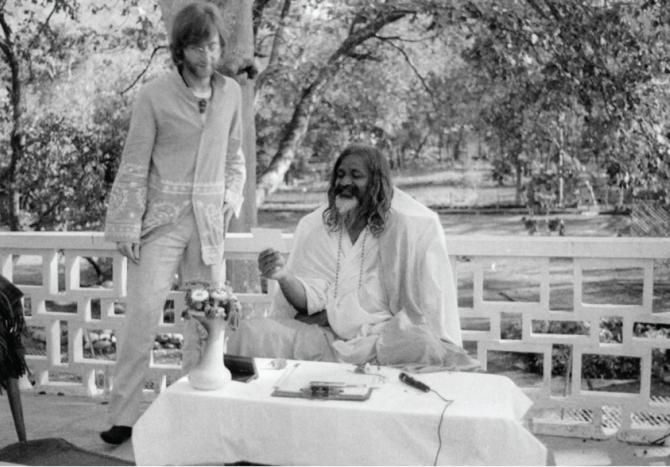 Boyed revealed, 'People whispered that Magic Alex had started the rumor that led John to go ballistic and decide to leave straight away. In reality, John wanted to see Yoko Ono, and this was the perfect excuse to leave.'
Photograph: Courtesy Pattie Boyd via The Beatles In India/Simon and Schuster.
We were a big group of people. Donovan was with us, as was a friend of John's named Magic Alex. Mia Farrow was there with her brother John and her sister Prudence. There was also Mike Love from the Beach Boys, and of course all the members of the Beatles with their wives and partners.
The daily routine began with meditation in the morning, then we'd go down to the open dining area to eat breakfast before the birds arrived. After breakfast, Maharishi would often deliver a lecture. If he didn't, we would go to our rooms and meditate some more, or the boys would write, sing, or just play music.
There wasn't a definitive routine except for meal times, and even then you did not have to turn up -- someone would leave a bowl of food outside your door.
Most of the lectures Maharishi gave were meant for everyone, but every so often Maharishi would want to give a particular spiritual teaching to our group. I knew Maharishi had a wealth of spiritual information to share -- he had a type of knowledge that would have been passed down from his master. Maharishi was a very wise man and, over the years, several of my life decisions were very much inspired by his teachings.
(From right) John Lennon, Paul McCartney and his then girlfriend Jane Asher.
Photograph: Courtesy Pattie Boyd via The Beatles In India/Simon and Schuster.
The time spent at the ashram was very creatively stimulating for the Beatles. They wrote some of their best songs there: almost the entire White Album, including Dear Prudence, inspired by Prudence Farrow. I clearly remember listening to them play, jam, and write songs, with lyrics emerging organically.
It was an incredibly special time for them all, a chance to be together is the same place for weeks with little distraction. They were free to totally immerse themselves in their creativity and to work when the mood took them.
There is a song called The continuing Story of Bungalow Bill. It's about someone who had just arrived at the ashram after he had been hunting tigers and other big cats. Having finished hunting these animals, he decided that he needed to meditate! This was too good of a story for John to miss. I suppose the guy never realized that we were shocked by his desire to kill such beautiful beasts.
At some point during our stay at the ashram, there was a bit of gossip that turned into a scandal. People whispered that Magic Alex had started the rumor that led John to go ballistic and decide to leave straight away. In reality, John wanted to see Yoko Ono, and this was the perfect excuse to leave.
Paul had already left to go back to London and start the ball rolling with the new Beatles company, Apple Records. He was very enthusiastic.
George was not yet ready to face the real world, and especially not the eager press. So, he and I travelled to Kerala in the South and stayed in a sweet, simple guesthouse where he completely relaxed before returning to London and to the madness that surrounded the Beatles and their new venture.
As a photographer, I wish I had shot more photos while I was there with the band. I had made a conscious decision at the time to not be intrusive, as the whole experience we were enjoying was too special, so peaceful, a retreat from the world of cameras.
I think Paul Saltzman may have had a similar feeling and tried to be as non-instrusive as possible.
At the Chaurasi Kutia Ashram.
The iconic India trip will also be honoured in Liverpool, the hometown of the four, with a two-year exhibition titled the Beatles in India. It will be part of a permanent museum called The Beatles Story.
The exhibition opens to the public on February 16, 50 years to the day they arrived in India. 'Beatles in India will look at this key and relatively secretive part of the Beatles' story... with never-before-seen memorabilia, imagery and personal accounts from the people who were there with the band in 1968,' Dave Milner, marketing and PR executive of The Beatles Story, told PTI.
The memorabilia will include a sitar that belonged to Pandit Ravi Shankar.
Photograph: Courtesy Paul Saltzman via The Beatles In India/Simon and Schuster.