They're sexy, powerful, irresistible and very, very expensive.
Sports bikes are classified into three categories, namely lightweight (up to 500 cc), middleweight (600-750 cc) and superbikes, also called liter-class (1000 cc).
When it comes to superbikes, speed and thrill come naturally as its core constituents.
Of late, the sales of sports bikes in India have gained tremendous momentum. The passion for ultra-performance-driven sports bikes in India is touching new highs. And avid superbike enthusiasts are craving insanely for machines that are... superfast.
Here, then, are some of the fastest super bikes in India.
Remember, they are fast and they are expensive.
(All the prices mentioned below are ex-showroom).
1. Kawasaki Ninja H2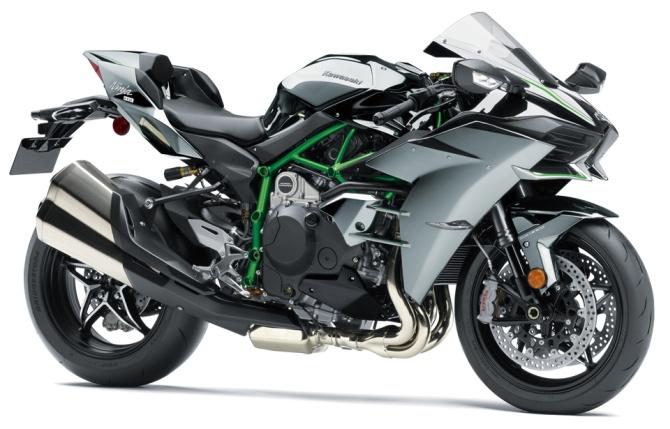 Photograph: Kind courtesy Kawasaki India
Part of the Ninja sports bike series, the superbike Ninja H2 falls in the 'supercharged supersport' category.
One of the fastest production motorcycles in the current era, it has a 998 cc, liquid cooled supercharged in-line 4-cylinder engine that gives out 197 bhp at 11000 rpm and 134 Nm of torque at 10500 rpm.
The supercharged liter-class superbike has a trellis high-tensile steel with a swing-arm mounting plate frame, inverted front forks and gas charged shock rear absorbers.
The dream bike for any superbike devotee, Ninja H2 is a restrained adaptation of its track-only version, the Kawasaki Ninja H2R.
Top Speed:
300+
Engine:
998 cc
Power:
197 bhp @11000 rpm
Torque:
134 Nm @10500 rpm
Price:
₹33,30,100 onwards
2. BMW S 1000 RR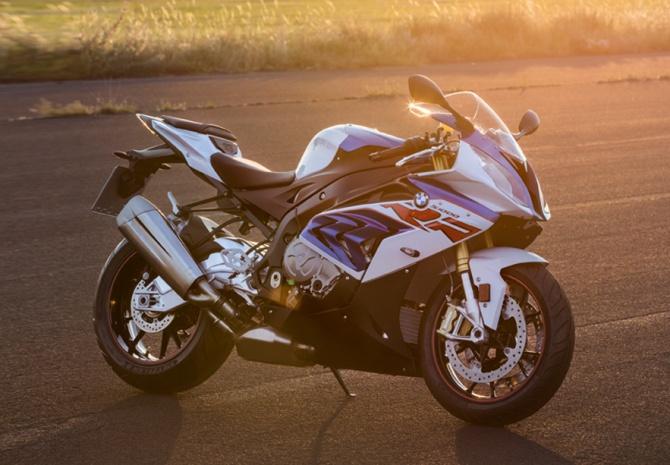 Photograph: Kind courtesy BMW Motorrad India
A high performer from Germany, the BMW S 1000 RR now features Dynamic Traction Control as standard across all variants, enabling greater ride experience and superior road safety.
The track and road legal sports bike's brute performance has left enthusiasts dumbstruck across the globe.
Although the engine is not supercharged like the Ninja H2, still, with its 999 cc, water/oil cooled 4-cylinder electronic injection engine, it is no less than its Japanese rival.
The S 1000 RR Sports gives out 199 hp at 13500 rpm and 113 Nm at 10500 rpm and is mated to a 6-speed constant mesh gearbox.
Top Speed:
303 kmph
Engine:
999 cc
Power:
199 hp @13500 rpm
Torque:
113 Nm @10500 rpm
Price:
₹17,90,000 onwards
3. Ducati Panigale V4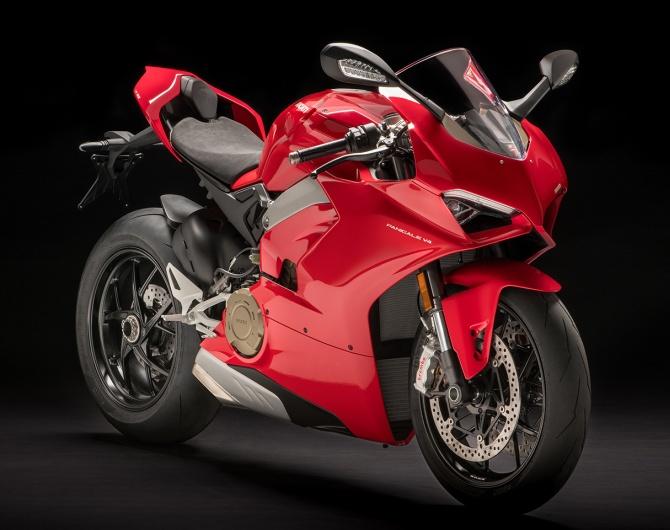 Photograph: Kind courtesy Ducati Motor
The Italian sports bike maker's ultimate presentation in the 'high speed' category is the Panigale V4.
Its 1103 cc, V4, Desmosedici Stradale engine, borrowed from the MotoGP bike, delivers a heart thumping 211 bhp at 13000 rpm 124 Nm at 10000 rpm of torque.
The suspensions are fully adjustable with Showa at the front and Sachs suspension unit at the rear.
The class leading motorcycle also features several riding modes and other aids.
The engine is mated to a 6-speed gearbox.
Panigale V4's newly designed frame helps in keeping the kerb weight down to less than 200 kg, resulting in an awesome 1,080hp/tonne of power-to-weight ratio.
Top Speed:
300+ kmph
Engine:
1103 cc
Power:
211 bhp @13000 rpm
Torque:
124 Nm @10000 rpm
Price:
₹21,75,000 onwards
4. Suzuki Hayabusa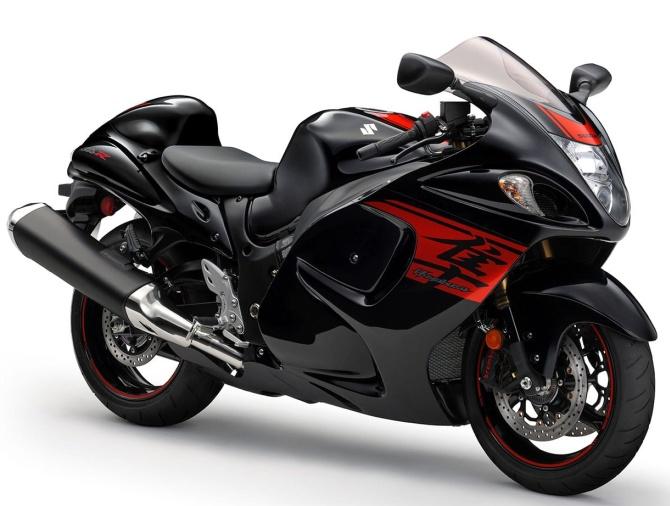 Photograph: Kind courtesy Suzuki Motorcycle India
Though the Suzuki Hayabusa, aka the Dhoom sports bike, lacks hi-tech features like electronic assist, traction control and a high-end suspension setup, it is very popular among young sports bike riders in India.
Along with its raw power and excellent throttle response, the Japanese bike also has as many as three different riding modes.
Equipped with a high power 1340 cc, liquid-cooled in-line four-cylinder engine, it pours out 197 bhp at 9500 rpm and 155 Nm at 7200 rpm.
Mated to a 6-speed gearbox transmission, it weighs 266 kg. Despite this sheer weight, it can clock 300 kmph speed.
Top Speed:
312 kmph
Engine:
1340 cc
Power:
197 bhp @9500 rpm
Torque:
155 Nm @7200 rpm
Price:
₹13,68,970 onwards
5. Aprilia RSV4 RF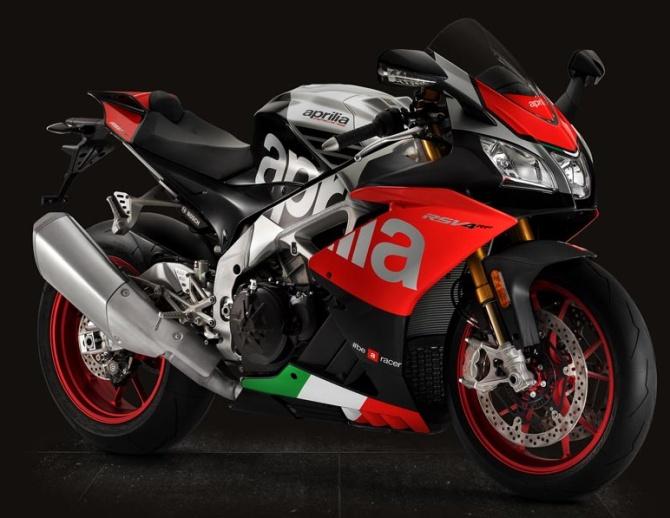 Photograph: Kind courtesy Piaggio
The Aprilia RSV4 RF caught everyone's attention when it was unveiled at the 2018 Auto Expo in the country.
The RSV4 RF is a limited edition track-oriented model of the Italian superbike.
Some of the high-end features comprise of Ohlin fork, the Aprilia performance ride control, the full ride-by-wire, electronic-engine management system, the Aprilia wheelie control, the Aprilia launch control, the Aprilia quick shift and more.
The liter-class Aprilia gets a 999 cc, liquid-cooled V4 engine that produces a high power of 198 bhp and 115 Nm of top torque, while the engine is mated to a 6-speed gearbox.
Top Speed:
300 kmph
Engine:
999 cc
Power:
198 bhp
Torque:
115 Nm
Price:
₹22,80,861 onwards
6. MV Agusta F4 RR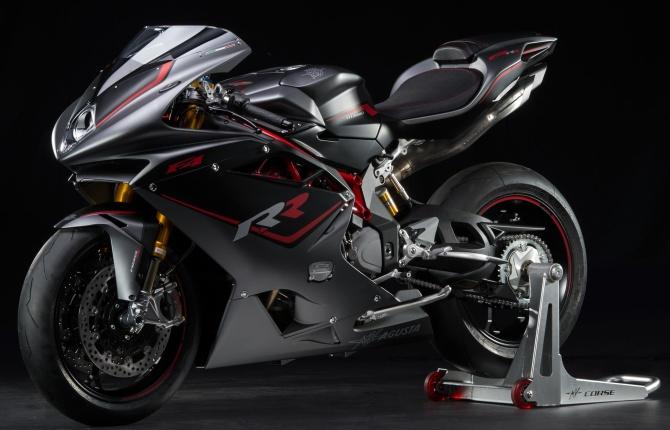 Photograph: Kind courtesy MV Agusta
Dubbed as the modern classic, MV Agusta F4 RR is based on a steel tubular trellis-frame, with a single-sided aluminum swing arm.
The frame carries the feather light CrMo (Chromium Molybdenum) construction that has helped to confine the bike's weight to 190 kg.
The aerodynamically rich sports bike comes with a diamond-shaped headlamp, power adjustable Ohlins suspension and numerous other electronic gadgets alongside its patent four-pipe exhaust system that peeps out from under the pillion seat.
The powerful 998 cc inline four-cylinder engine makes a good 201 hp at 13600 rpm and 111 Nm of torque at 9600 rpm.
Top Speed:
298 kmph
Engine:
998 cc
Power:
201 hp @13600 rpm
Torque:
111 Nm @9600 rpm
Price:
₹34,71,847 onwards
7. Suzuki GSX-R 1000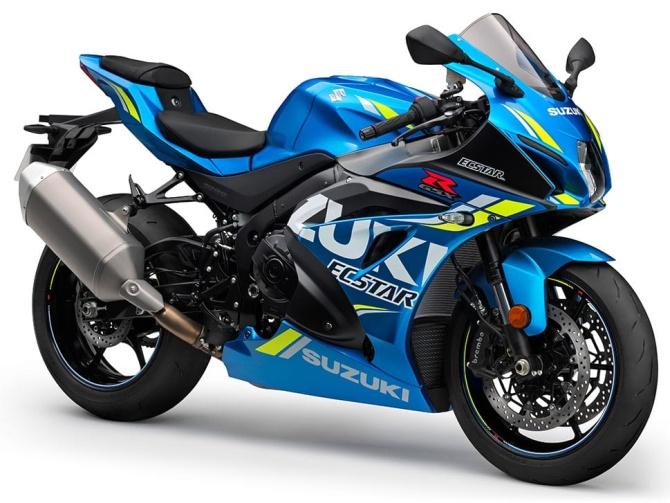 Photograph: Kind courtesy Suzuki Motorcycle India
The GSX-R 1000 is one of the best liter-class superbikes from the Suzuki's GSX-R series.
Also considered the most powerful and hard accelerating GSX-R from the line up, it includes the MotoGP inspired aerodynamics, a lighter aluminum chassis, a motion track brake system, variable valve timing, Showa suspension, brembo discs, radial mount calipers and more.
The 6th generation race track focused GSX-R uses a 1000 cc, liquid cooled and FI engine that gives away 202 hp at 13200 rpm and 117.6 Nm of torque at 10800 rpm.
Top Speed:
300 kmph
Engine:
1000 cc
Power:
202 hp @13200 rpm
Torque:
117.6 Nm @10800 rpm
Price:
₹34,71,847 onwards
8. Honda CBR 1000 RR Fireblade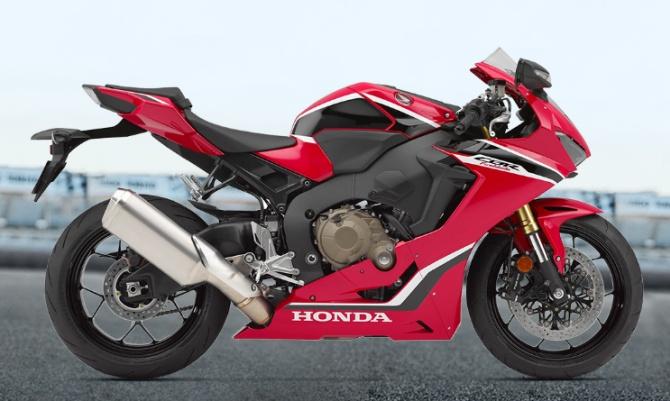 Photograph: Kind courtesy Honda Motorcycle & Scooter India
Honda's flagship sports bike in the country, the CBR 1000 RR aka Fireblade, comes with a sleek design and compact fairing.
The seventh generation CBR model receives features such as a nine-level adjustable traction system, the TFT LCD monitor, a titanium muffler tuned for sound, slipper clutch and quick shifter, Ohlin smart EC cushioning and others.
The current generation Honda CBR 1000 RR Fireblade weighs 15 kg less than its predecessor.
The CBR 1000 RR draws power from a 999 cc, liquid-cooled in-line four-cylinder engine that extracts 186 bhp and 114 Nm of power and torque respectively.
Top Speed:
280 kmph
Engine:
999 cc
Power:
186 bhp
Torque:
114 Nm
Price:
₹18,48,896 onwards
9. Ducati Diavel
Photograph: Kind courtesy Ducati Motor
Named after the Devil, the Diavel (in Bolognese) has got a love-me or hate-me look.
The best mix of a sports bike and a modern day cruiser, the all-muscle Diavel provides best of both worlds -- ie, sport and style.
The visually captivating and functionally high-performance bike comes with three riding modes: Sport, Touring and Urban.
Be it long highway cruising or passing through a mountain avenue, riding the Diavel is a cakewalk.
It weighs a big 244 kg, while its 1198 cc, 4V, liquid cooled EFI engine gives out 150 bhp of power and 123 Nm of torque.
Top Speed:
270 kmph
Engine:
1198cc
Power:
150 bhp
Torque:
123 Nm
Price:
₹17,06,000 onwards
10. Yamaha YZF R1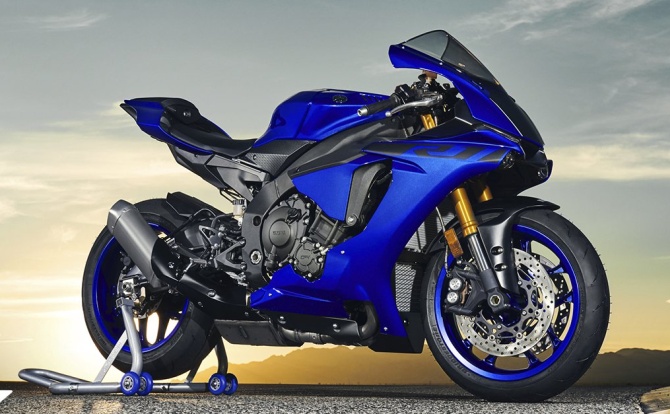 Photographs: Kind courtesy YAMAHA Motor India
With styling and DNA from big brother Yamaha YZR M1, the YZF R1 features a cutting-edge crossplane engine, lightweight titanium exhaust and mid-ship muffler, high volume air intake, compact delta-box chassis, YZR M1 inspired cowling, powerful ABS controllable brakes, quick shift system, lift control system and others.
The superbike of the well-known Japanese bike giant gets a short wheelbase of 1405 mm, alongside a low kerb weight of 199 kg, making it responsive even while turning corners at high speed.
The R1's 998 cc, liquid cooled 4-cylinder FI engine produces 194.3 bhp at 13,500 rpm, alongside peak torque of 112.4 Nm at 11,500 rpm.
Top Speed:
285 kmph
Engine:
998 cc
Power:
194.3 bhp @13,500 rpm
Torque:
112.4 Nm @11,500 rpm
Price:
₹18,16,192 onwards

Tyremarket.com is an online marketplace for tyres and related products.