And the top speed of Benelli TNT 300 is 158 km/hr.
Yet, the Benelli TNT 300 is high on comfort with one of the best exhaust sound in this category of entry-level performance bikes, says Faisal Ali Khan of MotorBeam.com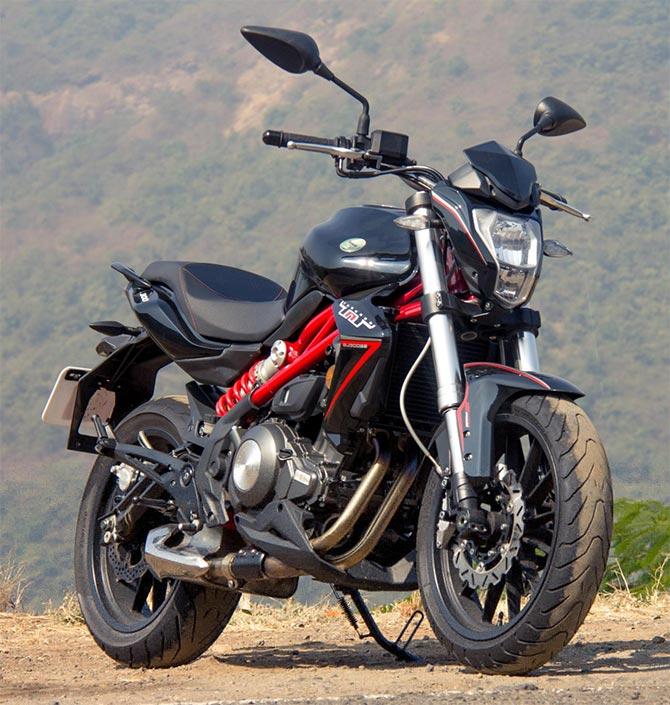 Benelli will launch 5 motorcycles in India on March 19, 2015 and the most affordable among them will be the TNT 300, the only bike of the lot to use a twin-cylinder engine, while others use 3 and 4-cylinder motors.
Benelli is an Italian company and with DSK Motowheels handling its India operations, a lot is expected on the pricing front, a crucial part in the success of any product in the Indian market. How does the Benelli TNT 300 fare? We find out.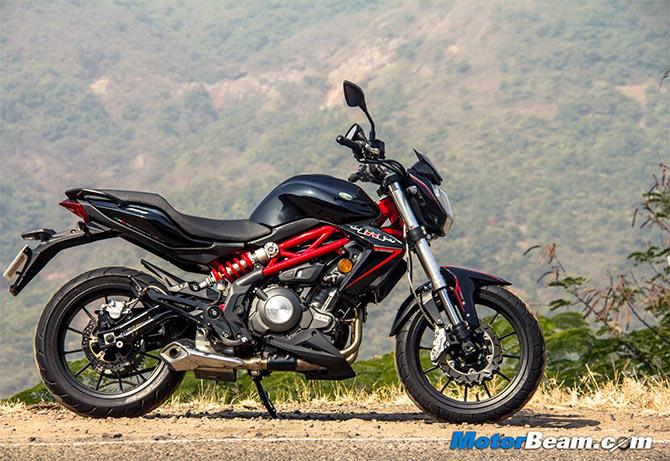 A glance from far will make you believe that you are looking at a Ducati bike because the colour combination does remind one of the Monster. Black paint with red frame is a nice combination, so are the rich design elements like the daytime running light, upside down front forks, offset rear monoshock, unique alloy wheels, wave discs, LED indicators and tail light and detailing on the black seat with red stitching.
There are Italian flags on the bike as well and the TNT 300 looks big with a lot of presence.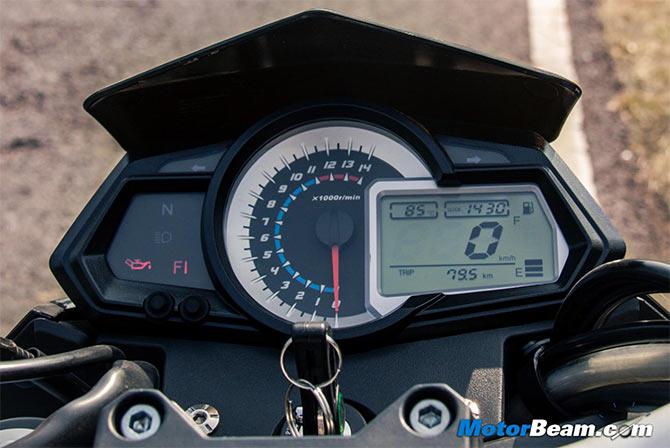 The instrument cluster on the TNT 300 is similar to other Benellis, so one gets a tachometer in the centre and a LCD display on the right. The console is easy to read but isn't very striking. All the basic information is displayed including a clock but only one trip meter is on offer. Switch gear quality is good and there are hazard lights as well. We would have liked a more intimidating horn on this Italian beast.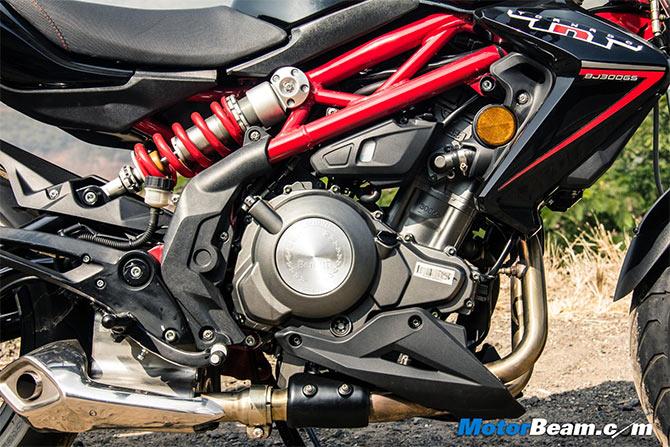 The Benelli TNT 300 draws power from a 300cc, liquid-cooled, parallel-twin mill which produces 37 horses at 11,500 RPM and 27 Nm of torque at 9000 RPM. The bike has very good refinement and the gearing is very tall so first gear does 62 km/hr, second does 90 km/hr while third takes you all the way to 114 km/hr.
0-100 km/hr takes 8.19 seconds and the top speed is 158 km/hr.
There is good low-end pep for city riding and one can ride in higher gears at low speeds with ease, heating isn't an issue either.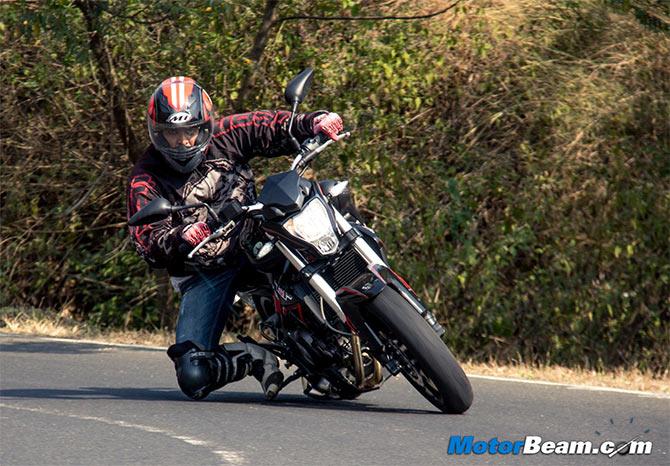 However, power isn't fed quickly and the revs don't climb instantly so one won't be caught off-guard as the motor isn't fast revving. Redline comes in under 12,000 RPM and the mid-range is the best part of this engine.
What is truly amazing is the sound from the motor, it is very engaging and the two-pot mill sounds like an in-line 4, something which makes riding this bike very enjoyable.
The 6-speed gearbox offers smooth shifts. The fuel efficiency is around 28 km/l.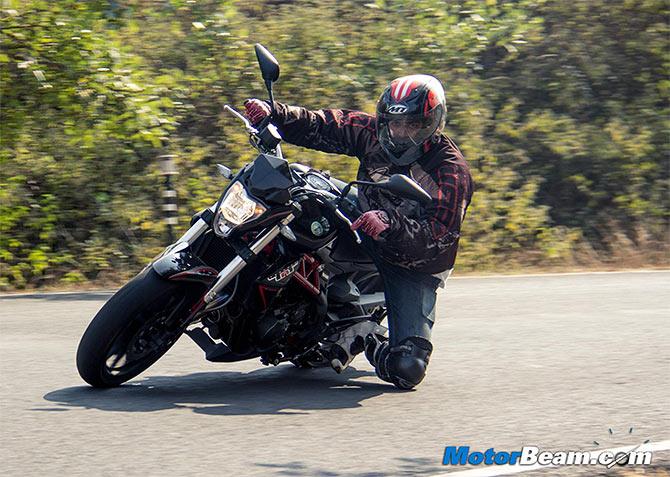 The TNT 300 uses a trellis frame but weighs quite a lot at 185 kgs, still all that mass isn't felt till you get to the limit. Handling is good and the wide Pirelli rubber offers good grip. However, the stand scrapes when you push the bike hard into a right hand corner.
Ride quality is excellent too and this Benelli keeps you comfortable over the worst of roads. Brakes work well but ABS isn't available yet.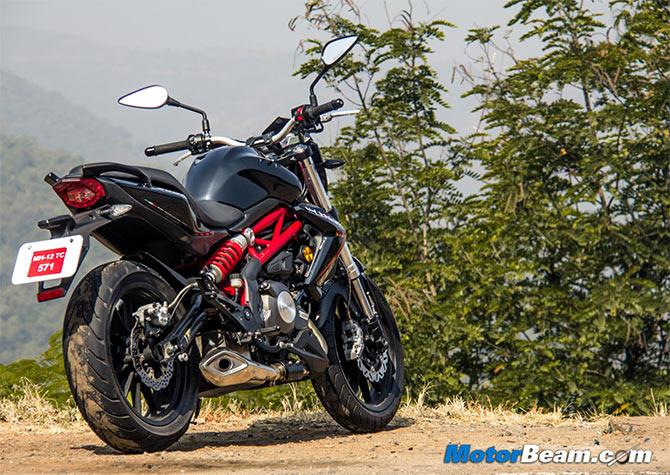 The Benelli TNT 300 is a bike for mature riders who want comfort over speed, yet want adequate performance for highway duties.
The motorcycle offers a good balance of everything, boasting of top-drawer hardware, Italian design and an intoxicating exhaust note.
Expected to be priced at around Rs 3.3 lakh, the TNT 300 makes for a good entry-level product from Benelli.