When it comes to embracing newer technology, youngsters are usually much faster than adults.
It's this quick rate of adoption that also makes them susceptible to danger.
Nikita Puri reports.
Illustration: Dominic Xavier/Rediff.com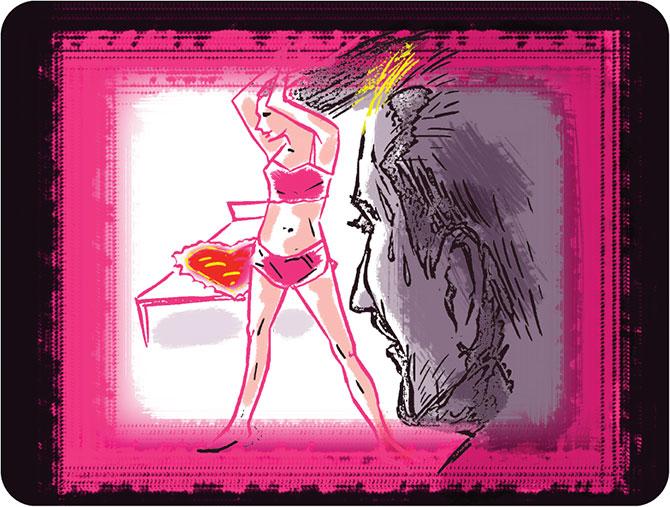 Within seconds of the video beginning, a young girl steps in front towards the camera, taking your attention away from the life-size teddy bear and heart-shaped cushion on the bed behind her.
She then rolls up her t-shirt and ties it up and begins to dance for as long as the generic but catchy music lasts. That's 15 seconds.
It's long enough for one to realise she's well-versed in belly dancing. It's also long enough to get the distinct impression that she can't be older than 16.
TikTok (which includes Musical.ly), Kwai and Helo are the latest video-sharing apps that also double as social media platforms. And these are unmitigatedly the ideal place for one to feel old since a majority of the incessantly streaming videos are by teens.
If you log in from India, you see Indian teens. You see them playing pranks, and goofing around with 'duet' videos as they share a split screen with strangers, you see them lip-syncing pre-set movie dialogues. And there is a lot of dancing.
"There are a lot of people who put up really creative content on these platforms," says Stuti Priya, a 25-year-old software engineer based in Gurugram who has been using TikTok for a few months now.
As she posts just about one video in a week, she doesn't consider herself very actively involved with the app. Her peers, she says, post 10 videos a day.
"It's fun to watch people play out different characters," she says. Besides, it doesn't hurt that these videos only last a few seconds and ask for no time commitments.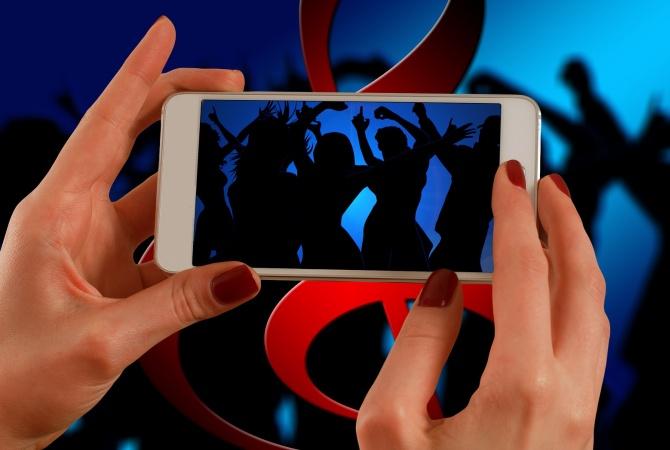 TikTok, launched in September 2016, has emerged as the most popular video-creating app across the globe by far, becoming the most downloaded iPhone app in the first quarter of this year according to mobile research firm Sensor Tower. It saw 45.8 million downloads.
This past August, TikTok, which is known as Douyin in its home country of China, officially took over Musical.ly's operations.
The one thing that worries Priya is that TikTok users, most of whom are teenagers, seem less than concerned about privacy settings.
What also makes her uncomfortable are the few posts she's seen where 12-13 year olds are posting what could be considered inappropriate. "I'm not sure if they are aware of what they are putting up," she says.
Much like other social media platforms, TikTok is deemed suitable for users who are 12 and above on iTunes as well as Google Play. Therein lies the rub.
When it comes to embracing newer technology, youngsters are usually much faster than adults. A double-edged sword, it's this quick rate of adoption that also makes them susceptible to danger, says Gurugram-based clinical psychologist Prerna Kohli. "They tend to overlook technology's negative aspects."
The use of Bollywood music and dialogues, besides content from regional cinema, make such platforms appealing to youngsters, says Ahla Matra, a Bengaluru-based mental health professional at The Alternative Story. (This is a start-up gaining ground because of its pay-what-you-want feature. Realising that mental health counselling was out of reach for many owing to financial constraints, the startup allows one-third of its clients to pay what they can, with the minimum being Rs 199).
When people who are very young start seeing themselves as social media influencers, "it impacts their self-image," says Matra. "You begin to live in a virtual bubble."
From there, the road to sexually objectifying oneself isn't a long way off.
"One could argue that such platforms give young women the space to take back agency on their sexuality, but at the same time you are catering to the male gaze," says Matra.
A cursory look and one realises that a majority of TikTok profiles are public, meaning anyone can access their content. And even if download restrictions are in place (these too came after a lot of bad press), there's no guarantee that the videos will always remain safe, cautions Na Vijayashankar, a cyber-educationist based out of Bengaluru.
"What happens when friends have a falling out?" he asks.
Besides, there's always the danger of private content being passed on if someone has the direct Web address of the video, says Anand Prakash, founder of AppSecure, a Bengaluru-based cybersecurity firm.
In February, Prakash downloaded Musical.ly (after TikTok had taken over in November 2017 and before the apps were officially merged in August 2018). It barely took the ethical hacker 15 to 20 minutes to gain access to e-mail identification of the app's users.
"I tried reaching out to Musical.ly about how easy it was to breach their security but got no response," says Prakash. He has previously reported potential vulnerabilities to Facebook, Twitter, Zomato and Uber, among others.
The problem has since been fixed -- it is uncertain if the issue was resolved following Prakash's alerts or if someone else had also found those vulnerabilities, or even when it was fixed.
According to an investigation by the South China Morning Post in May at least 100 primary school pupils were active on the app, having posted anything between 10 to 500 clips each.
Identified via their school uniforms, real names or phone numbers (all of which the students had put out), more than 40 users were between the ages of 10 and 12.
In Indonesia, TikTok had created a teen celebrity culture. To meet Bowo Alpenliebe, a 13-year-old Indonesian TikTok star, several teenagers had posted they'd go to great lengths, like selling a kidney.
Several children also stole money to buy tickets for a gathering he had announced. About 2,800 complaints later from parents, the country banned the app for a week citing 'pornography, inappropriate content and blasphemy'.
But concerns continue to abound across the globe. Parents in California have also reported stumbling onto content that featured nudity, drug use and self-harm.
One father from Illino is talked to the American press about how a stranger had asked his seven-year-old daughter for shirtless pictures over Musical.ly.
In March, the Arkansas attorney general, Leslie Rutledge, officially announced that default settings were allowing predators to create secret video groupings of Musical.ly's users. (Musical.ly has since become TikTok, but the app's format remains the same.)
In India, a majority of elders remains unaware of the apps their teens use, confirm experts. And owing to absence of machine learning tools and alternative verification processes, it's easy for children to bypass age restrictions on such platforms, says Prakash.
New technologies tend to have unforeseen consequences, says Vijayashankar, referring to how Sarahah, an anonymous messaging app, opened the gates to cyber-bullying and teenage depression. Bite-sized videos from TikTok have already found their way to anonymously-run sarcasm pages that abound online.
Though the location of these posts vary, from washrooms of malls to school corridors and private bedrooms, they are increasingly becoming Instagram posts and WhatsApp forwards in India.
In a scenario where it's hard to crack down on content, one hope is the Personal Data Protection Act. "If you go by the draft bill, these apps will need prior registration with authorities and the app's makers will have to double as guardian fiduciaries tasked with protecting children," says Vijayashankar.
But that draft bill is yet to be tabled and it could take anything from a few months to over a year and more for it to become enforceable.
In the meantime, families have to ensure that their children get "age-appropriate online freedom," says Kohli. It's largely assumed that children know how to navigate the virtual world, says Matra.
High time that changes and an Internet safety discourse finds its rightful place.