The last 15 days have turned the life of young Afghan television anchor Beheshta Arghand upside down. In not a pleasant way.
August 15: The Taliban conquers Kabul.
August 17: Beheshta Arghand, 24, a news anchor, conducts a ground-breaking interview with a senior Taliban leader, becoming the first woman ever to do so.
August 19: Arghand interviews the young and brave Nobel Laureate Malala Yousafzai who had been shot at by the Taliban in October 2012.
August 30: The journalist, who made history days before, flees Kabul for Doha, Qatar.
Please click on the images below for a better look.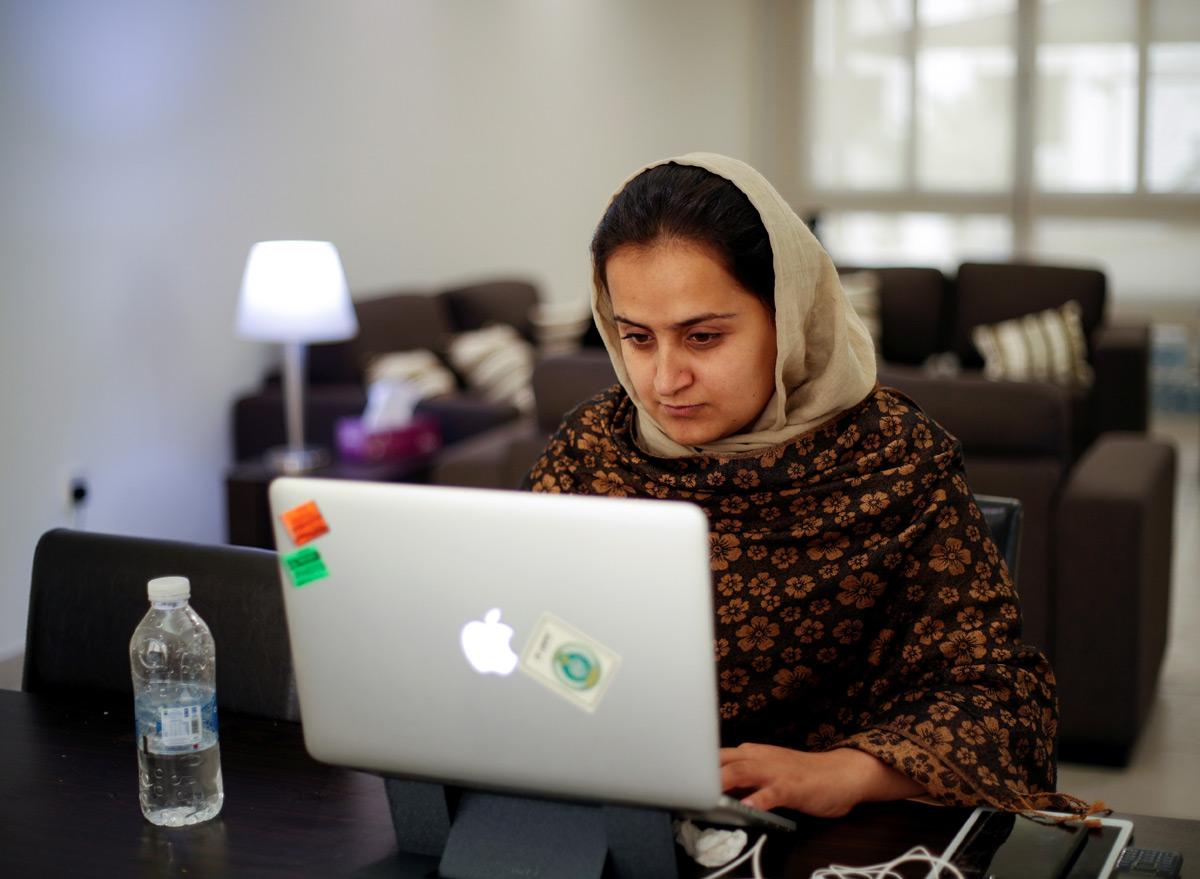 IMAGE: Beheshta Arghand, an anchor with the very popular Dari Persian language Afghan network TOLO, owned by the Afghan media group MOBY, had to flee Afghanistan on August 30 post two global headline attracting interviews -- the first with Mawlawi Abdulhaq Hemad of the Taliban and the next with peace activist Malala Yousufzai.
Arghand, who was educated at Kabul University and dreamed of becoming a journalist since she was a girl, said the interview with the Taliban was 'for Afghan women'.
'I told myself, 'One of us must start... If we stay in our houses or don't go to our offices, they will say the ladies don't want to work...' she told CNN.
'And I said to the Taliban member, 'We want our rights. We want to work. We want... we must... be in society. This is our right'.
In this photograph, taken September 1, she is working on a laptop at a temporary residence compound in Doha. All Photographs: Hamad I Mohammed/Reuters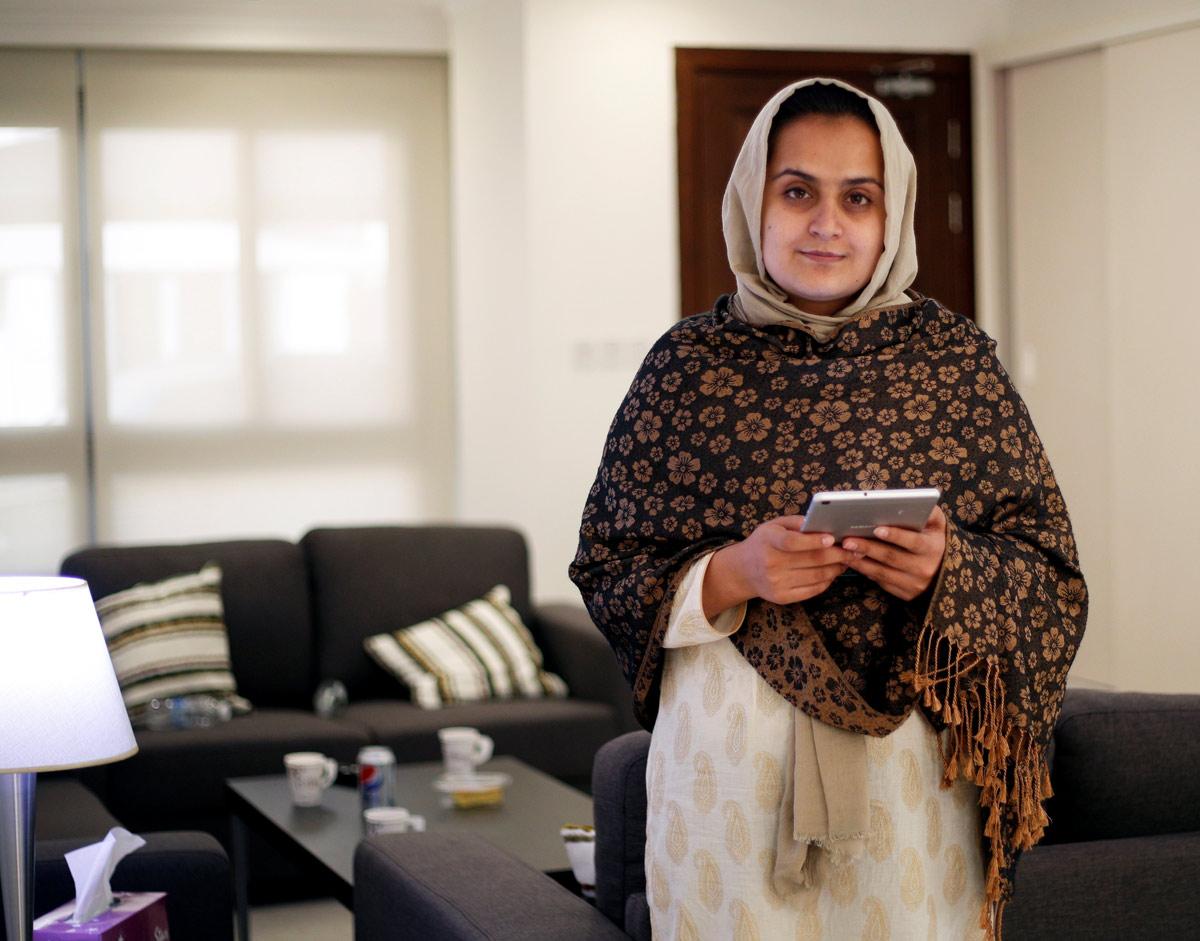 IMAGE: Beheshta Arghand gained world notice for courageously seating herself just a few feet away from the Taliban leader and peppering him with a series of not so comfortable questions about the future rights of women in Afghanistan, two days after Kabul had been conquered by the Talibs.
The interview was seen to be an attempt by the Taliban to present a more moderate facade. Much changed in the two weeks that followed.
Arghand told Reuters that the Taliban demanded that TOLO News ensure that all women employees wear a hijab and then demanded that the jobs of women anchors be suspended across stations and that the local media stop discussing their takeover and rule.
Hence, 15 days later, no doubt with a heavy heart, she escaped Kabul amid a hurried series of evacuations from the country as people feared a regime that would not support or guarantee safety of the lives of women making individual choices.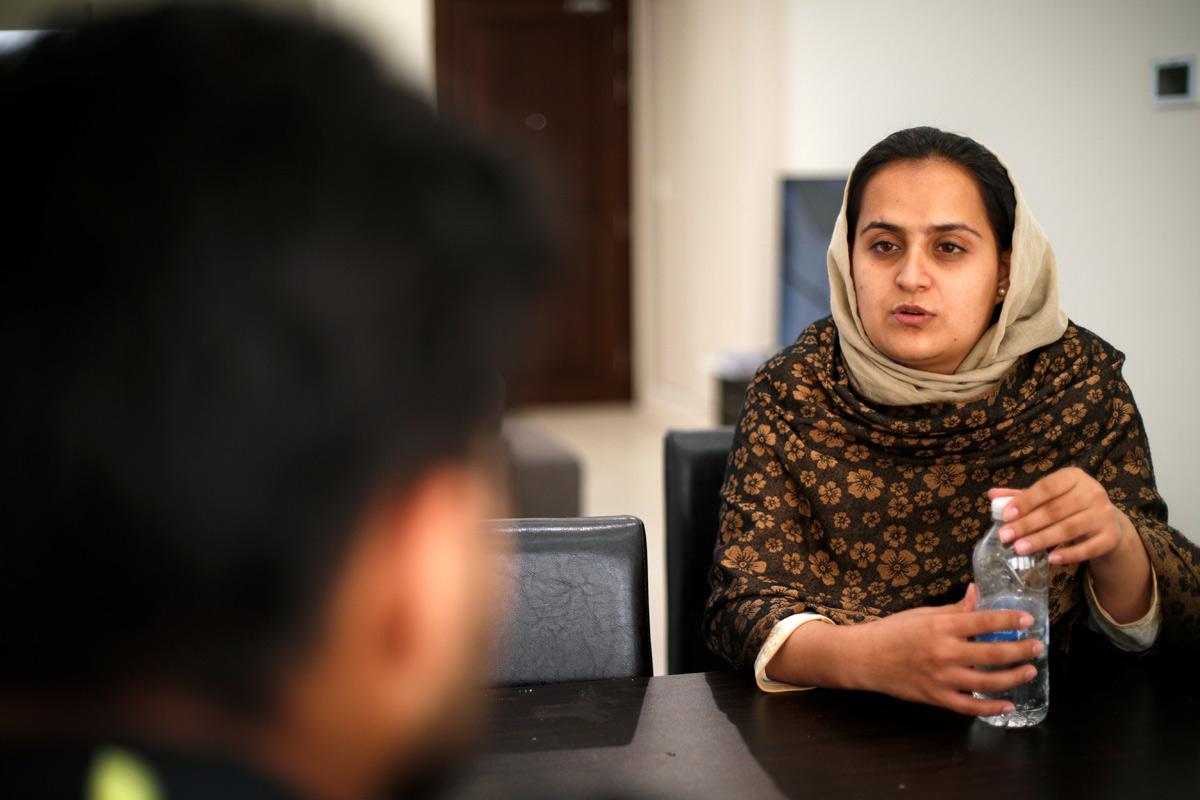 IMAGE: Beheshta Arghand had become a face of fierce media resistance for fearlessly interviewing someone belonging to the notoriously anti-women Taliban in a country that is already, day by day, becoming more and more media unfriendly.
In her interview Arghand queried the Taliban leader about many issues including the house-to-house searches occurring in Kabul. She later told news outlets that the leader had been very polite to her.
Interestingly, it was the Taliban official who showed up for the interview uninvited.
'I saw that they came (to the television station). I was shocked, I lost my control... I said to myself that maybe they came to ask why did I come to the studio.'
(Luckily) I always wear long clothes in the studio because we have different people with different minds' she told Reuters.
In this photograph, Arghand is speaking to her brother in Doha.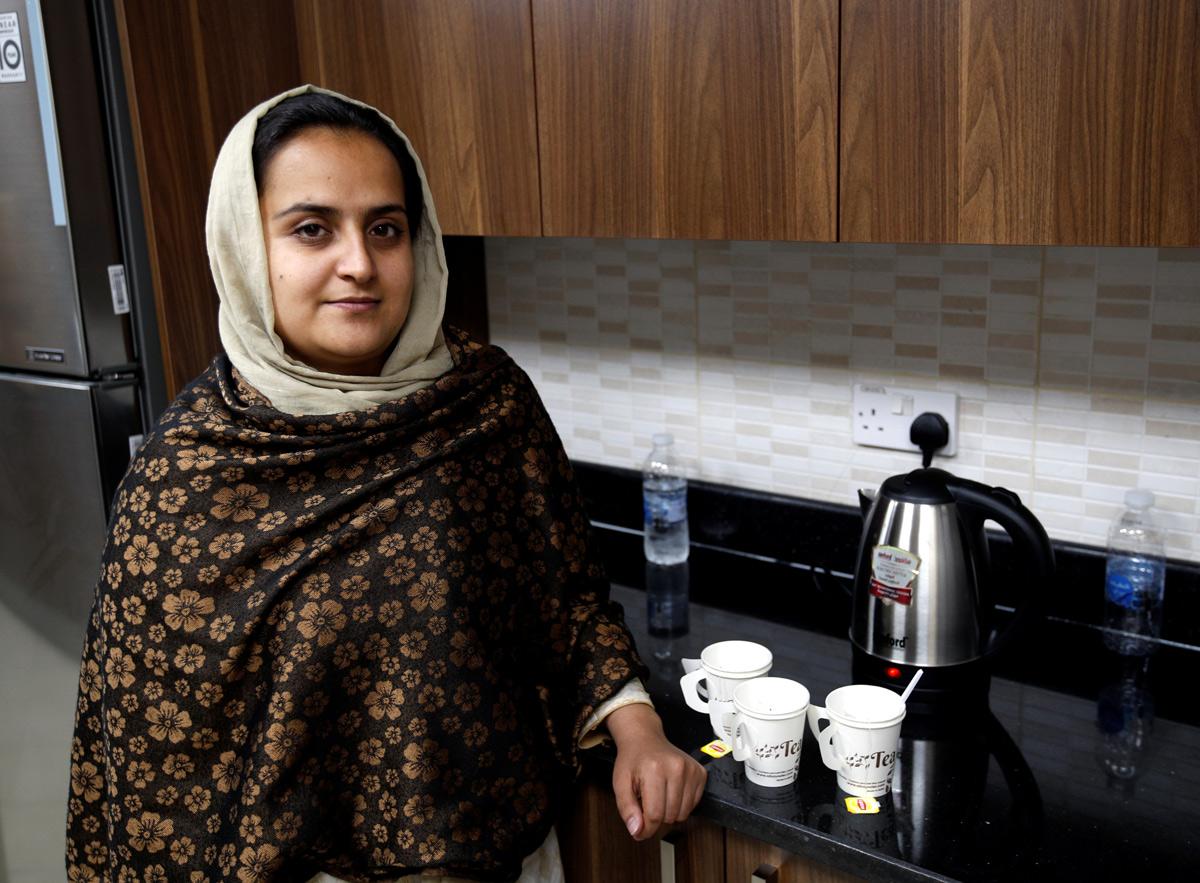 IMAGE: Beheshta Arghand had been working with TOLO News for exactly one month and 20 days when Kabul fell to the Taliban.
In an interview to CNN over WhatsApp, she said 'I left the country because, like millions of people, I fear the Taliban.'
Saad Mohseni, who owns TOLO, told CNN that his network's best journalists had left.
Two days after her interview with Malala Yousafzai, Arghand sought help from an activist to leave her country.
Last Tuesday she and her family, along with many others fleeing Afghanistan, boarded a Qatar air dorce plane headed to Doha and a new life.
'If the Taliban do what they said -- what they promised -- and the situation becomes better, and I know I am safe and there is no threat for me,' Arghand rold CNN, ' will go back to my country and I will work for my country. For my people'.
Photographs curated by Anant Salvi/Rediff.com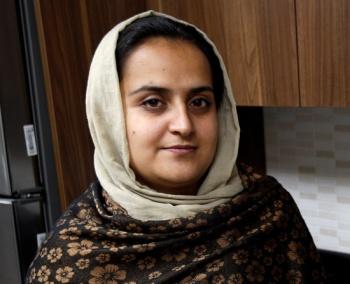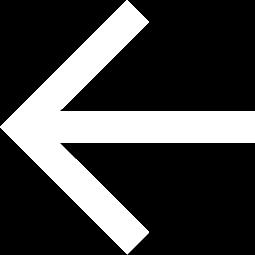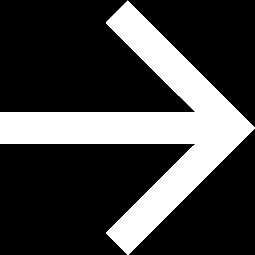 X