Radha Kapoor -- who brought New York's Parsons School of Design to India -- now brings French luxury label Longchamp to our shores, reports Priya Kumari Rana.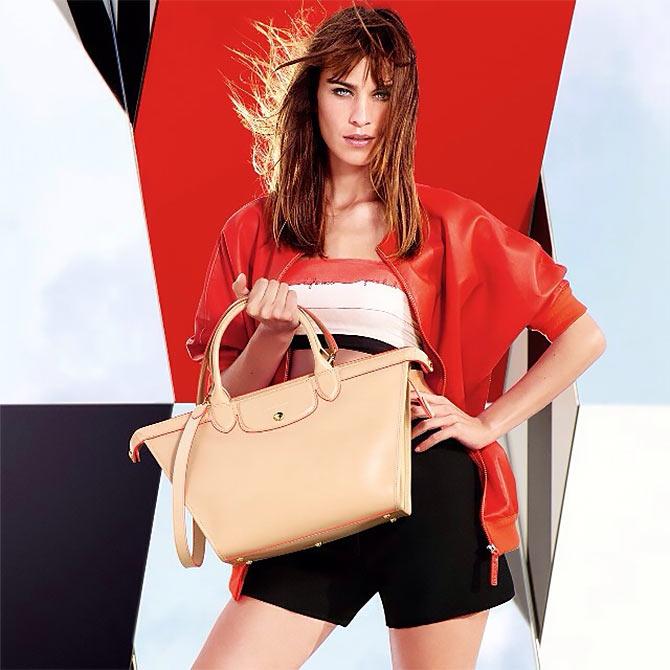 IMAGE: Alexa Chung, the face of brand Longchamp, strikes a pose with a tote from the Le Pliage Heritage Neon series. Photograph: Kind Courtesy Longchamp/Instagram
It was, till recently, on the must-buy list of every fashionista headed abroad.
The ubiquitous Le Pliage -- the iconic, foldable nylon and leather travel bag by Longchamp -- simply had to find its way into one's closet. Today, there's no need to cross the oceans.
The French luxury brand has set up its first India showroom at DLF Emporio in Delhi as a franchise of Radha Kapoor's business venture, Do It Retail.
Kapoor, 31, the daughter of YES Bank CEO Rana Kapoor, collaborated with her alma mater, Parsons in New York, which was looking to expand into India and China, to launch the Indian School of Design and Innovation (Parsons Mumbai) in 2013.
"Retail was always on the agenda when we were exploring the luxury space, and Longchamp is optimistic luxury that spells simplicity and sophistication," says Kapoor. "I've always carried a Longchamp, and been its customer with the Le Pliage bag. So, I already had a bond with the brand."
Longchamp, founded in 1948 by Jean Cassegrain in Paris, last year had global sales of euro 566 million (approximately Rs 41.6 billion).
IMAGE: Look how Victoria's Secret model Gigi Hadid finishes her casual look with a quirky print bag from Mad Balls Le Pliage by Jeremy Scott for Longchamp. Photograph: Kind Courtesy Longchamp/Instagram
A meeting at a luxury conference in Paris with the Cassegrain family that still owns the company, followed by meetings in India, cemented the deal between the two parties.
Longchamp, Kapoor says, has everyone excited -- from trendsetters to influencers.
"You can have a teenage girl and a grandmother carrying the same bag," she says. "The audience is not niche."
After establishing the brand in Delhi, Kapoor is looking to expand to Mumbai -- "We're still in search of a good location" -- and Chennai, and then to other cities, adding to the brand's 300 points of sale worldwide.
Of the French-made bags, Kapoor's favourites are the Le Pliage Cuir, the leather version of the foldable bag launched in 1993, particularly for daywear.
The Cuir comes in powdery pink and blue in addition to classic colours like blue, beige, red and black.
She also likes the Le Pliage Heritage Luxe model, the luxurious, structured leather version that comes in three sizes, and the Penelope, which she describes as "fun and trendy" that can go from day to evening.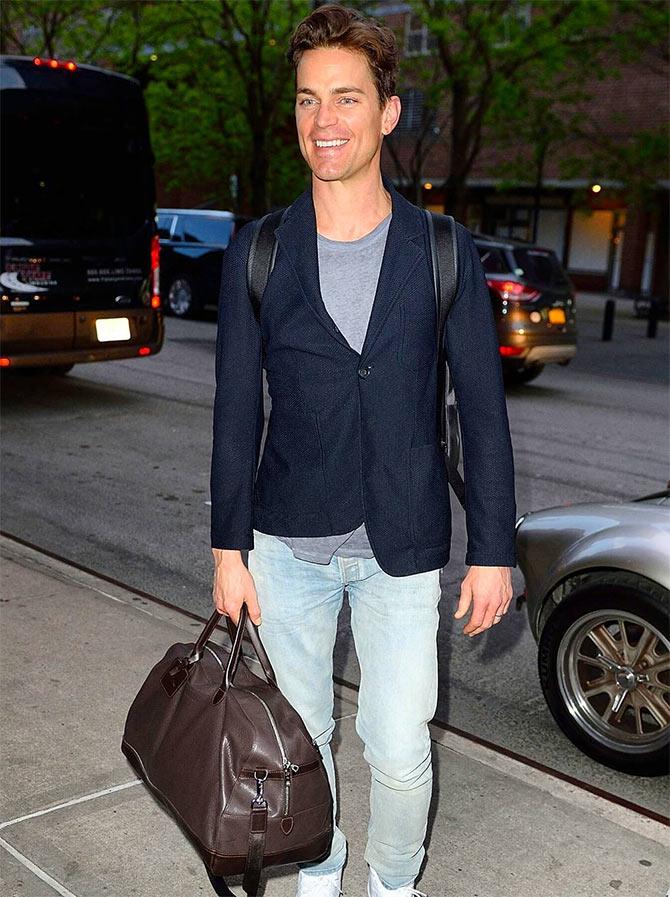 IMAGE: Make your travel comfortable with Longchamp Le Foulonne travel bag, just like actor Matt Bomer. Photograph: Kind Courtesy Longchamp/Instagram
Prices start at Rs 8,600 and go up to over Rs 1 lakh.
For Kapoor, a Longchamp is perfectly paired with espadrilles and sneakers, as it's got a casual and sporty feel.
"It is perfect for the working, ambitious woman who likes to carry a lot of things with her," she says.
With a few men's totes on offer, Kapoor says she will soon be pushing the men's collection in the store, especially the travel suitcases.