24 authors writing in 24 languages were honoured this year.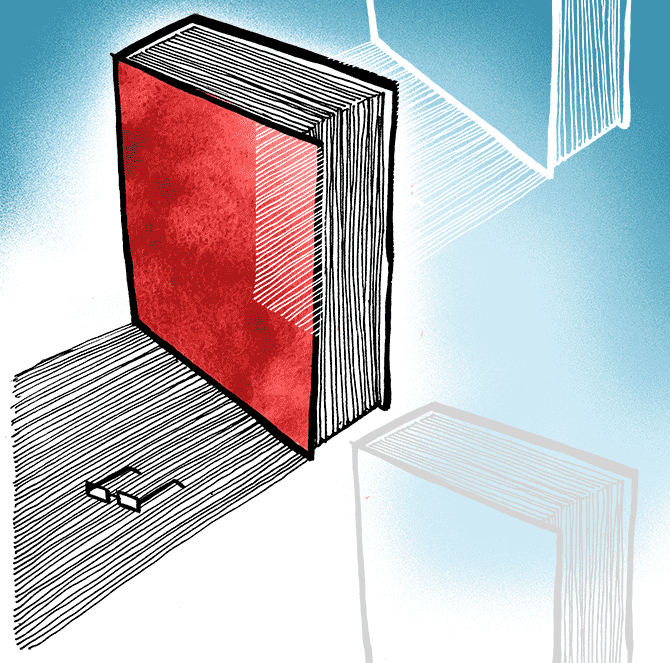 Most of the awarded books found society and social issues as the central theme.
Illustration: Dominic Xavier/Rediff.com.
Sahitya Akademi, the National Academy of Letters, presented its annual awards, this week, to 23 eminent authors writing in as many Indian languages.
The recipients were awarded an engraved copper plaque, a shawl and a cheque of ₹1 lakh on the opening day of Akademi's annual event 'Festival of Letters' in New Delhi.
The highlight of the event was Malayalam author K P Ramanunni's decision to give away the award money of ₹1 lakh to lynching victim Junaid Khan's mother, Saira Begum.
Junaid Khan from Haryana was lynched to death last year in a religious hate crime while he was returning home after Eid shopping.
Ramanunni, whose Malayalam novel Daivathinte Pusthakam is based on the country's communal situation, kept just ₹3 for himself.
"Junaid is one who was killed by Hindu communalists just for being a Muslim," the author has been quoted as saying after the awards ceremony. "Let me place this award amount as an offering at the feet of Junaid's mother, thus doing penance for that wicked sin, for penance is a special observance in the true Hindu tradition."
In an interview with Rediff.com at his home last year, he had said, "This hatred for Muslims is ruining Hindus more. Hindutva people are ruining the Hindus more. The real self is getting distorted. I am a practising Hindu. I go to the temple. I am also a bit Muslim because I am a real Hindu." (Read the full interview here.)
Ramaunni had also felt the impact of religious hatred when he received threats last year warning him that his right arm and left leg would be chopped off if he did not convert to Islam.
Ramaunni's decision to give away his award money came about one-and-a-half years after the award wapsi controversy of 2015.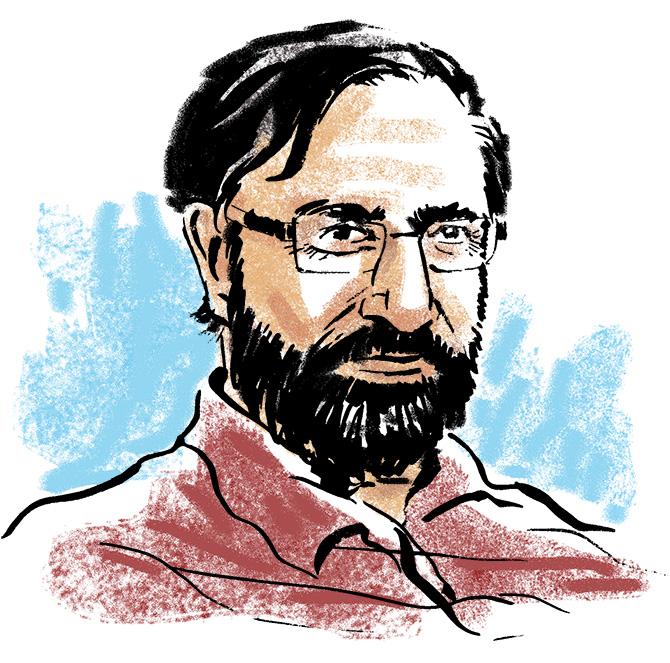 Sahitya Akademi Award winner K Ramaunni.
Illustration: Dominic Xavier/Rediff.com.
Most of the awarded books found society and social issues as the central theme.
While Afsar Ahmad's Sei Nikhonj Manushta, written in Bengali, shows the crisis of people losing their land, Assamese author Jayanta Madhab Bora's Moriahola deals with issues of displaced people, their aspirations and conflicts.
While English author Mamang Dai's The Black Hill talks about life in the lesser-known world of the Indo-Tibetan border of Arunachal Pradesh, Autar Krishen Rahbar's book Yeli Parda Woth in Kashmiri covers various aspects of the facets of life in Kashmir.
The poets who were awarded are Udaya Narayana Singh (Maithili), Shrikant Deshmukh (Marathi), Bhujanga Tudu (Santali), Niranjan Mishra (Sanskrit) and T Devipriya (Telugu).
The writers awarded for their short stories are Shiv Mehta (Dogri), Gajanan Jog (Konkani), Gayatri Saraf (Odia), and Mohammed Baig Ehsas (Urdu).
Rita Baro (Bodo), K P Ramanunni (Malayalam), Niranjan Mishra (Sanskrit) and Nachhatar (Punjabi) were awarded for their respective novels.
Ramesh Kuntal Megh (Hindi), T P Ashoka (Kannada), Urmi Ghanshyam Desai (Gujarati), Bina Hangkhim (Nepali), and Neeraj Daiya (Rajasthani) were recognised for their literary criticism.
Jagdish Lachhani (Sindhi) for his essays and Rajen Toijamba (Manipuri) for his play were also awarded.
Speaking at the award ceremony, Chandrashekar Kambar, who was appointed the new president of Sahitya Akademi through election on February 12, said that the Akademi would continue to bring together "all the rich and diverse literatures, and cultures of the country here".
"The Akademi believes that Indian literature is an all encompassing idea... This occasion highlights and defines for us what we see as Indian literature today. Besides we also need to look at this idea of Indian literature in a global context," he said.
Kambar also noted that despite the influence of "Euro- American modernism" Indian writers had continued to stay in touch with their native traditions.
"No doubt that our colonial past and access to English education, literature led to new trends in Indian literature, we adopted them to our own context and creative base. On the other hand, native trends still did not die out completely...Through popular culture, and cinema they are still connected to their earlier orality and myth," he said.