He just wanted to see some snow. But he got much more than that.
Samanyu, all of 7, scaled Africa's loftiest peak and proved that no dream is impossible.
And that age is just a number.
Rediff.com's Divya Nair speaks to the mini mountaineer.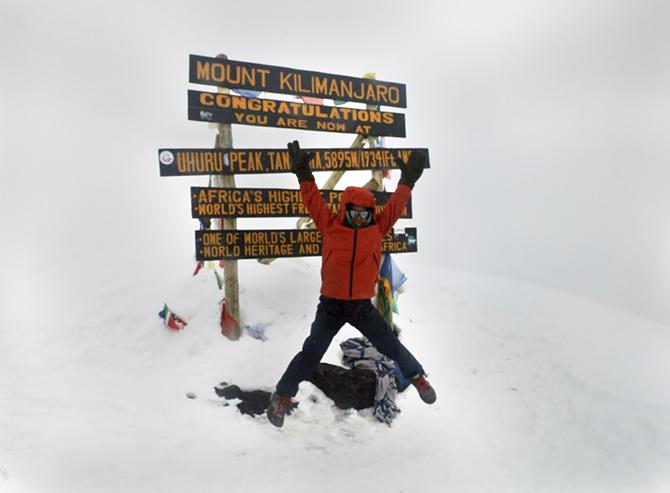 On April 2, 2018, when Samanyu Pothuraju, 7, from Hyderabad, was woken up at 3 am by his expedition leader Bharat Taminneni, he didn't want to wake up.
He begged, "It's too cold outside. I don't want to go. Please let me sleep."
It was the very last leg of their ascent to the summit of Mount Kilimanjaro so Bharat would not give in.
Recalls Lavanya Krishna, Samanyu's mother, "Finally, Bharat told him that if he reached the summit, his favourite (Telugu film) hero Pawan Kalyan would (surely want to) meet him."
Mention of Pawan Kalyan did the magic.
Samanyu woke up with a start.
Eight odd hours later that day, at 11.52 am, to be precise, little Samanyu made it to the top of Uhuru, the highest point of Mount Kilimanjaro, Tanzania. And clinched a world record.
At 7, Samanyu is the youngest person in history to scale this peak, 5,895 metres above sea level.
But the Class 3 student, who "loves karate, computers and math," did not have the faintest idea about the significance of his journey.
"I was wearing a thick jacket and gloves. My legs were paining, but I was happy," Samanyu tells Rediff.com from Hyderabad.
Last year he was one of the youngest to reach the Mount Everest base camp in Nepal.
What inspired him to go to Africa?
Mount Everest actually.
Says Lavanya, who accompanied Samanyu till Kilimanjaro's second base camp and not beyond, "When we reached the base camp of Mount Everest, some months ago, he (Samanyu) was disappointed that he couldn't see much snow."
"When I told him about Kilimanjaro, he asked me if there would be snow and if he could touch it. I said yes. He said he wanted to go and see the snow."
The training
For Lavanya, a bank employee who quit her job to take care of her children (Samanyu's elder sister is 13), sending her seven year old to the top of Kilimanjaro wasn't an emotional decision.
It was about letting Samanyu have his dream.
She consulted Raji Thammineni of Boots and Crampons, a Hyderabad-based adventure logistics company, to find out how safe the journey was.
"Raji is a friend and she advised I first send Samanyu to a training camp to see if he was fit to go."
Samanyu passed the camp last year with with flying colours.
"He could climb 50 steps up and down with ease, trek to mountains and even made it to the Everest base camp in October 2017," says Lavanya.
In November, Samanyu signed up with Boots and Crampons to prepare to scale Kilimanjaro, Africa's highest mountain.
In addition to his training, Lavanya helped her son get mountain ready by showing him a video of the terrain daily.
"He saw how people climbed it in different situations -- rain, sun, snow, etc."
Samanyu was keen to see snow. But he also wanted to see East Africa's famous blue monkeys."
"He saw three blue monkeys," Lavanya says.
Conquering Kilimanjaro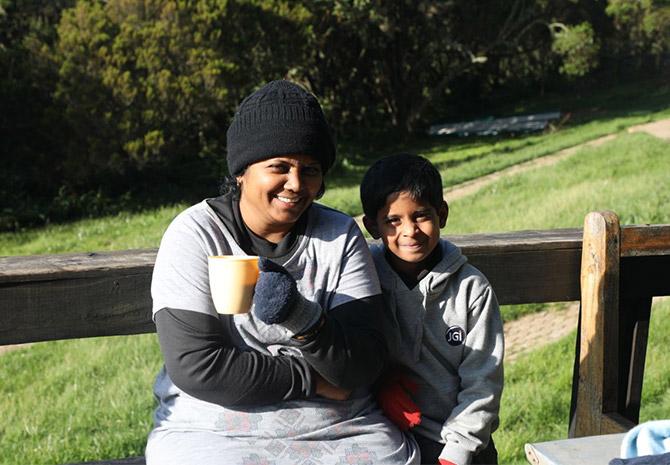 Lavanya and Samanyu flew to Tanzania on March 27.
"It was supposed to be summer. When we reached it was raining and snowing. My head was paining on reaching the second base camp, so I was asked to rest," says Lavanya.
The next climb, from the second base camp to the last camp, took approximately 10 hours.
The final stretch from the last camp to the summit was equally long. But Samanyu finished it like a pro, says Lavanya.
'It required meticulous planning to achieve this mission. We took all the care and precautions to keep the child safe and help him realise (the importance) of his mission to the summit of one of the most challenging mountains in the world,' Bharat and Raji posted on Facebook about Samanyu's achievement.
'Master Samanyu fought bravely with different terrains -- rainforest, moorland-rocky landscape, Alpine desert and crater rim -- before summiting this wonder of the world. We are extremely proud to support Master Samanyu's achievement which brought laurels to our country,' the post added.
The sacrifices
To prepare for Africa, Samanyu had to wake up early and religiously maintain a schedule so he could balance school, extracurricular activities and mountaineering.
"He'd wake up at 5 am and go for his karate classes followed by cycling. After school, he'd train for mountaineering," says Lavanya.
Samanyu had to follow a strict diet. Not too much sugar. No ice cream.
"I had to eat canned food," Samanyu tells Rediff.com. "It was tasty though."
"After we climbed down, they gave me ice cream. I was very happy."
What's next
His next challenge?
"I want to do the 10 peaks challenge in Australia."
Turns out none of this has affected his academic performance: Samanyu, who studies at the Bolton School in Hyderabad, scored over 95 per cent in his last examination.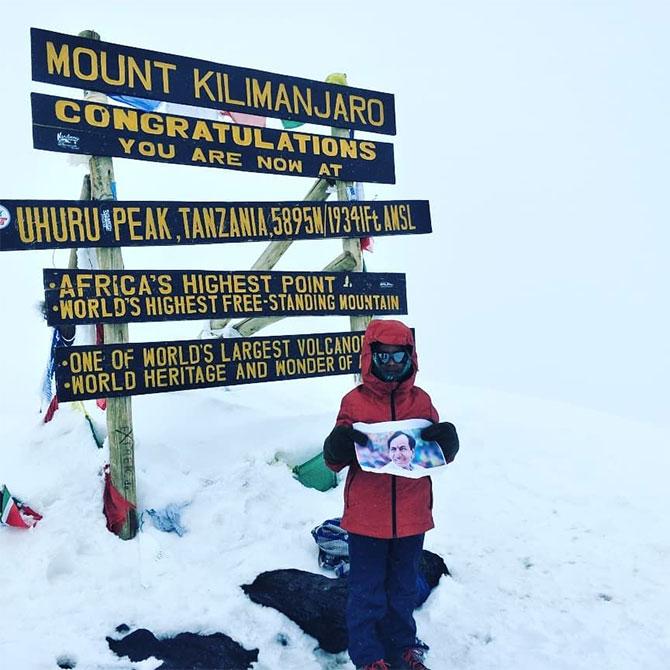 Lavanya and Krishna spent Rs 15 lakhs funding their son's expedition, but they feel helping Samanyu attain his dreams was their most important mission.
Here's their message to parents: "Never stop your child from dreaming big. You can guide her /him on what is right and wrong. But support their dreams as much as you can."
Samanyu is now waiting to meet Pawan Kalyan, as promised. His parents have tweeted the Telugu superstar about their son's wish to meet him.
Hey, Pawan, if you are reading this feature, please do give lil' Samanyu a call.