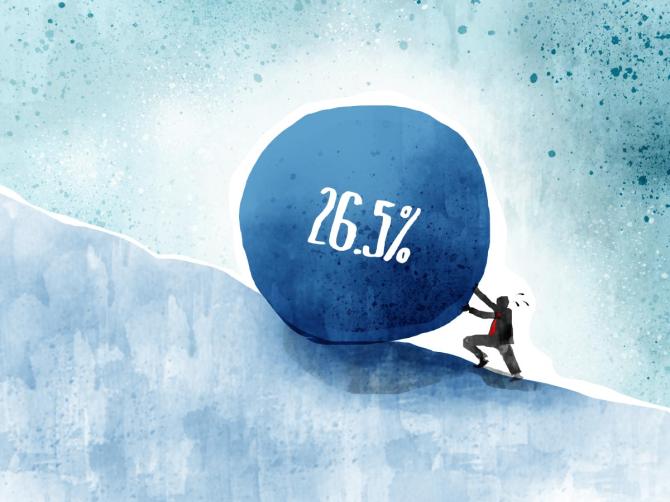 Omkeshwar Singh, head, Rank MF, (external link) a mutual fund investment platform, answers your queries:
---
Parag Aloni: I have been investing in MFs since a few years and my current MF portfolio is about Rs 9 lakhs with 26.5 per cent XIRR (individual rate of return).
I am 48 years old and want to set up Rs 2 crores for my retirement after 12 years.
Currently, I have these monthly SIPs for about Rs 39,000.
Please suggest if they need some changes and suggest better options, if any.
Omkeshwar Singh: Schemes are decent but there are too many.
XIRR of 26.5 per cent is very good. However, it is not sustainable in the long run.
Risk-free rate (10 year G-sec) + inflation and some alpha should be a reasonable expectation.
In 12 years, a monthly SIP of Rs 39,000 may create a corpus of Rs 1.5 crores @ 13 per cent interest rate.
Somnath Shannigrahi: I am 43 years old.
I am a government employee but do not have much bank balance.
I want to create wealth of Rs 1 crore in 17 years as a part of my retirement benefit.
At present, I am investing Rs 5,600 a month in these SIPs.
Please tell me whether the funds I have chosen are the right ones to provide wealth in the long term.
Omkeshwar Singh: There are too many funds. Also, Rs 5,600 in 17 years may create 50 per cent of your target corpus.
Sharath Kotian: My monthly SIPs are listed below.
I have been investing since last year in these funds.
Kindly review and let know if anything needs to be changed.
I also want to invest Rs 2 lakh surplus that I have; I am looking at horizon of 5-6 years.
Kindly advise.
Omkeshwar Singh: These are good funds, please continue.
It's better to do an STP of 3-6 months instead of putting all the money at once via a lumpsum.
Sreedharan Arookavil: I am getting very much enlightened and benefited by your advice on investment.
I request you to kindly advise me on my following query.
Is it safe to invest my retirement proceeds in a lumpsum in a balanced advantage fund (BAF) or should I resort to STP to BAF.
Which mode -- ie, lumpsum or STP -- would fetch me more returns?
Omkeshwar Singh: STP into equity funds is a good strategy.
However, since BAF as a product does the required rebalancing itself, STP may not be ideal.
Navtej Singh Rawat: I am 39. I have been reading your replies on Rediff.com and getting a lot of information from them for investment in mutual funds.
I need your precious opinion on the following mutual funds in my MF portfolio.
Recently, I have started SIPs of Rs 5,000 per month in each.
Omkeshwar Singh: These are decent funds, please continue.
Kindly try to consolidate your portfolio into 4 to 6 funds.
Gyanendra Sood: Hi, I am currently investing Rs 15,000 through mine and my wife's accounts.
My investment horizon is 10 to 15 years and target is create long term wealth.
I would also be increasing my SIP by 10 per cent each year.
What is the corpus that I can expect and are these funds good for that corpus?
Mine (all are direct):
Wife (all are direct):
Omkeshwar Singh: Both of you have good portfolios.
Please continue.
In 15 years, with a 10 per cent annual increment, a corpus of Rs 55 lakh may get created.
Shantesh G Gollagi: I am 48 years old. I have the following MFs in my portfolio since last one year.
Time horizon: 10 years.
Could you please provide your feedback if this is good to continue for next 10 years or if this needs a modification?
All are monthly SIPs.
Omkeshwar Singh: Please continue.
Prithviraj Suryawanshi: I am 45 years old and want to invest for my daughter's wedding and my retirement.
The time horizon will be 10 and 15 years respectively.
I can invest Rs 10,000 per month now and can invest Rs 20,000 from 2023.
I have SIP of Rs 1,000 per month in DSP Small Cap Fund Regular Growth (its current value is Rs 47,000) and Sundaram Equity Fund Regular Growth (current value Rs 22,000).
I also have invested in Aditya Birla Frontline Equity Growth (current value Rs 34,000), Aditya Birla MNC Growth (current value Rs 33,000) and UTI Opportunities Fund Dividend Reinvestment (current value Rs 10,000).
Please suggest if I should hold all the funds as it is and continue with SIP of both funds or start afresh with some other funds.
Omkeshwar Singh: Please consider investing in these funds:
Rajeev Shrivastava: I am 57 years old and will retire in three years.
I have no liability, own a house and live in that, have Rs 40 lakhs medical insurance for self and spouse.
I will have a retirement corpus of Rs 1.3 crore.
I currently invest Rs 70,000 via SIP in Axis Bluechip, Parag Parikh Flexi Cap, Nifty 50 Index, Nifty Next 50 Index, Edelweiss Dynamic Asset Allocation, Mirae Hybrid Equity, Canara Robeco Emerging Equity and ICICI Short Term Funds
Post retirement, I plan to invest my retirement corpus to get inflation adjusted (@ 6 per cent) Rs 65,000 per month as I will get pension of Rs 17,000 per month.
From my retirement corpus I plan to invest as follows:
Rs 15 lakhs in SCSS.
Rs 15 lakh in liquid fund and do SWP for first three years post retirement.
Rs 25 lakh in debt fund and do SWP after three years when liquid fund gets exhausted.
Rs 35 lakh in hybrid funds via STP of two years from liquid funds. After six years, do an SWP of 8 per cent per year from hybrid funds to generate the required amount monthly.
The remaining corpus of Rs 25 lakh (approximately) will be invested in above-mentioned equity mutual funds for growth.
I am assuming an inflation of 6 per cent.
I am assuming CAGR of 10 per cent from hybrid funds.
I will replenish the hybrid funds from equity MFs every seven years. And the cycle will keep on repeating.
I request you to please tell me about the feasibility of the above plan with your vast experience.
Omkeshwar Singh: Nicely done, please execute the plan.
Vaibhav Sahu: Hope you are well and healthy.
Please provide your valuable suggestions for my portfolio listed below.
I am 30 years old.
My questions are:
How's the portfolio for a minimum investment horizon of 10 years?


Two small cap and two mid cap is because I want to analyse their performance in the long term. If they underperform for over two years, then I will stop one from each cap. How is this strategy for managing risk for an underperforming portfolio?


Please suggest some debt funds as well (for yearly bonus).
Omkeshwar Singh:
Decent portfolio.
Small and mid-caps are meant for long term investment, two years is short time.
For debt funds, three categories can be considered depending upon tenure -- short duration funds for 1 to 3 years; for over three years, corporate debt and banking and PSU funds are better.
---
If you want Mr Singh's advice on your mutual fund investments, please mail your questions to getahead@rediff.co.in with the subject line, 'Ask MF Guru', along with your name, and he will offer his unbiased views.
Disclaimer: This article is meant for information purposes only. This article and information do not constitute a distribution, an endorsement, an investment advice, an offer to buy or sell or the solicitation of an offer to buy or sell any securities/schemes or any other financial products/investment products mentioned in this QnA or an attempt to influence the opinion or behaviour of the investors/recipients.
Any use of the information/any investment and investment related decisions of the investors/recipients are at their sole discretion and risk. Any advice herein is made on a general basis and does not take into account the specific investment objectives of the specific person or group of persons. Opinions expressed herein are subject to change without notice.
Feature Presentation: Ashish Narsale/Rediff.com